W. Earl Brown Shares Lemmy Kilmister Memories on 3rd Anniversary of His Passing
This week in December is a hard one- so many loses across the last few years. December 28th 2018 marks the 3rd year since the passing of metal legend Lemmy Kilmister, and Deadwood's W. Earl Brown wanted to share some memories of his friend.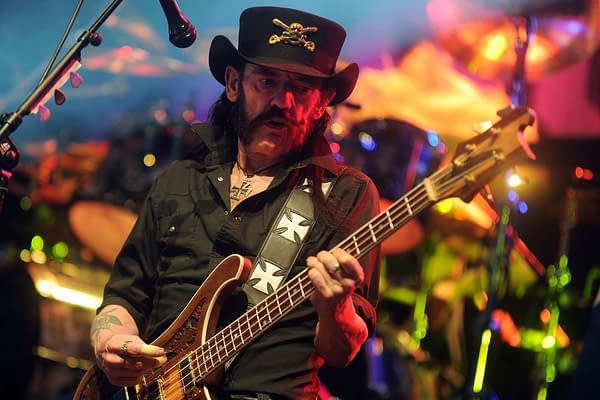 In a post on Brown's Instagram, the actor reminisces on the first time he met Mötorhead frontman Lemmy [which included gettin' drunk on a Sunday and singing ABBA, f**king seriously], as well as working with him on Deadwood:
Further down in the comments on the post, Brown continues his Lemmy stories:
I got to know Lem a little better as time passed. We exchanged numbers. Talked a few times. When Patrick Stone started working on DEADWOOD, he found that I knew Lem and suggested we invite him out to play cowboy. So, we did; we had Metal Day on set. Lemmy, Scott Ian, Pearl Aday, and Charlotte Taylor spent the day playing with us and I got to know Lemmy even better.

I asked him once about his love of rock and he said it dated back to 1957 when his dad took him to see Buddy Holly & Little Richard in London. Lem said he was 11 years old, but as soon as he saw little Richard play his first song, he said to himself, "I'm doing THAT for the rest of my life!" And he did.

Lemmy was the coolest motherfucker on the planet. (aside from his own Badassery on the Bass, he was also Jimmy Hendrix's first roadie in London after the Experience was formed AND he followed the Beatles around starting when they were still known as the Silver Beatles), but he was as down to earth as any man I've ever known.

He lived and breathed Rock and Roll but he was never too-cool to share it with anybody. If you loved Music, Lemmy was your friend, regardless of who you were or where you came from. He loved the Ramones and he loved Johnny Cash (the only musician he didn't like -at least as far as I know – was Jimmy Page ["fuck him, the prissy lil cunt, but I will say, as a guitarist, Jimmy always wore nice trousers."]). Lemmy was a voracious reader and was whip smart. I asked him once about his huge collection of Nazi paraphernalia and the rumors around it. He said, "I'm not a fucking Nazi – never have been. It is just that my earliest memories were that those were the bastards who were trying to kill me with their fucking nazi bombs – they're the ones my dad went to war against -and now, I am still alive and I have got all their shit." From what I gather, Lemmy turned 70 on Dec 24, found out he had cancer on Dec 26, and died on Dec 28. That's just like Lem – when the time comes to get the show on the road, you get on the fucking road.

While I do not want to live my life like Lemmy chose to live his, I can't help but admire the strength and determination it took for Lem to do it all on his own terms and remain true to himself. One final piece of wisdom passed down to me by Mr Kilmister on that first day I met him: in discussing some long lost friend with his son, Paul, who'd just moved to LA from London – "He hates me." "No, Dad, I don't think he hates you." "He does. He's hated me for 25 years." Then Lem turns to me and says, "I screwed his Bird. He never forgave me." Not being an Englishman myself, my first thought was that was a peculiar thing to do a friend's pet; my second thought was that was a really long time for his buddy to hold a grudge. Then it dawned on me, "Ohhhh, you mean his GIRLFRIEND." "Yeah. Sweet girl… She had inverted nipples. Ya ever had a girl with inverted nipples?" I had not. "Well," Lem continues, "it's quite the tasty treat if ya willin' to put in the work." Lemmy Kilmister – there will never be another like him. He didn't break the mold, it fucking melted when he stepped out of it.
Thanks so much for sharing these memories, W. Earl Brown! They remind >this< writer about the time she danced on stage in Las Vegas during a friends' pre-wedding celebration, and Lemmy watched from the wings.