Yesterday on WWE Monday Night Raw, fans were treated to not only the advertised return of the greatest wrestler of all time, Shawn Michaels, but also a surprise appearance by The Undertaker. Michaels and Undertaker were there to promote the upcoming match between Undertaker and Triple H at October's Super Show-Down event in Australia, but they actually ended up building interest in one more HBK match, possibly against the Undertaker at WrestleMania. At least, that's what we're interested in.
But if the red brand had HBK and Taker, the blue brand isn't going to stand idly by without a returning star of their own. Though an appearance on TV hasn't been confirmed, a major superstar with the star power to rival the Dead Man and the Heartbreak Kid is in the same town as Smackdown tonight, so speculation is running rampant that they could make a surprise return.
Scroll below if you want to find out who it is.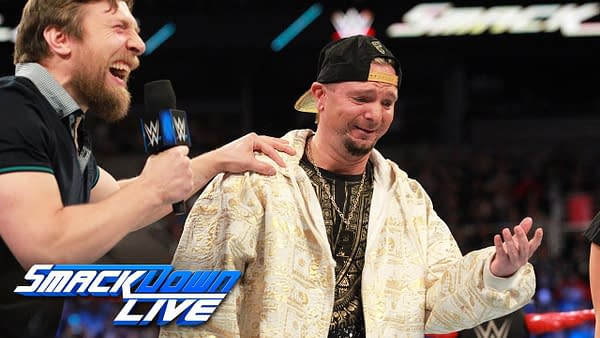 That's right, it's James Ellsworth!
What's there to do in Detroit early in the morning?

— James Ellsworth (@realellsworth) September 4, 2018
Ellsworth was fired by Smackdown Live General Manager Paige back in July, but if his presence in Detroit is any indication, fans could be treated to a nice surprise tonight. Well, except for you, because you had to go and read spoilers.
Enjoyed this article? Share it!