Will This Limited Edition Soap and Glory Wonder Woman Set Make You Feel Wonderful?
Thinking of giving yourself something wonderful this year? Let me introduce you to the Soap & Glory limited edition Wonder Woman Fab-U-Stash gift set. Available at Boots in the UK, this gift set should be on everyone's wish list. The set includes a limited edition Wonder Woman vanity bag, soap on a rope, body butter, body shimmer dry oil, a Wonder Woman bath bomb, body wash, plumping lipgloss, and an eyeliner. The gift normally sells for £50.00, but the set is on sale currently for £25.00.
Now, I was hesitant about this at first. I can buy Soap & Glory products in the US, but after scouring the internet, it appears that this is only available in the UK. I scooped one up and brought it back home with me, excited to try the products shown. The bag is perfect for those of you who are always on the go. I use it as my primary toiletry bag now and finds that it holds everything with room to spare. The first item to be used was the bath bomb.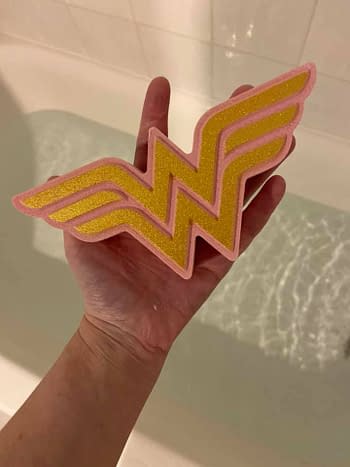 The bomb turned my bath a beautiful shade of pink and smelled fresh and clean. The gold shimmer was a nice touch and left my skin feeling soft and supple. I followed it up with the body butter, which accented the scent from the bomb beautifully. The Clean on Me body wash has a built-in body lotion to give your skin that extra boost of hydration when mixed with the body butter. My soap on a rope is still wrapped up, but from what I can tell all of the bath items smell exactly the same. It's honestly a refreshing scent and is absolutely in no way overpowering.
The eyeliner and plumping lipgloss are my least favorite items in the set. The eyeliner flakes off through the day, and the lipgloss doesn't add much in the way of plump. This is still worth your money, even if you can only find it in the UK. There's no word if this will become available outside of the UK, but I sincerely hope it does.