With AEW Double or Nothing happening tonight on PPV, and news that Sting is no longer under WWE contract, there's been a lot of speculation over whether The Stinger could appear. The news of Sting's free-agent status broke earlier this month when Mattel canceled a planned Sting action figure because Sting no longer has a deal with WWE. Coinciding with that, Sting has been tweeting about AEW, fueling the speculation fire.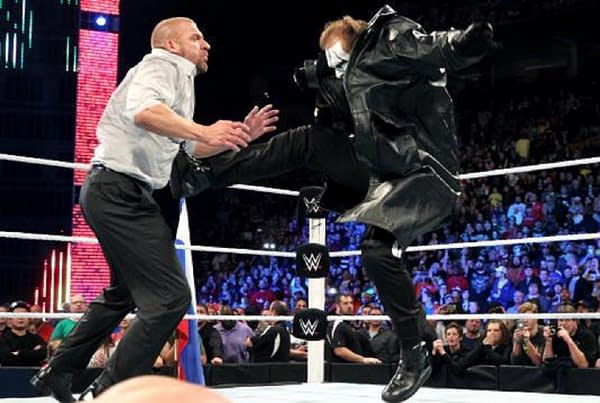 One idea originally floated for Sting was that he could present the TNT Championship at AEW Double or Nothing like Bret Hart once did with the AEW World Championship. However, that rumor was quickly squashed when AEW announced that Mike Tyson will fill that role. But that doesn't rule out Sting making an appearance of some sort.
One possibility, however unlikely, is that Sting could be the mystery participant in the Double or Nothing Casino Ladder Match, the winner of which gets a shot at the AEW World Championship. While Lance Archer has gone on the record saying he thinks Sting could still step into the ring if he wanted, a ladder match might not be the best venue for the wrestling legend to make his return. It would also feel like kind of a waste for Sting to enter the ladder match only to lose, but at the same time, Sting challenging for the AEW Championship also seems unlikely.
While there's still a possibility Sting could appear at Double or Nothing, or even join up with AEW later on, one recent piece of news seems to lean in the opposite direction. WWE Network News has revealed that WWE is planning a Sting special for the WWE Network this month. Dropping May 31st, the description for Sting: The Lost Tape is as follows: "Featuring never-before-seen footage and interviews, cameras follow Sting backstage before his big match at WCW Slamboree 1995."
Of course, WWE could do whatever they want with the footage they own and doesn't need a deal with Sting in order to produce content featuring him on the WWE Network. However, if Sting were likely to pop up on AEW tonight or in the coming weeks, WWE probably wouldn't want to promote him with his own WWE Network special. As such, this seems like it could be a potential rumor killer on Sting going to AEW. We'll find out in the coming weeks, or maybe tonight.
Enjoyed this article? Share it!