AEW Rampage Preview: Trios Titles on the Line in Worse Show Ever
The Chadster may hate everything about AEW Rampage and all that it stands for, but he's still here to provide an unbiased preview of tonight's show.
---
The Chadster's worst nightmare has come true again! Another Friday night that The Chadster must spend watching and reviewing AEW Rampage is here, and AEW still has not ended its quest to compete with WWE and RUIN THE CHADSTER'S LIFE! The Chadster would give anything just to have one weekend that he didn't have to watch AEW Rampage, but The Chadster's bosses at Bleeding Cool are in cahoots with Tony Khan and forcing The Chadster to do the one thing he despises!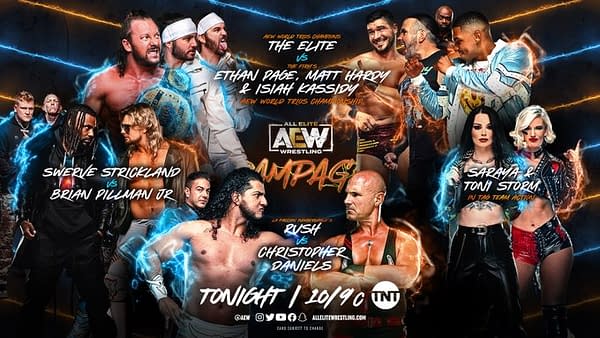 If only The Chadster lived in a world where AEW didn't exist! The Chadster would have a peaceful life, with no need to stay up late and watch a wrestling show that he doesn't even like. His wife Keighleyanne would no longer be texting that guy Gary and they could finally have a happy marriage. The Chadster would always have something to watch, because WWE would be the only wrestling company in the world and its shows would be dominant over the world. The Chadster's dream world would be perfect if Tony Khan and his AEW cronies left the planet and joined the other billionaires in traveling to Mars. Then The Chadster would finally be free from Tony Khan's evil plans to ruin The Chadster's life and destroy The Chadster's marriage. The Chadster would finally be able to enjoy wrestling and watch it without any worries or doubts. What a perfect dream world that would be!
But since The Chadster doesn't live in that world, The Chadster has no option but to continue his duty of providing very objective wrestling journalism, so here is The Chadster's unbiased preview of AEW Rampage.
Tonight's episode of AEW Rampage will be a cruel reminder of the nightmare that The Chadster has been living with ever since Tony Khan decided to create AEW and RUIN THE CHADSTER'S LIFE! The Chadster is forced to watch matches that he has no interest in and that he believes are inferior to WWE matches. RUSH vs. Christopher Daniels is the first match on the card, and The Chadster is not looking forward to it. The Chadster has never been a big fan of RUSH, and he believes that Christopher Daniels is past his prime and no longer deserves to be in the ring. Saraya and Toni Storm will be in tag team action, and The Chadster is not amused. He thinks that they would both be better off in WWE instead of literally stabbing Vince McMahon right in the back by joining AEW. Swerve Strickland vs. Brian Pillman, Jr. is a match that The Chadster finds particularly irritating. He believes that Brian Pillman, Jr. is a total rip-off of his father and that he should never be allowed to wrestle in AEW. Finally, The Elite will be defending their AEW World Trios Championship against Ethan Page, Matt Hardy, and Isiah Kassidy. The Chadster can't stand Matt Hardy and thinks that AEW shouldn't be allowed to use someone that WWE made a star because it's just so unfair!
The Chadster will not be tuning into AEW Rampage tonight, and he hopes that you won't either! The Chadster believes that AEW is a plague to the wrestling world and that it should be stopped immediately. Until then, The Chadster will continue to suffer in silence and hope that you will also not tune in when Rampage airs at 10/9C on TNT tonight.