'Arrow' Milestone "Emerald Archer" Bridges Past, Present and Future [SPOILER REVIEW]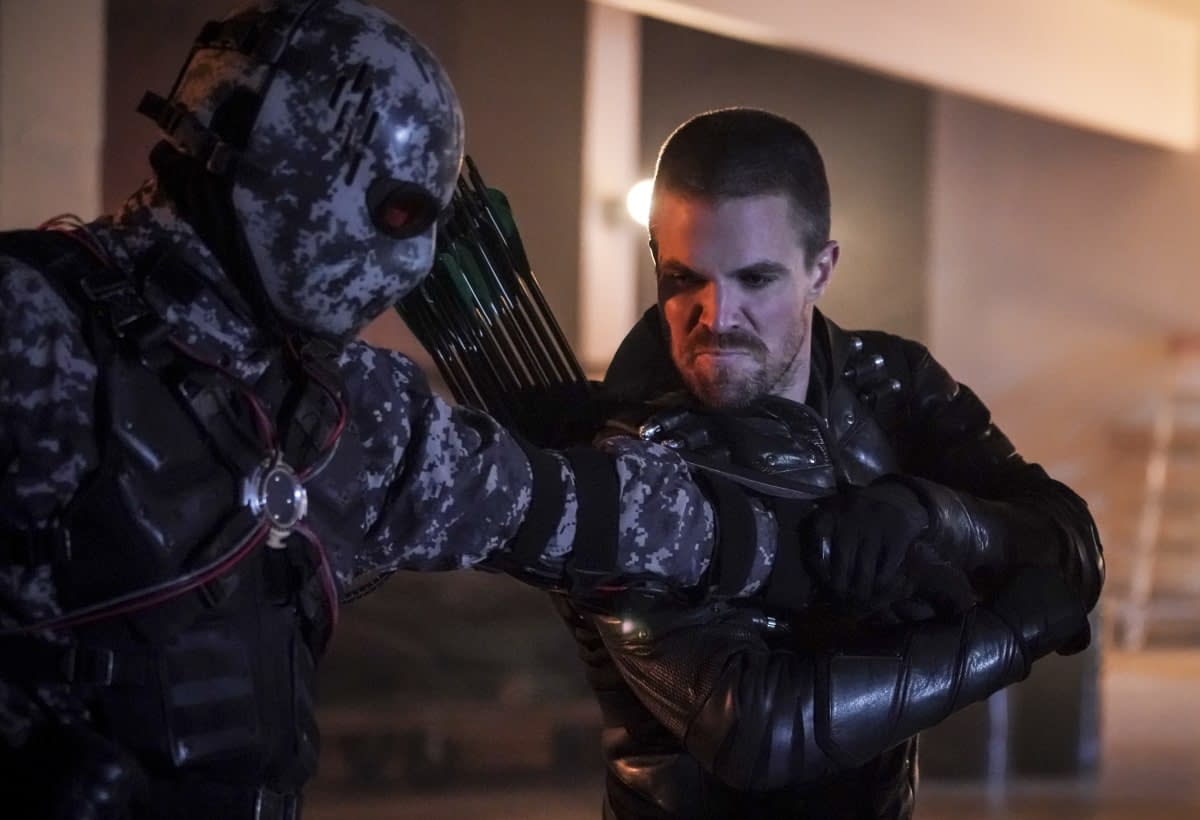 Thanks for joining us for Bleeding Cool's look at the CW's Arrow's 150th episode, "Emerald Archer."
Wow… 150 episodes!
Who would have thought seven years ago that the show which launched the "Arrowverse" would still be going strong? I mean, we've all been kinda watching and waiting for the show's cancellation starting with the not-good-at-all third season, haven't we? But here we are, just days after CW announced that the entire "Arrowverse" will be back for the 2019-20 network television season… with Arrow not only still on the air, but benefitting from new showrunner Beth Schwartz's vision and guidance this season.
The plot of the episode was nothing spectacular: guy in a paramilitary suit built from Wayne Enterprises military tech is hunting vigilantes in Star City, taking trophies from those he defeats. Diggle puts Team Arrow back together in spite of Oliver's protests. The mayor holds a debate to prove that Star City doesn't need the Green Arrow, which Oliver and the team use both to draw Chimera out and to prove that the SCPD is outgunned and needs vigilantes. Diggle, Rene, and Curtis are arrested for their vigilantism, but the mayor has a change of heart. Rather than pressing charges against them, she orders Dinah to deputize Team Arrow and make them legitimate.
All told, a pretty cookie-cutter episode if the plot's all we're looking at.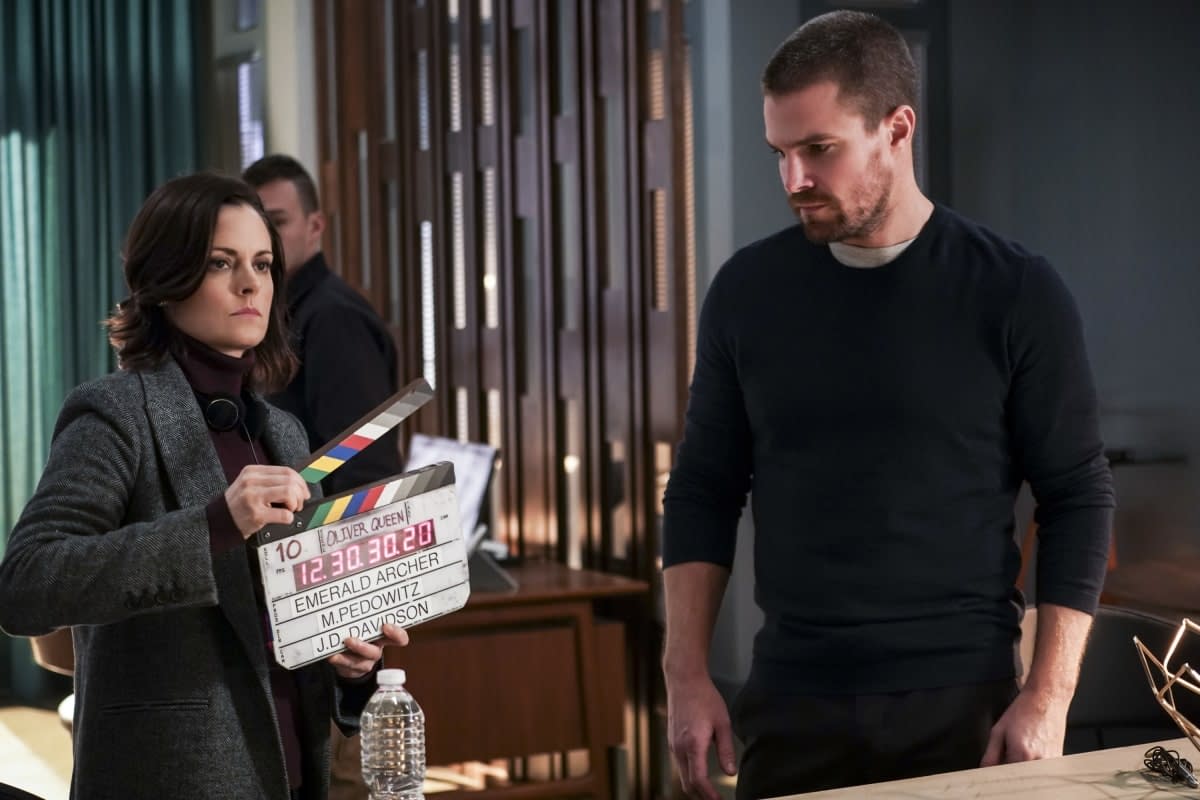 The plot was the least interesting part of the 150th episode, but the framing device of having a documentary crew follow Oliver as part of his new push for transparency more than made up for it. The documentary – narrated by Dr. Frasier Crane himself, Kelsey Grammer – was a unique and interesting device. More than anything else, it allowed a way for former characters and plot points to be revisited organically. Remember the series' 100th episode? It fell in the middle of the 2016 Arrowverse "Invasion!" crossover event, and used an alien-induced dream state to bring back versions of former characters like a non-Manu Bennett Deathstroke. Compared to an hourlong dream sequence, the documentary device was a much more effective way of bringing back characters like Quentin Lance, Rory Regan, Thea Queen, and more.
https://youtu.be/9Xw6eCnMk0w
That said, the device wasn't quite as fluid as it could have been. Non-documentary scenes didn't feel like they meshed well with the rest of the show. For example, it felt totally appropriate for William to return home and be upset at being ambushed by a film crew – but the scenes where William hangs out with Zoey or gets busted by Felicity for lying about being in school felt like they should have been saved for episode 151. It feels like the producers should have given themselves over to the documentary gimmick altogether or cut it off at some point in the episode and let the rest play out without the device, as a normal episode.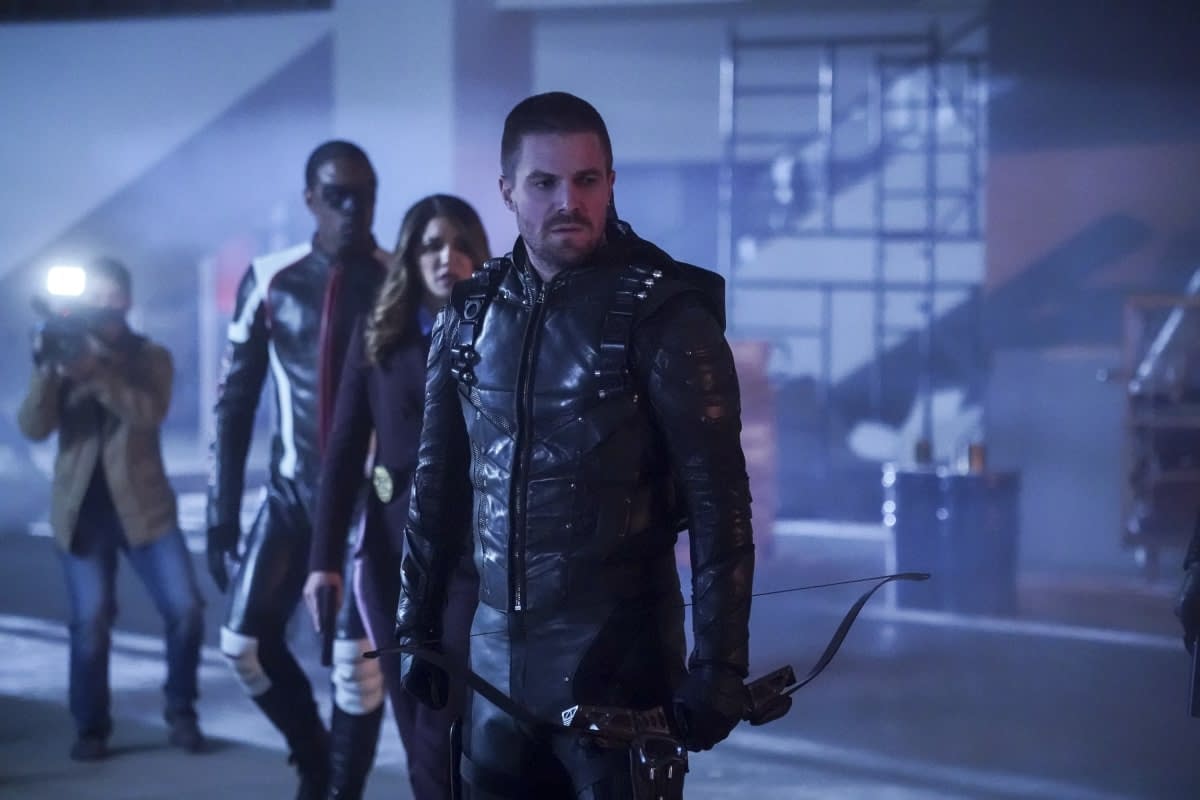 Additionally, some of the scenes in the episode didn't make a lot of sense. The most glaring one had me wondering why the documentary crew would be interviewing The Flash's Barry Allen about Oliver Queen? I know that Barry visited Star City for a couple of episodes in season two, but not to the point that he'd be on that short list of 10 people a film crew would want to talk to about Oliver Queen. Also, Chimera is taking trophies from the vigilantes he takes out – but why would he have Ragman's rags? Rory hung up the rags in Arrow season five after they stopped working due to a nuclear blast in Russia. We know Rory's been working to help people without the rags, as the documentary took the time to point out. So when would Chimera have defeated Ragman and collected a trophy from him?
https://youtu.be/pxxmztobU5s
Still, using the documentary as "found contraband footage" in the future by Blackstar and Connor (as in Connor Hawke?) to locate the Team Arrow headquarters that Oliver vows to rebuild at the end of the documentary is a fantastic bridge between the events in the present and the flash-forward future we've been teased with throughout the season. Now that we're past this milestone episode, we need the rest of the season to start filling in the gaps between where we are in the current timeline and the events that result in that bleak future.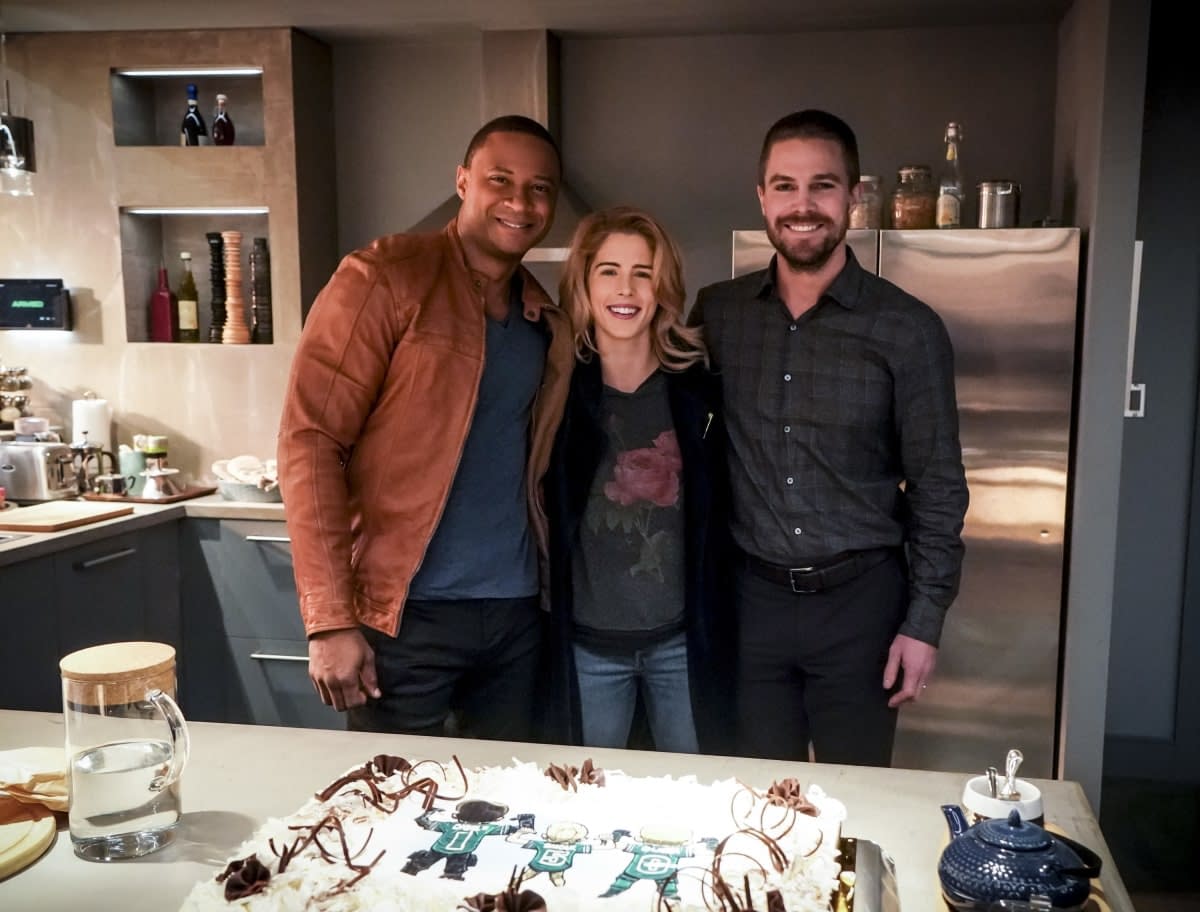 Congratulations to everyone who helped Arrow achieve such a milestone!
What did you think of the 150th anniversary episode of Arrow?
What do you want to see over the course of the rest of this season?
Does deputizing Team Arrow lead directly to the downfall of Star City and rise of The Glades?
Arrow airs Monday nights at 8 p.m. ET on the CW – here's a look at next week's episode "Star City Slayer":
Arrow s07e13 "Star City Slayer": THE TEAM IS TARGETED — Oliver (Stephen Amell) and Felicity (Emily Bett Rickards) are disappointed after they learn that William (guest star Jack Moore) is hiding something from them. Wanting to focus on his family, Oliver steps back from his Green Arrow duties and let's the team take over tracking down a serial killer. However, when the team becomes targets for the killer, things take a bloody turn. Gregory Smith directed the episode written by Beth Schwartz & Jill Blankenship
Arrow stars Stephen Amell as Oliver Queen/Green Arrow, David Ramsey as John Diggle/Spartan, Emily Bett Rickards as Felicity Smoak, Echo Kellum as Curtis Holt/Mr. Terrific, Katie Cassidy as Laurel/Black Siren, Rick Gonzalez as Rene Ramirez/Wild Dog, Juliana Harkavy as Dinah Drake/Black Canary, Colton Haynes as Roy Harper, and Kirk Acevedo as Ricardo Diaz.