BCTV Daily Dispatch 14 July 2021: Titans & The Walking Dead Look Back
Someone found a letter you wrote us on the radio. And they told the world just how you felt. It must have fallen out of a hole in your old brown overcoat. They never said your name, but we knew just who they meant. (Whoa-oh-oh-oh) We were so surprised and shocked, and we wondered, too. If, by chance, you heard it for yourself. We never told a soul just how we've been feeling over you. But they said it really loud, they said it on the air… on the BCTV Daily Dispatch! With waves of love and respect to the amazing Donna Summer (check out the video at the end of the post), welcome to your Wednesday edition of our daily rewind. You know how this goes- we bring you a daily dose of the best things happening across the television landscape as we take a look at what's been hitting your radar in the past 24 hours- with Titans and The Walking Dead both doing quite well looking back before heading into new seasons. We've got a nice mix of newbies this time around, including a Better Call Saul update, Breaking Bad universe creator Vince Gilligan extending his Sony Pictures TV deal, we offer UK readers Ghost as a sign of peace, and CSI: Vegas gets a return date. From there, we wrap up with "5 More Things"- a look at the five articles that almost made the cut but still worth your time.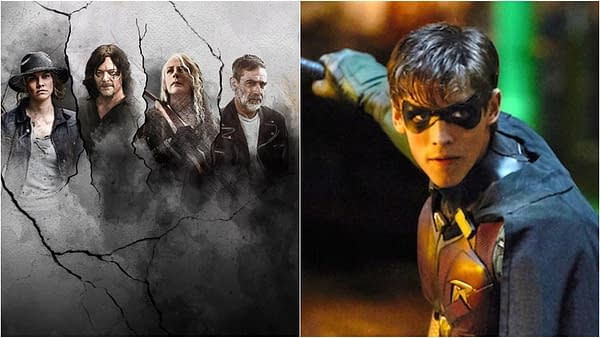 Now here's a look at BCTV Daily Dispatch's Top 10/24 for Wednesday, July 14, 2021:
10. The Flash Season 7 E17 Preview: Future Family Reunion; Shipp Sighting
9. Better Call Saul: Thomas Schnauz Shares Season 6 Production Update
8. The Walking Dead: Andrew Lincoln & JDM Went "Negan" on Greg Nicotero
7. TNT Offers Titans Who's Who Ahead of Tonight's Season 1 Premiere
6. Breaking Bad Creator Vince Gilligan, Sony Pictures TV Extend Deal
5. Night Court Star & Veteran TV Actor Charles Robinson Passes, Age 75
4. Ghosts: UK Fans Rejoice as CBS Gifts World US Remake This October
3. CSI: Vegas Welcomes Back William Petersen & Jorja Fox This October
2. Superman & Lois Season 1 E12: John Diggle's Arrowverse Tour Continues
1. Doctor Who: John Barrowman Finds Another TARDIS Door Closed to Him?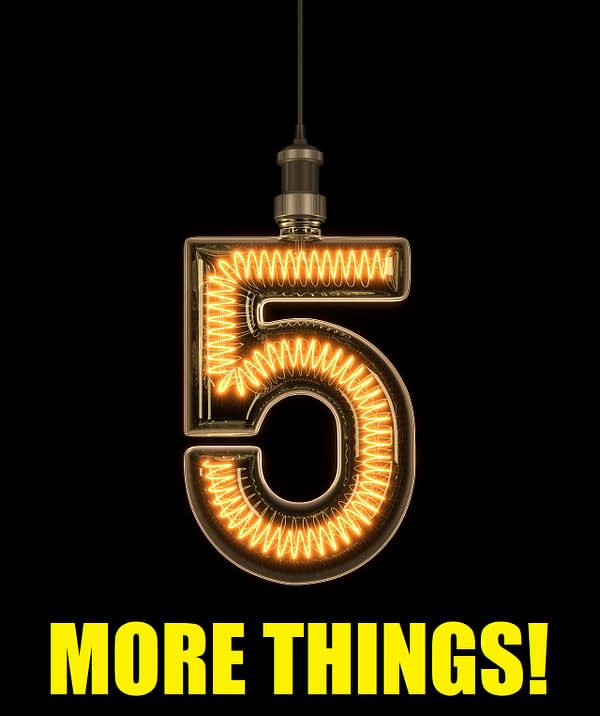 Now here's a look at the five articles that nearly made the cut, in no particular order- Prodigal Son near death, Don Cheadle does in 98 seconds what it takes others a lifetime, Richard E. Grant pitches "Classic Loki" spinoff, Black Widow regrets, and Rick and Morty's creative team as surprised by mutant killer sperm as viewers were:
Rick and Morty Team Seems Surprised "Rickdependence Spray" Got Made
Black Widow Could've Been Disney+'s Marvel's Agents of S.H.I.E.L.D.
Loki: Richard E. Grant Pitches "Classic" Spinoff, Talks Alligator Loki
The Falcon and the Winter Soldier Emmy Nom Confuses Even Don Cheadle
The Walking Dead: Origins Tells Daryl, Carol, Maggie & Negan's Tales

Bleeding Cool TV on Instagram: For all of the stuff too random and bizarre to make the site, make sure to follow us on Instagram (with an official launch on June 19): Bleeding Cool TV (@bleedingcooltv).
BCTV Daily Dispatch: For a look at what's going on across the television and streaming landscape, sign up for Bleeding Cool's daily email round-up of the news you need to know here.