Chris Jericho Challenges Sebastian Bach Over Lip Syncing Accusations
Chris Jericho may be undefeated in the crucial 18-49 ratings demo, but The Demo God's most difficult challenge may be ahead of him. Jericho found himself in a full-blown Twitter feud Thursday with Skid Row vocalist Sebastian Bach, a man known to drive around the streets of Lincroft, New Jersey (The Croft) blasting his own music from his SUV. Bach took issue with someone saying that Jericho looks more and more like Bach every day, responding, "Every single day for the last two or three years somebody tells me this 🤔" Jericho added, "Good looking guys are good looking guys. What else can we say dude!"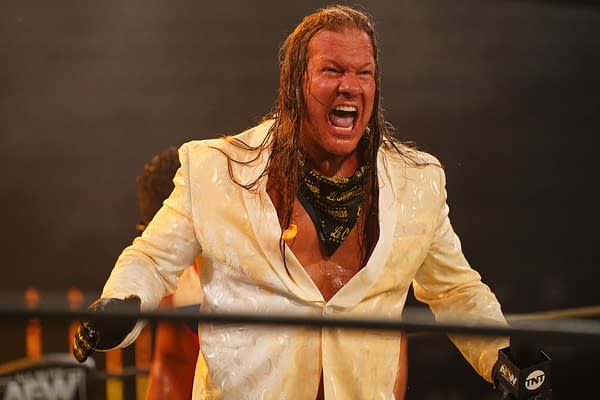 But things quickly got worse from there. When someone said that Jericho has Bach beat because Bach "partied too much," Bach responded with a vicious accusation: "He definitely does considering that he mimes to a tape." "I sing my ass off every night dude," Jericho replied. "Do you really wanna go there?"
Annoyed, Jericho retweeted screenshots from Spotify showing Fozzy with ten times as many "likes" as Sebastian Bach, saying. "Wow! My band is more popular than @sebastianbach!! #lipsynchers." Bach, for his part, replied to a tweet suggesting Bach might "make the list" by saying, "Yeah I starred in a television show called the list on VH1 about 15 years before you posted this meme." Jericho pointed out, "Ok gloves are off. You 'starred'…along with 59 other people. Let's stop this now."
Bach demanded to see a clip of Jericho singing live and not lip-synching. Jericho responded, "Hi… I'm Chris "Milli Vanilli" Jericho. I have 5 top 30 singles in the last five years w my band @FOZZYROCK. I'm a huge fan of @sebastianbach… who had 3 top 30 singles 30 years ago. I always admired him as a singer and a friend! And I still do."
"I've seen the derogatory comments towards me from somebody I considered to be a friend," Jericho continued. "So with that in mind, I'll be happy to have a SING OFF w @sebastianbach! No effects, no tuning, no bullshit. Bas is a great singer…but I'm better. You've got my number dude. Call me."
Bach denied any wrongdoing, claiming, "Where is the derogatory comment? All I asked is to see one single clip of you singing live. Every clip on the Internet is you miming to a tape. I will sing in your f****** face anytime. Wrestling is not rock and roll. I will show you f****** rock and roll."
Jericho had had enough. He tweeted a challenge: "I've never mimed anything ever! And I don't use *** in a tweet ever. I will fucking sing in your face anytime, anyplace dude. I've been a fan & a defender of u since day one…but don't u ever question my rock abilities! And leave wrestling out of this…I can hit a G4 brah!"