Doctor Who Lockdown Hosts Composer Murray Gold for "Akhaten" Rewatch
The next Doctor Who Lockdown Rewatch episode was announced shortly after the last was over. Doctor Who Magazine writer Emily Cook revealed on her twitter feed that it would be "The Rings of Akhaten". The rewatch will take place on Tuesday May 28th at 8 pm British Standard Time, which is 3 pm Eastern Time in the United States. Joining the livetweet will be former series music composer Murray Gold. Episode director Farren Blackburn and Kate Walsh, the Head of Millennium FX, the Special Effects house that handled the CGI FX for the episode will also be live-tweeting.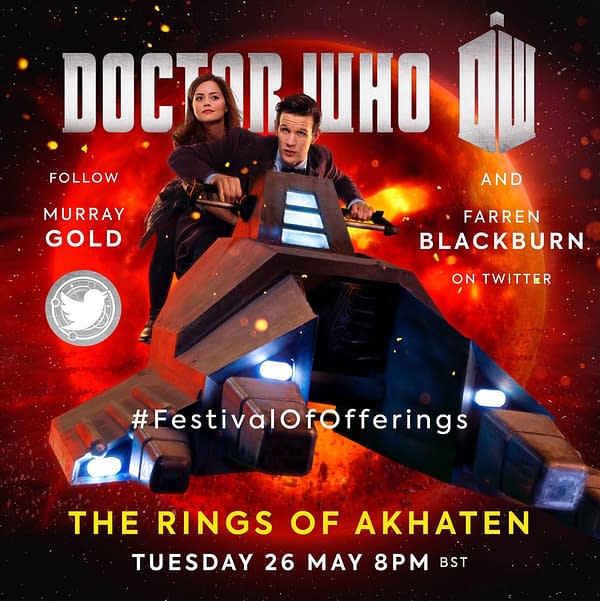 No one has unified the 21st Century version of Doctor Who than Murray Gold's music. He helped ease the tone transition of the show when Russell T. Davies passed the showrunning duties over to Steven Moffat. Gold's music also helped ease the change from Doctors, from Christopher Eccleston to David Tennant to Peter Capaldi to Jodie Whitaker.
Gold is the most underrated member of the show's production team who helped define its feel and tone in its first 10 years. He composed new themes for each Doctor. Every companion had a unique theme starting with Rose Tyler (Billie Piper), then Martha Jones (Freema Agyeman), to the playful comedy beats for Donna Noble (Catherine Tate), the curious fairytale ballads of Amy Pond (Karen Gillen) and Clara Oswald (Jenna Coleman) to Bill Potts (Pearl Mackie). Gold's themes often sum up the characters' personalities and mysteries, and they were also used as tropes and motifs throughout the show to link emotions and memory.
"The Rings of Akhaten" is the second episode from Series 7 where Clara became the Doctor's new companion. The script was by Neil Cross, creator of Luther. It's one of the most FX-heavy episodes of the show, so it'll be interesting to have the head of the FX house talking about what kind of work went into it. Murray Gold also composed a whole choral suite to be sung by young guest star Emilia Jones. It should be interesting to read his tweets about composing music for the show. There will also be a new cover song created a bonus for the rewatch.