"Fear the Walking Dead": Scott M. Gimple Talks Season 6, Ginny's Group/CRM, Expanding "TWD" Universe & More
While the cast and crew of AMC's The Walking Dead enjoy the response they've been getting for the tenth season, life in the franchise's universe has become a lot like the NFL: neither have off-seasons anymore. With a strong ensemble cast (and a "Big Bad" fronted by Samantha Morton in an award-earning turn as Whisperers leader Alpha) and richly layered writing, showrunner/executive producer Angela Kang did the near-impossible: made the show feel fresh and dangerous again.
And we haven't even mentioned Fear the Walking Dead season 6, the premiere of The Walking Dead: World Beyond, and the upcoming Rick Grimes (Andrew Lincoln) films.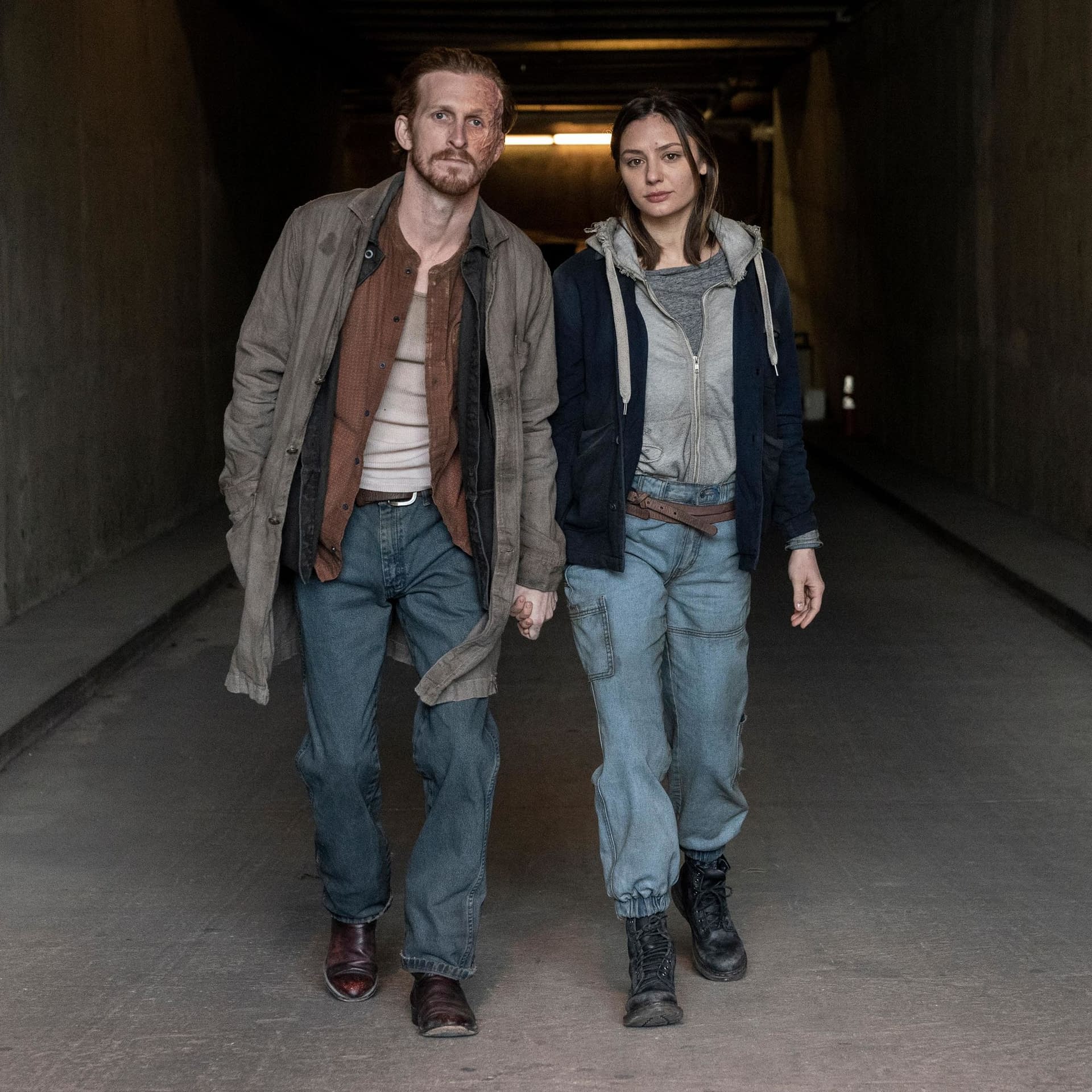 Following up on his look at the future of the "mothership" series, the upcoming spinoff, and Rick Grimes films, Walking Dead chief content officer Scott M. Gimple's fourth and final sit-down with EW to address the controversy over the fifth season, how it plays into the bigger picture that's unveiled this season, and other ways the Walking Dead universe will be expanding:
● While Gimple has heard both the positives and negatives about the fifth season, he urges viewers to see Seasons 5 and 6 as more of a collective – and that much of what went on during the past season will become more meaningful this season, referencing the inital reaction to the second season of The Walking Dead as compared to reactions once the entire storyline played out:
"We've been lucky enough on that show to be able to do these long-range plans. Season 5 was about setting up this journey that these characters are on through there to season 6, and I think people are going to see the relationship between those two seasons. I think even getting to the very end of season 5, the last few moments, really informing that whole season about reaching for benevolence and reaching for sweetness and art and just life and how in the circumstances they're in, it didn't work, and how we leave a person that put that forward isolated, alone, bleeding in a dead town.

I'm curious how people will watch that season in the future. Season 2 [of The Walking Dead], when we did it, we were assailed in a lot of ways. "Why are they on the farm? Why are doing this? Why are they doing that?" I think in subsequent years, people watching that season had different takes. This season 5 as a piece setting up season 6 into a truly serialized entertainment, I think people might see the relationship and the journey, why the journey went the way it did. I was so happy with the way that everybody did. I think it really did come together in the end in this really tragic way that we couldn't have gotten to without the journey that we had been on."
● The creative forces behind Fear the Walking Dead won't stop mixing things up, with season 6 taking on more of an "anthology" feel, while still moving the collective narrative along – though their paths to that common point will be personalized and varied:
"I don't know how much has been shared yet, but I'll share a little of it unilaterally. Structurally, the show is going to change quite a bit. There's going to be a great deal more focus within the stories, a little less vignette-y in telling 16 little movies. The guys are out of the gate wonderfully with the first two episodes, and it is a differentiating thing. It's something that separates that show from the other two shows, telling these 16 little movies, being a bit more anthological. It still is a serialized story, but it's told through these very focused perspectives.

I think that's going to be something that the audience really digs. There's these episodes like Al and Isabelle or June and Dorie that were super focused episodes, that were some of our favorite stories to tell, and we're leaning into that a little more. That's something that's very exciting. Just what these characters are dealing with is very unusual to anything we've seen on the shows. Last season, there was a singularity of purpose, which is all these characters landed in this place of needing redemption. These characters are going to be in very different places now, and that's going to add to the variety of storytelling, the conflict between the characters and the drama that springs forth from that."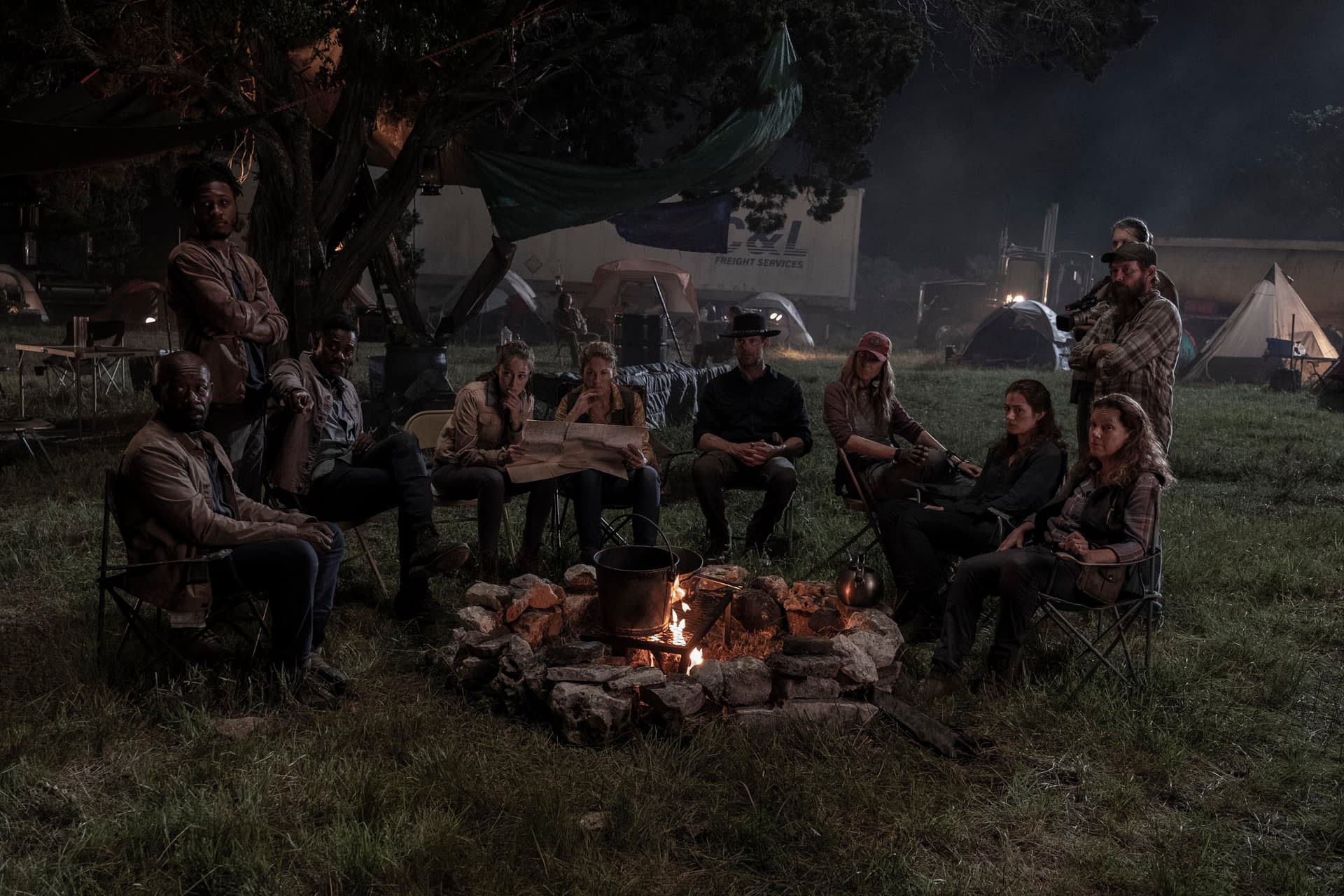 ● Speaking of "crossovers", Gimple wouldn't confirm whether Dwight and Sherry would be reunited (though the image above released via the FTWD Twitter account seems like a ten-ton hint), but he did clarify that Ginny's group is not connected to CRM. In fact, he used the moment to explain the importance of each series also having its own internalized storylines:
"They are not. That's an example, like when we talk about the Commonwealth, when we talk about Ginny — that is a rich and interesting story, and it's big. We can have World Beyond touch upon it and actually sort of be living in it, and yet it still has this very, very different life in the movies because obviously Rick was on one of those helicopters. However big that story is, we don't want that to be the story of The Walking Dead. I think that stuff is going to be super cool and people are going to dig it, but The Walking Dead is The Walking Dead and Fear the Walking Dead is Fear the Walking Dead. It's not like they might not touch upon it again, but it's super important that they have their own stories. We are developing other mythologies like the CRM mythology within this universe, and this is sort of the first mythology, but there's going to be more."
● One bit of information that we found surprising was that "time is actually going to be played around with" during the upcoming season. When pressed or what exactly that meant, Gimple would only add, "We're going to see a lot of time pass. There is a lot of time that can pass, yeah" – does this mean the series will cath up with TWD's timeline?
● Looking down the road, Gimple sees the Walking Dead expanding across various media formats – telling new and original tales within the universe, even when not connected with the current series.
"We really do want to come out with different TV formats, meaning shorter things, and then some event series, limited event series. I'm trying to get together a number of different things that we can show at different times during the year, and this focuses on characters we miss and we lost. It focuses on aspects of that new mythology. It focuses on stories that occur in our universe and have nothing to do with anything. Nothing to do with the shows or the movies, that are just these little zombie tales that happen in our world with our rules and our timeline but are just really great zombie stories, really great stories of the end of the world. I've been working on that with a variety of people, and that's actually proving to be super fun and interesting."
● Will that mean filling in some of the backstories left unanswered over the years, and a return of some fan favorites – even those who've shuffled off the television mortal coil? That's exactly what that means – and more:
"That's exactly what we're doing. I mean, it isn't the only thing we're doing. It's not like everything is like Gotham, but that's one of the sort of three kind of categories that we're tackling. It's awesome. It's awesome to be able to play with characters that we've lost, and it's awesome to fill in some of the blanks."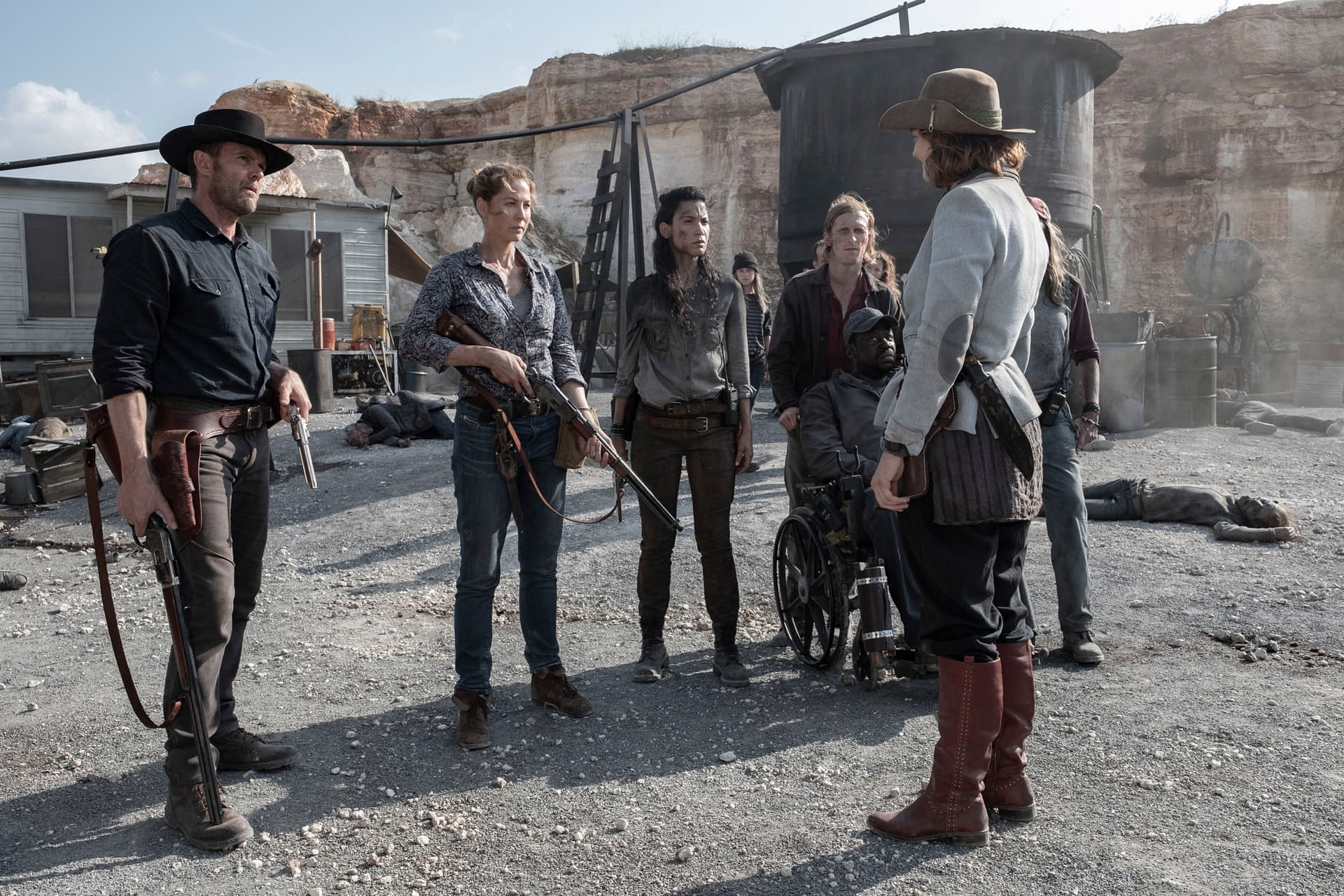 Here's a look back at the social media announcement signaling production start. Considering the horribly depressing way the previous season was left, it's never too early to learn some news – any news – especially when it comes to Morgan's (Lennie James) fate.
The one thing tripping us out about the image below? Our eyes keep playing tricks on us: sometimes, that looks like trees and branches in the letter of the logo. Other times? Dexter-like blood splatter. Probably not a combo that bodes well for our separated heroes: