'The Flash' Season 5 "Seeing Red" Review: A Threat Even Barry Can't Outrun [SPOILER Review]
Another great episode of CW's The Flash this week with "Seeing Red," as the team takes on a rampaging Cicada – and explore how anger and fear motivate our heroes and villains alike. This is an excellent episode – a standout in a season that has been pretty above average.
https://youtu.be/dIdMyj9oubY
We begin with Orlin Dwyer aka Cicada (Chris Klein) cooped up in a darkened house as Dr. Ambres (Lossen Chambers) returns home bearing an important gift: a list of metahumans who have recently been released from police custody. Cicada immediately begins hunting them down and murdering them. When Flash (Grant Gustin), XS (Jessica Parker Kennedy), and Killer Frost (Danielle Panabaker) show up to stop him, Team Flash is briefly able to get the upper hand. But after Cicada uses his dagger, sapping Barry and Nora of their powers, the supervillain delivers an spine-crushing hit to Nora's lower back. Killer Frost holds him off and gets him to retreat, but they are devastated upon learning the extent of Nora's injuries.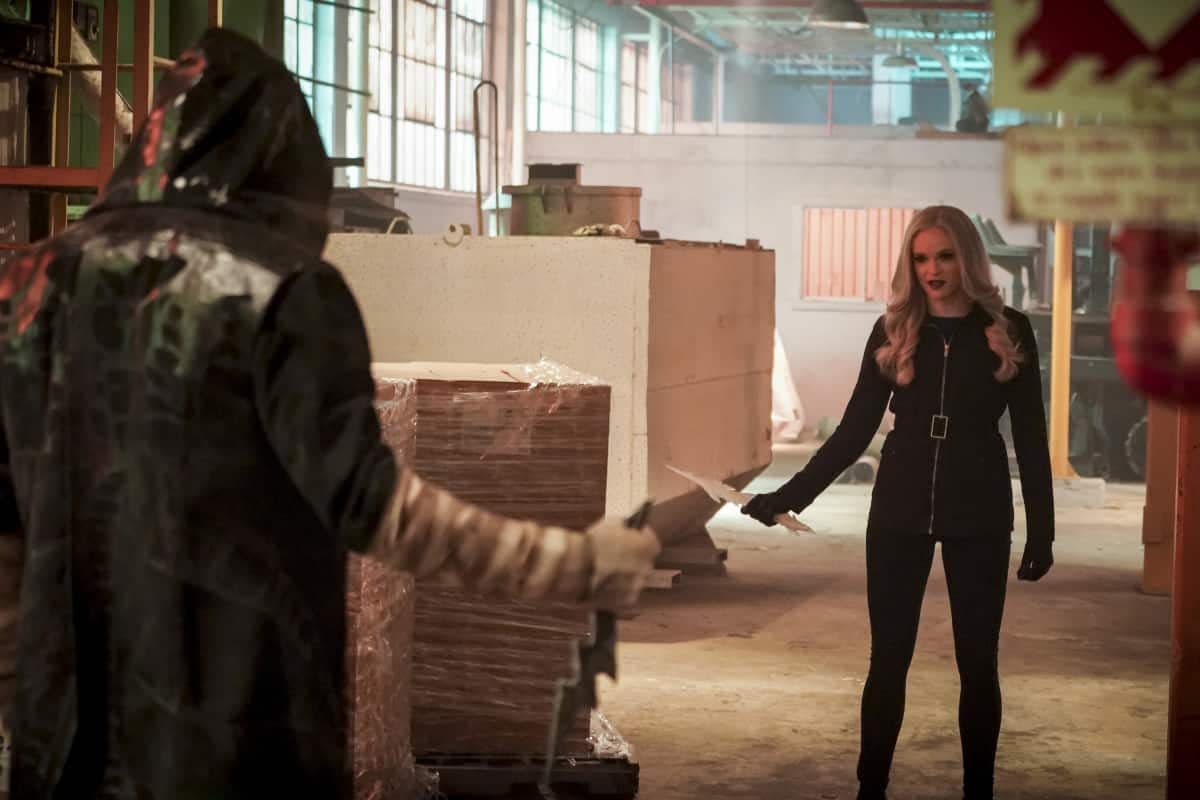 Major spinal fractures and full lower body paralysis keeps her bed-bound in STAR Labs while they search for a way to help, as Cicada's dagger inhibited her natural fast healing, too. Facing the idea that his daughter may be crippled for life, Barry starts down an angry path – sometimes letting it get the better of him in various interactions through the episode.
Despite their challenges, they are able to deduce that Cicada is targeting metas recently released by Central City PD and that the list came from someone on the police force. When Barry and Cecille (Danielle Nicolet) deliver the news to Captain Singh (Patrick Sabongui), he's incredulous – but agrees to help them get the metas into protective custody.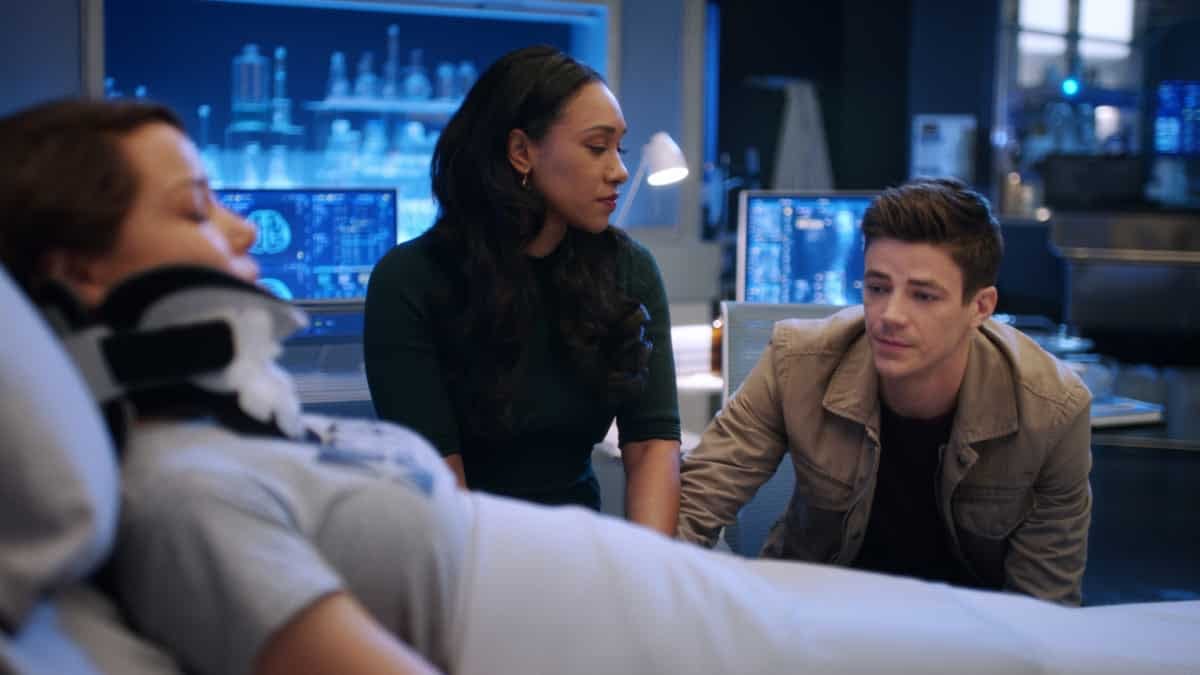 Cecille, still feeling the empathic effects of having recently given birth to her and Joe's baby, feels the waves of hate coming off of Barry and warns him to control his feelings. She briefly gets a weird feeling of the same sort of fear and hate of metas coming from a uniformed officer named Jones (Klarc Wilson). Turns out Officer Jones gave the list to Dr. Ambres in the first place, and he informs her (and Cicada) of the upcoming prisoner exchange.
Speaking of fear, Caitlyn and Killer Frost's disagreement about pursuing a metahuman cure come to a head, so much so that good ol' Ralph Dibney feels the need to stick his elongated nose into it. Ralph talks to Killer Frost and basically boils down the issue to fear: she's afraid that one day, Caitlyn will just take the cure and get rid of her. Ralph suggests they need to work on trusting one another. After Ralph's attempts at shuttle diplomacy, Caitlyn confesses the cure is unlikely to go anywhere anyway, as it requires a blood sample from a recently created metahuman.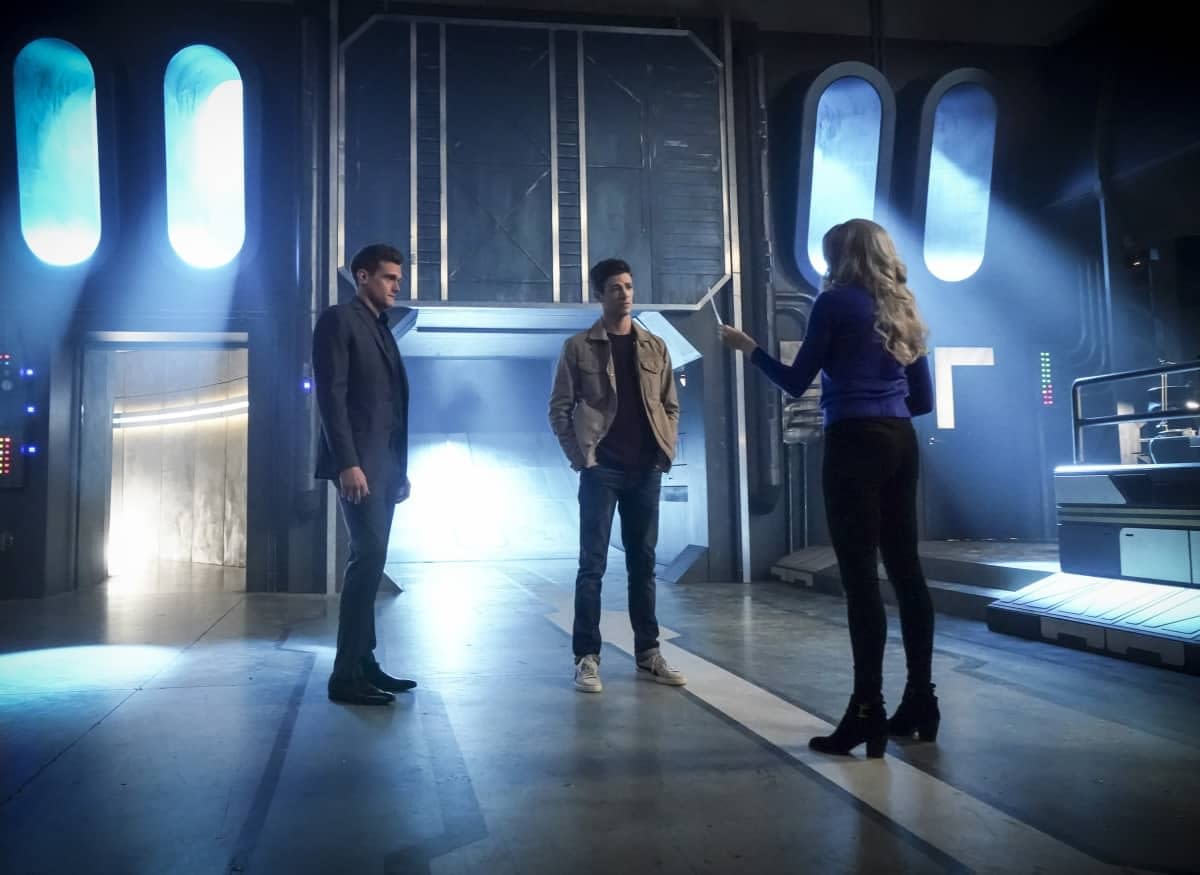 After gathering the remaining metas on the list to wait to be taken into protective custody, Flash, Killer Frost, and Elongated Man are attacked by Cicada – who had the location leaked to him by Officer Jones. Ralph employs stretchy superheroics to get the metas from the ground to a hovering helicopter while Flash takes on Cicada. Consumed by his anger, the team back at STAR Labs notice the amount of energy his suit is harnessing – as much as three times more than normal. Barry beats the living tar out of Cicada – even managing to cut him quite deeply with his own dagger – while Killer Frost keeps the dagger at bay with her ice powers to prevent it from sapping Flash's speed.
Enraged, Barry continues beating on Cicada – yelling at him about hurting his daughter and about to land the coup de grace, a now-recovered Nora rushes in to stop him. Barry relents, relieved that his daughter is ok. While they are momentarily distracted, Cicada escapes – but not before Killer Frost nabs a sample of his blood, encasing it in ice and presenting it as a gift to Caitlyn to help her move forward on a meta-cure.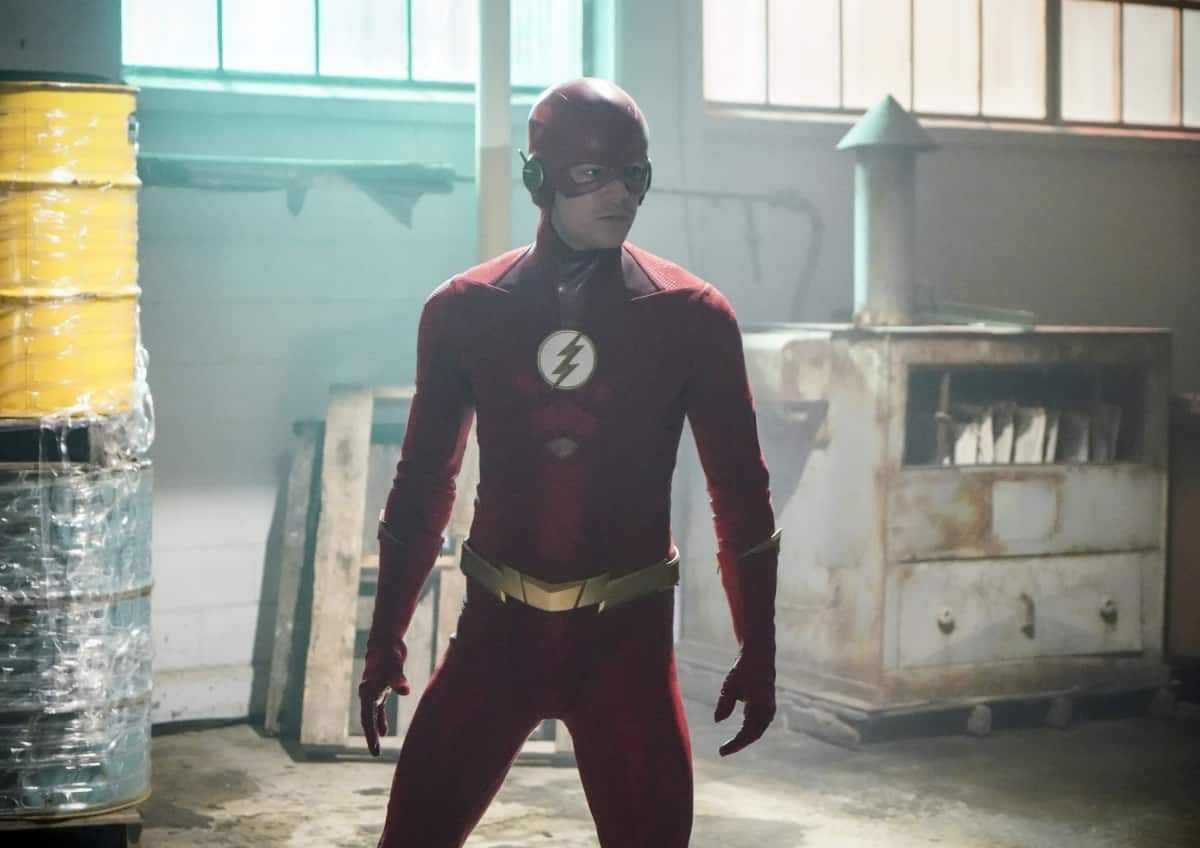 What's great about this episode is its attention to character and theme. Ultimately, it's fear and anger that motivates most of the main characters in this episode. Their anger animates and even supercharges them – but the difference between the heroes and the villains is the heroes find a way to overcome their fear and anger, and even hold back. Iris hasn't played a major role in the plot, so seeing her interactions with Nora and facing what may be life-changing injuries are heartbreaking to watch. Candice Patton continues to be one of the best and a continued "must see" of this show. More Iris, please!
The episode ends with a beautiful synchronicity when Barry realizes that the key to defeating Cicada is to wake up his daughter from her coma. Meanwhile, Cicada is going through a scrapbook of news stories, ending on a page featuring Nora as XS as a wicked grin crosses his face: the key to hurting The Flash is to hurt his daughter.
Next week, it looks like we'll enter Nora's brain and uncover more of the secrets she's been hiding in the episode "Memorabilia":
https://www.youtube.com/watch?v=3fTz-Bkk0RM
The Flash s05e12 'Memorabilia': BARRY AND IRIS LOOK INTO NORA'S MEMORIES – When Sherloque (Tom Cavanagh) wants to use a memory machine on Barry (Grant Gustin) and Nora (Jessica Parker Kennedy) to help gain access to Grace's memories, Nora panics, fearing her parents will find out the secrets she's been keeping from them. Nora secretly decides to use the machine on her own which ends in disaster after she gets trapped inside Grace's mind. Barry and Iris go in after their daughter and Iris is brokenhearted by what she finds. Meanwhile, Ralph (Hartley Sawyer) tricks Cisco (Carlos Valdes) into going out for a night out on the town.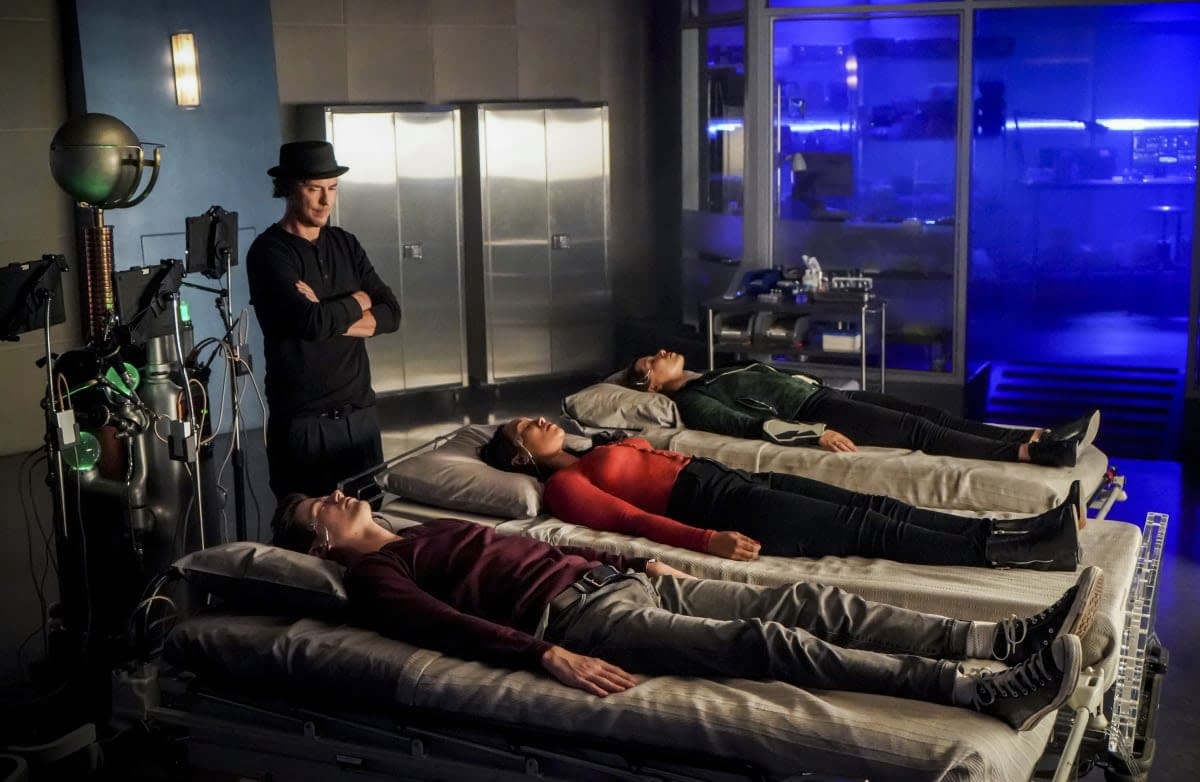 The CW's The Flash stars Grant Gustin as Barry Allen/The Flash, Candice Patton as Iris West-Allen, Danielle Panabaker as Caitlin Snow/Killer Frost, Carlos Valdes as Cisco Ramon/Vibe, Hartley Sawyer as Ralph Dibny/Elongated Man, Danielle Nicolet as Cecile Horton, Jessica Parker Kennedy as Nora West-Allen/XS, Chris Klein as Orlyn Dwyer/Cicada, Tom Cavanagh as Harrison Wells, and Jesse L. Martin as Detective Joe West.