The season finale of Food Network's Halloween Baking Championship was probably the best episode of the season, and thankfully so. "A Haunting We Will Go" wrapped up with ghosts, zombies, and blood – lots and lots of blood. Between the grotesque cake creations and the set décor the episode truly wowed for the Halloween week. I will miss host John Henson's antics ("I see bakers"). Henson encouraged the contestants to kill zombies with a much-needed marshmallow shot to the head – and had me struggling to contain coffee from coming out of my nose, I was laughing so hard.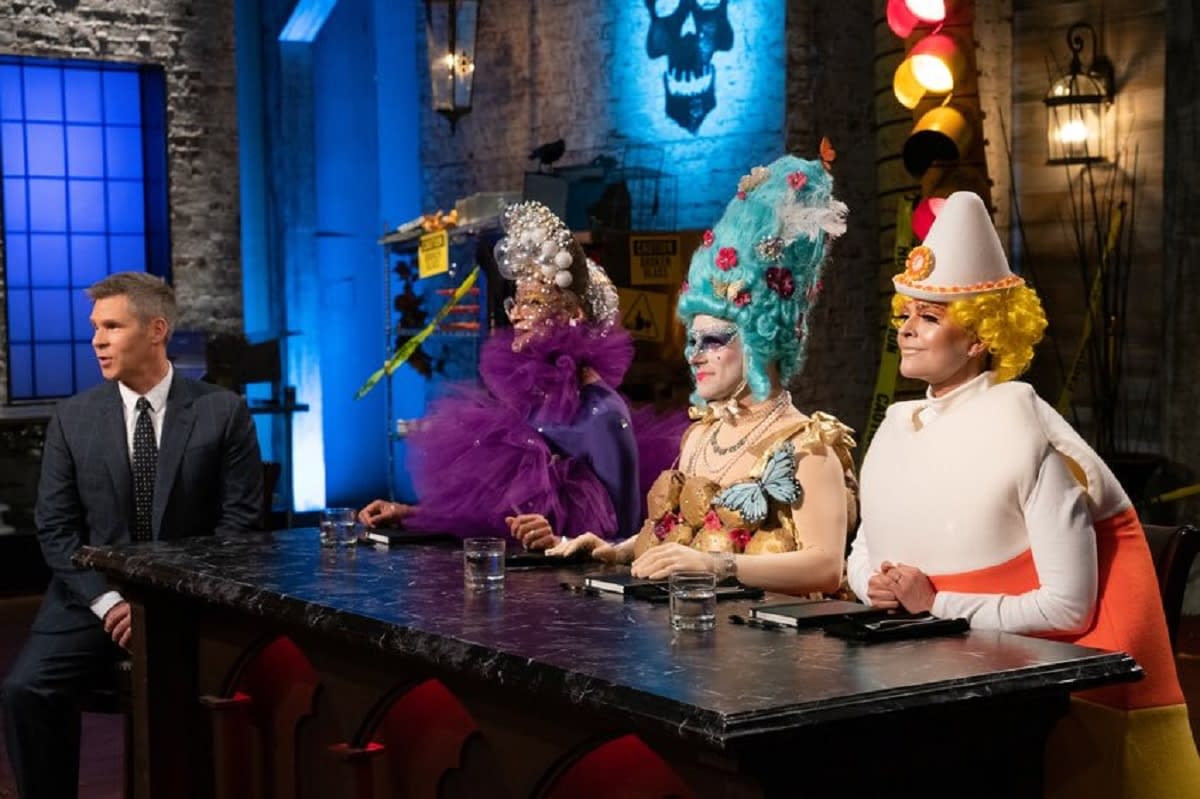 Judges Carla Hall, Katie Lee and Zac Young dressed up as a shower body washer, candy corn, and a Croquembouche – had no clue what that was until this episode: apparently, it's a tower of cream puffs. Yep, Young yet again took roleplay to a whole other level. The three remaining contestants showed amazing team comraderie, had fun on set by scaring one another, and like a happy family produced delicious inspired Halloween treats.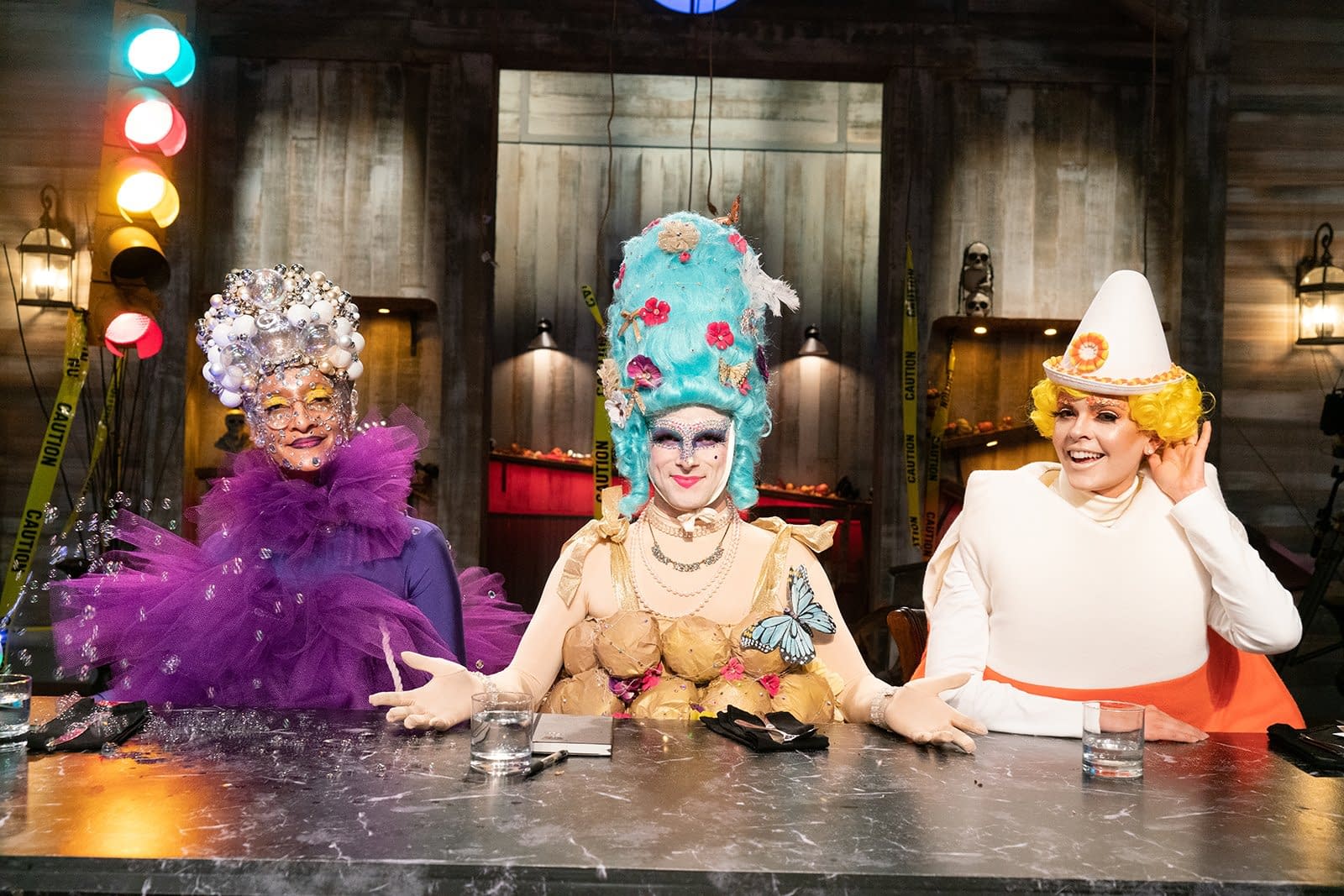 Halloween Baking Championship consists of two rounds:
● Round #1 – Pre Heat: Contestants are given up to two hours to create a small tasty treat. No eliminations this round, but the winner gets an advantage going in to round two.
● Round #2 – Main Heat: Competitors are asked to create a cake to tell a creepy interpretation of a concept. The tastiest and most inspired creation wins the challenge, the loser gets their flesh feasted on.
Each episode a losing contestant gets zombified. The contestant with his/her heart still pumping at the end of the season wins $25,000.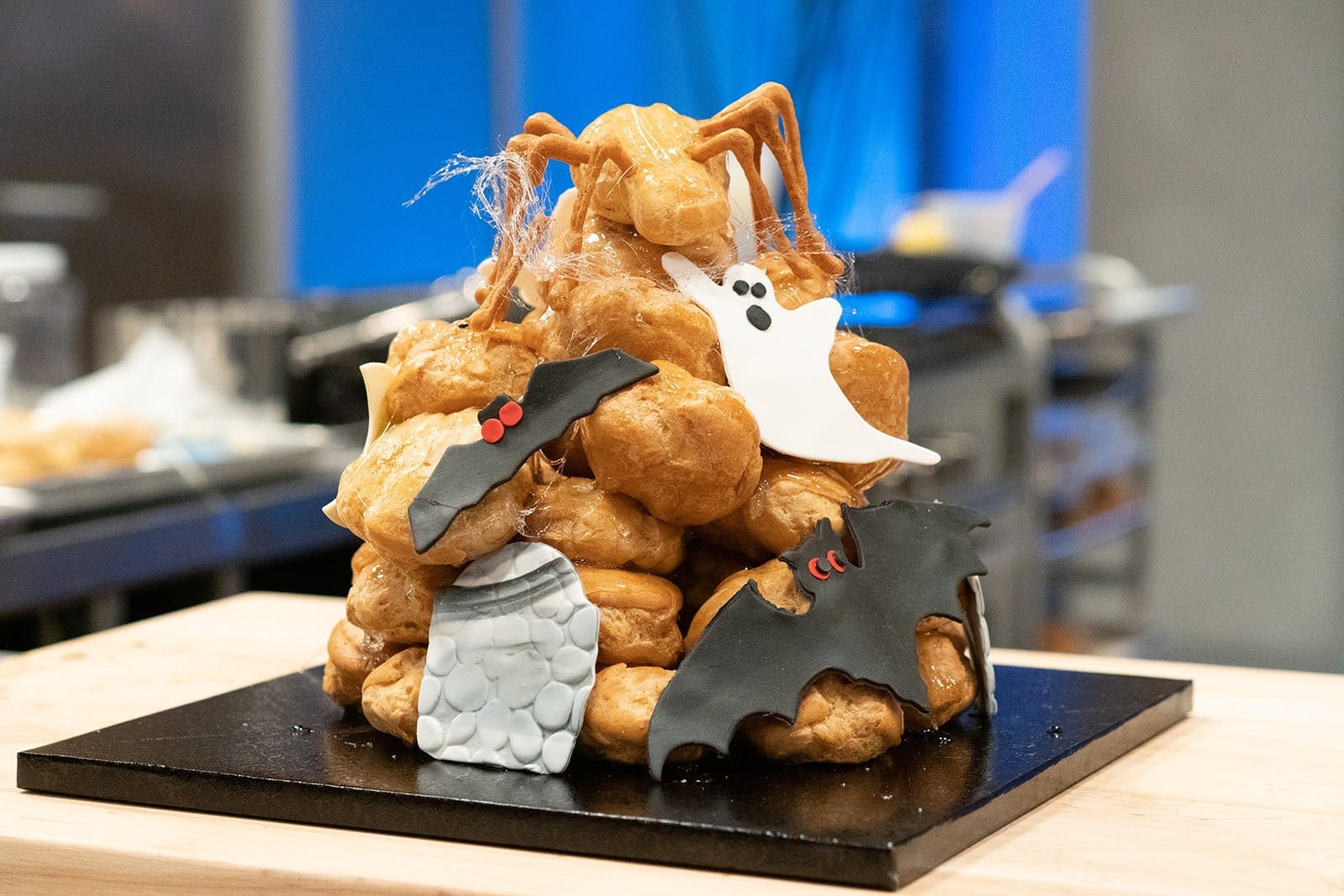 Here are some of highlights from the final episode this season: "A Haunting We Will Go"
● Round 1 'Ghostembouche": contestants had to be inspired by ghosts and create their best apparition type Croquembouche.
● Contestant Pete gave each of the judges at least two orgasms, I'd forgotten what show I was watching for a moment, or was I possibly on Pornhub. His spider webbed chocolate hazelnut pastry cream filled cream puff tower had the judges seriously indulging in a "Rated R"-type way – clearly, he won the first round.
● Contestant Carl gave us ghosts, spiders, tombstones, and bats, a very whimsical and cute caramel filled lemon zest and cinnamon Croquembouche. It looked adorable, and tasted quite good.
● Contestant Jessica wasn't as successful in her display – according to the judges, looked more like a bread basket covered in a river of caramel. It didn't have a scare factor, but the banana/rum filling tasted great.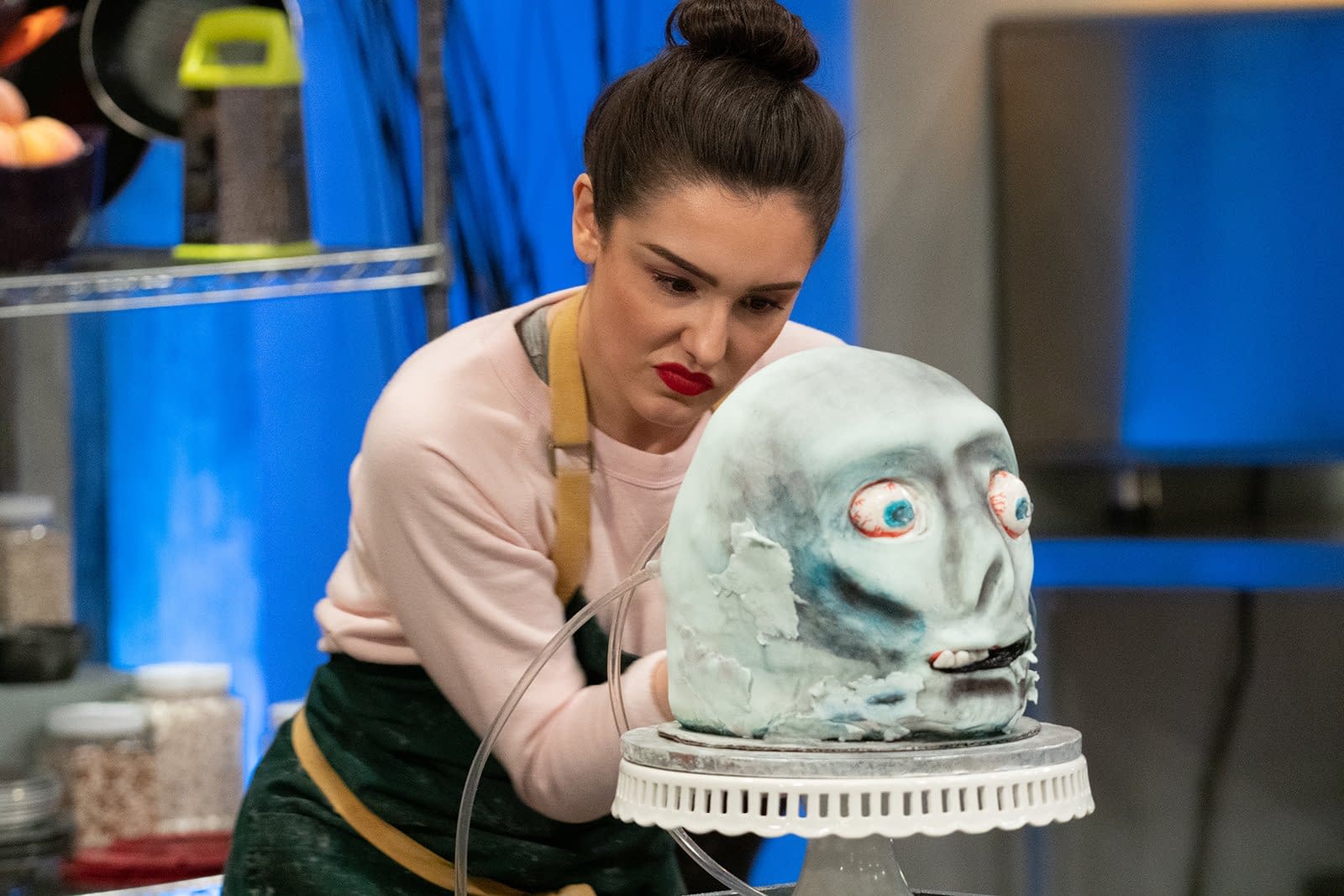 ● Round 2 "Zombie Cake": contestants really stepped it up and got inspired, probably by the zombie apocalypse happening around them. With smoke and the undead, the contestants had to make their final creation bleed – literally
● Pete got the "bleeding brain" with his Lemon Poppy seed cake with blueberries with the head ripped off – and the brain exposed was awesome. The river of blood was very animated and it resembled a cake a child would want for their birthday.
● Jessica had her zombie's eyes bleeding out, very Stigmata like. The "window to the soulless" representation tasted delicious but was apparently a tad too heavy on the pallet.
● Finally, we have Carl – the man I have been rooting for all season if nothing else for his dedication and consistency to take risks and reinvent himself. His real-life representation of a bleeding heart – and his paying respect to his other contestants represented in his zombie cake was sweet – and horrifying. His two-tier cake with the exposed rib cage had flesh squirting ghastly blood – not to mention, the devil's food cake tasted fantastic. He deserving to take home the $25,000.
These desserts were as SHOCKING as they were delicious! 👀😱 Don't miss the season finale of #HalloweenBakingChampionship tonight at 9|8c. pic.twitter.com/871M7ld4w2

— Food Network (@FoodNetwork) October 28, 2019
This was an amazing way to wrap up the season. Though it struggled here-and-there with contestants representing the holiday, it was often saved by the bizarre choices of costumes by the judges – and of course, Henson's unique humor. If anyone missed the season but just wants one episode to watch? "A Haunting We Will Go" should be it.
Enjoyed this article? Share it!