"iZombie" Season 5 Episode 11 "Killer Queen" More Fab Than Fierce [SPOILER REVIEW]
Approaching the end of The CW's iZombie, this week's episode "Killer Queen" was subdued yet eventful, probably the best way I can describe it. Although a lot happened, the "WOW" factor was missing. It played out as if you got some spaghetti sauce on your white shirt but had a pen stain remover handy "no harm, no foul". Ravi (Rahul Kohli) finally gets his hands on the original Utopium which can be used to make the cure; Blaine (David Anders) kills off Don E's (Bryce Hodgson) 'bride to be' on their wedding day; Liv (Rose McIver) begs her father to abort his mission of spreading the zombie virus outside the Seattle walls; and thrown in to the mix is the murder of a drag queen.
https://www.youtube.com/watch?v=qfLQ6oX8POs
iZombie season 5, episode 11 "Killer Queen": LIV GOES OLD SCHOOL — Liv (Rose McIver) and Clive (Malcolm Goodwin) investigate the death of an old school drag queen which leads Liv to eat and shift into the queen's brain. Meanwhile, Ravi (Rahul Kohli) reaches out to Major (Robert Buckley) with an interesting request. David Anders, Aly Michalka and Bryce Hodgson also star. Jude Weng directed the episode, written by John Enbom & Kit Boss
Ravi and Liv find themselves in a sticky situation trapped in Martin's (Bill Wise) basement with someone about to come downstairs. The only way to escape is through the cell housing the zombie prisoner who have been trained to follow Martin's orders. Lucky for them, they make it out the window before Martin and Frenchy discover them. Martin however clearly realizes someone has been in his lab, and that several batches of his Utopium are missing. Does he care that Liv took it? Doesn't seem like it – more so, it is becoming clear that he has a very soft spot for his daughter. Ravi quickly starts making plans to get the Utopium to his friend Charlie (Quinta Brunson) at the CDC so the manufacturing of the cure can begin.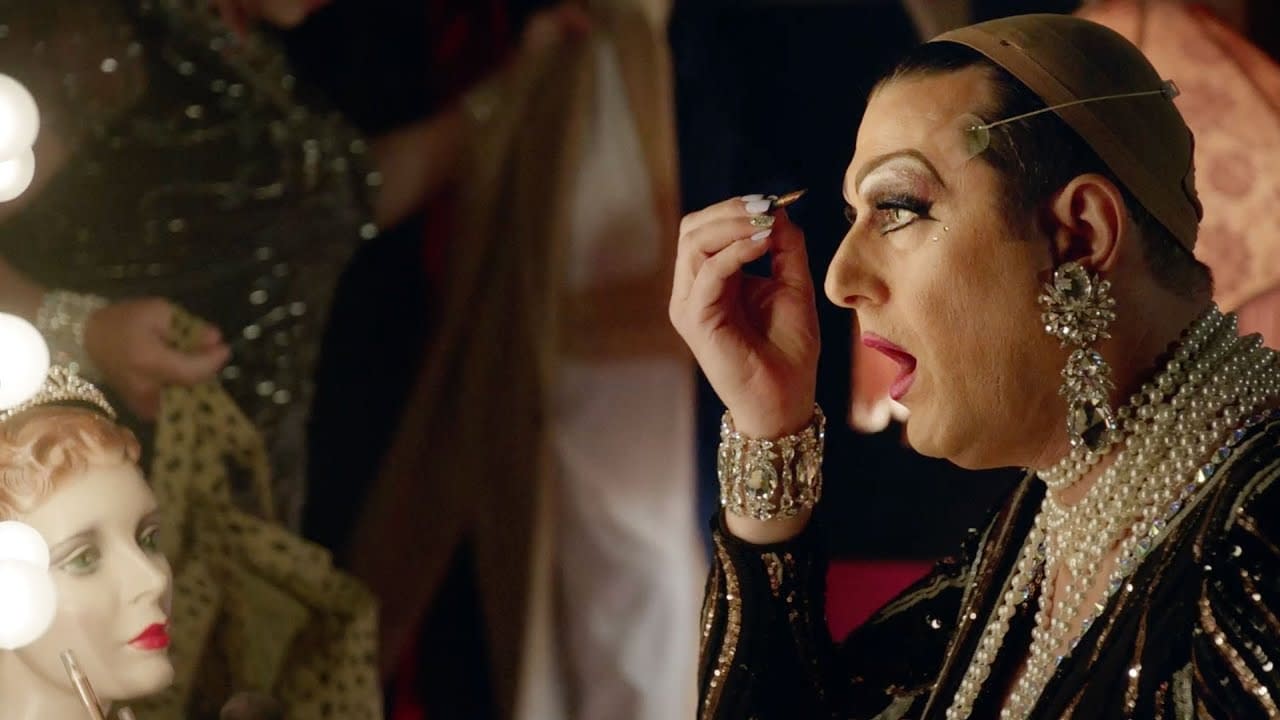 "Are you ready to be fabulous?"
A drag queen is strangled by a pearl necklace and Liv comedically takes on her fabulous personality consuming her brain in a jello cake. Liv looks exceptional throughout the entire episode and her mannerisms are very well played. It was enjoyable to watch her sultry nature and sexy demeanor in interrogation. After interviewing a number of possible suspects Clive (Malcolm Goodwin) and Liv zero in on the victim's ex bussiness partner who found out the deceased was going to sell the club so that a parking lot can be built. So in order to preserve her home he killed her.
"Who doesn't love a wedding?"
Don E and Darcy (Valerie Tian) plan their wedding at the nightclub, it was kind of nice to see something going right for him, his own personal happiness instead of constantly being Blaine's lacky; that was until Blaine delivered his dead 'wife to be' on their wedding day. Poor Don E, but out of the goodness of his heart, Blaine grants him all the time he needs before her Freylich brain is transported to her buyer as the cure. How long before Don E finds out that Blaine killed her after he found out that Mr. Boss (Eddie Jemison) and Don E went behind his back and are still providing the brain supply to Seattle with Fillmore Graves? does it even matte? or will Blaine just end up killing his long time friend? I'd put money on the latter.
One of the funniest scenes this week was when Ravi entices Major (Robert Buckley) with brain sushi to get him to appeal to a woman who might have a lead on where the Freylich kids are being held captive. Major agrees with enthusiasm and plays up the role of head honcho of Fillmore-Graves and man desperate to experience being human again. The hostess falls for his charm and tells him that for a hefty price she knows someone who can make it happen. Major slips her his 'bugged' bussiness card which leads him and Ravi to a warehouse where the kids are being held.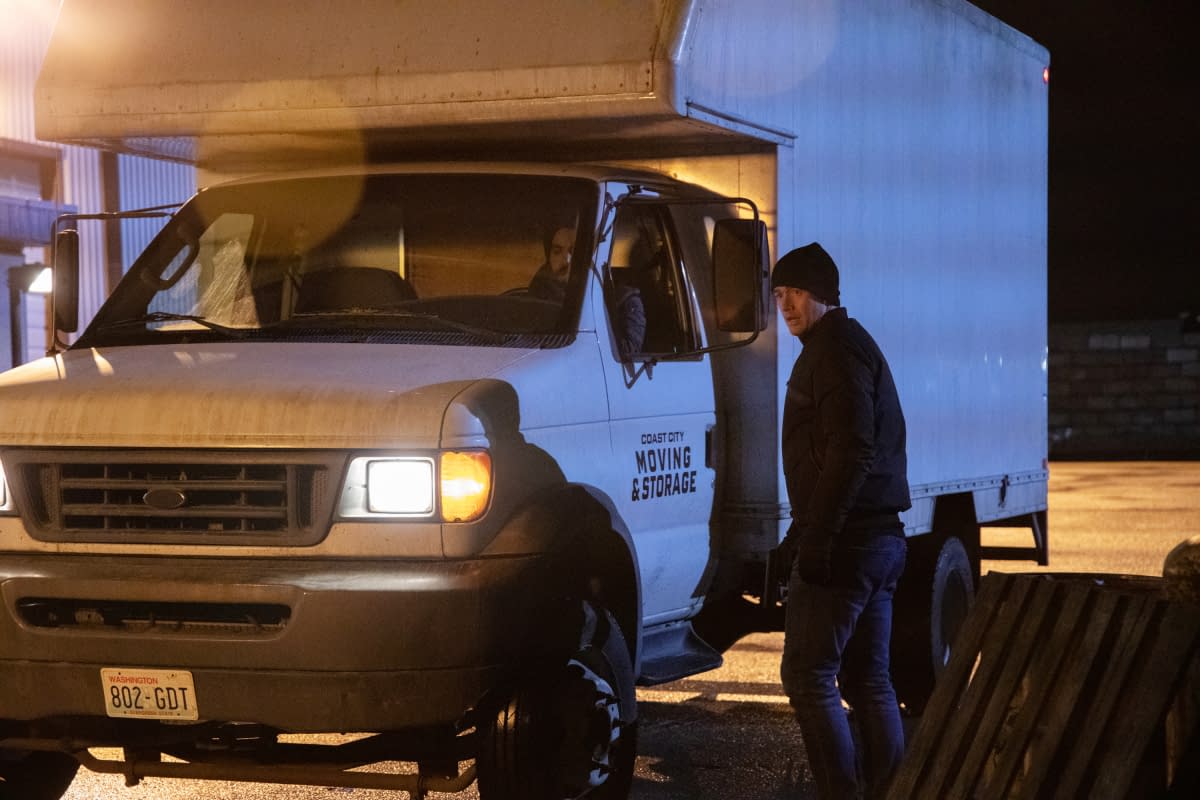 Major and Ravi go on a stakeout, not sure why Major didn't take some of his soldier with him and instead brought Ravi, a man who doesn't know how to even shoot a weapon, but ok. Ravi instead of keeping watch as instructed gets curious and stars snooping around. He finds the kids stashed in a truck and saves them and Major who gets shot in the sting operation.
"Graham, you're not telling me something…"
Operation spreading zombie virus seems to be in full force when Graham (Dejan Loyola) the teacher hired to teach Renegades orphan children assists in ensuring that a couple of zombies are smuggled out of Seattle, right under Liv's nose. The four women arrive in Vegas, storm a brothel and kill the employees taking their place. It appears they will be expecting a number of important visitors from the "National Electronic Convention." All that's left is a call from Martin giving them the green light to open the bussiness for some needy customers.
Unfortunately for Graham, Frenchy convinces Martin to not honor leaving his boyfriend alive and shoots him in the head. Liv is left to break the news to Graham, and he spills his guts about the entire operation and how he has been playing Liv this whole time. Maybe Renegade should have been paying more attention to what goes on in her house.
"Dad. I'm begging you. Don't do this."
After Graham's confession Liv realizes her father is responsible for the entire op and immediately video calls begging him to stop whatever he has been doing. A very theatrical father daughter moment ensues, where Liv tries to convince him to essentially have a heart, staring at his daughter he almost does. Unfortunately for Martin, Frenchy overhears the conversation and draws his weapon. Frenchy asks Martin if the team in place can get the green light to open the brothel for business, Martin hesitates – giving Frenchy no answer. Liv is then left to watch her father get shot in the head before the video goes black. Ouch. I personally don't believe Martin is dead – too easy.
So where are we with only two episodes left? There might be a zombie cure any day now; the zombie virus has already made its way to Washington and most likely Vegas. Martin might be dead, and Liv should seriously reconsider how trusting she is of people (that's just my personal opinion). I can only assume that there will be no Liv and Major reunions and let's not forget that General Mills (Andrew Kavadas) contacted Dolly (Jennifer Irwin) so something will definitely be brewing there. Lastly, what are the zombies in Washington waiting on? Can't wait for next week's episode…
iZombie season 5, episode 12 "Bye, Zombies": IZOMBIE'S PENULTIMATE EPISODE WRITTEN BY DIANE RUGGIERO-WRIGT — Liv (Rose McIver) makes a devastating discovery. Rahul Kohli, Malcolm Goodwin, Robert Buckley, David Anders, Aly Michalka and Bryce Hodgson also star. Michael Wale directed the episode written by Diane Ruggiero-Wright
CW's iZombie stars Rose McIver as Olivia "Liv" Moore, Malcolm Goodwin as Clive Babineaux, Rahul Kohli as Dr. Ravi Chakrabarti, Robert Buckley as Major Lilywhite, David Anders as Blaine DeBeers, Aly Michalka as Peyton Charles, and Bryce Hodgson as Don E. Filmed in Vancouver, British Columbia, Rob Thomas, Diane Ruggiero-Wright, Danielle Stokdyk, and Dan Etheridge serve as executive producers. Production is handled by Bonanza Productions Inc., in association with Spondoolie Productions and Warner Bros. Television.
iZombie airs Thursday nights at 8 p.m. ET/PT on the CW.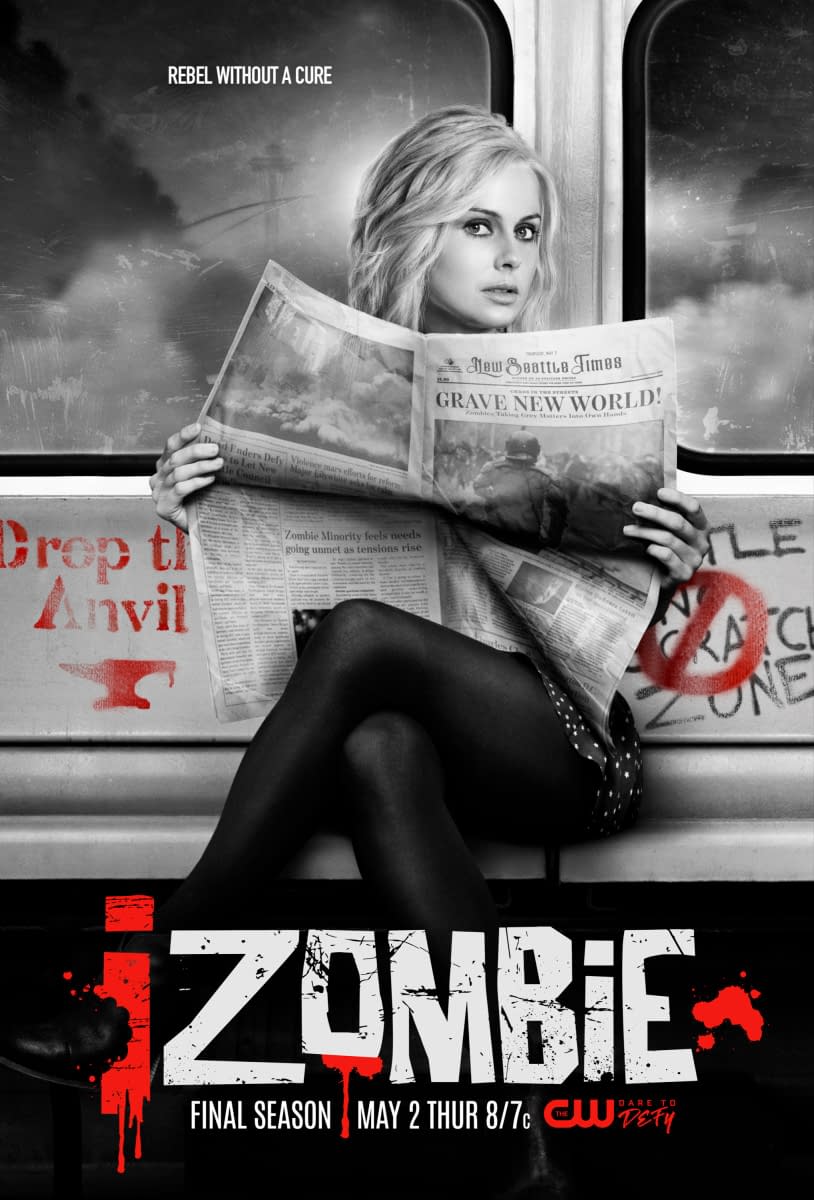 Aside from an avid iZombie fan, Margo Staten is a Ukrainian born, raised in Brooklyn, organically driven, coffee loving, twice-divorced mother of one baby Einstein. Has a passion for books, yoga in the park and all things 80's and New Orleans.