Jeff Hardy Involved in DUI Angle on WWE SmackDown
Last night's episode of WWE SmackDown on Fox opened up with an angle in which a drunk Jeff Hardy appeared to run over Elias with a car. Playing off Hardy's longtime and well-known addiction problems, the angle saw an inebriated Hardy arrested and his spot in the Intercontinental Championship tournament offered to the winner of a battle royale, which turned out to be Hardy's recent opponent, Sheamus. Sheamus faced Daniel Bryan later in the night only for Hardy to show up and cost him the win, with Bryan going on to face AJ Styles for the championship another night. Hardy entered the ring immediately after the bell and attacked Sheamus.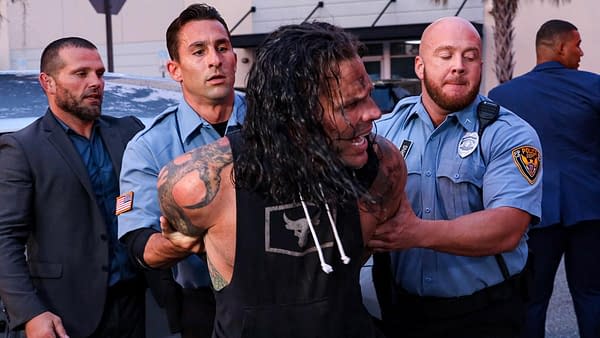 Oops, Jeff Hardy Did it Again… Or Did He?
The implication here is that Sheamus set Jeff Hardy up in some way. Maybe he attacked Hardy, poured alcohol on him, and let him in the bushes. Either way, Sheamus was definitely working heel the entire night, and Hardy was treated as the face upon his return later in the night by WWE's performance center talent audience, which means WWE wanted Hardy cheered. Surely, if Hardy really did (in kayfabe) run over another wrestler while drunk driving, WWE would not order its makeshift crowd to cheer for him.
Even so, the segment garnered a lot of heat on social media, including from Hardy's own brother and sister-in-law. "I'm throwing my TV out," wrote Reby Hardy on Twitter, with Matt Hardy adding, "Just to reiterate.. I'm happy to be working at @AEWrestling for @TonyKhan on Wednesdays." Both tweets came before the ending segment that made Hardy's apparent innocence clearer.
The Bottom Line Cause Chad Said So
Look, The Chadster likes to get wasted on White Claws as much as the next guy, but I do understand that addiction issues can be a serious problem and a sensitive issue for some people. While some may find the angle with Jeff Hardy in poor taste due to his real-life issues, it's a topic Hardy has worked angles about before. Additionally, it really looks like Hardy was set up here as he's clearly the babyface. Wrestling angles that are based on reality can make for a believable storyline, so I'm definitely willing to give this story a chance.