Other Three Pillars Ruin MJF's Re-Bar Mitzvah on AEW Dynamite
MJF's Re-Bar Mitzvah on AEW Dynamite was interrupted by Jungle Boy Jack Perry, Sammy Guevara, and Darby Allin in a tease of the future of the industry.
---
AEW World Champion MJF held a Re-Bar Mitzvah to open AEW Dynamite last night in celebration of becoming the Iron Man after beating Bryan Danielson in a one-hour Iron Man match at AEW Revolution. Unfortunately for him, things didn't go as planned. MJF was interrupted by Jungle Boy Jack Perry, Sammy Guevara, and Darby Allin, known alongside MJF as the four pillars of AEW. Each of the other three pillars demanded a title shot in a segment full of worked shoots before MJF ended up being thrown through his own Bar Mitzvah cake.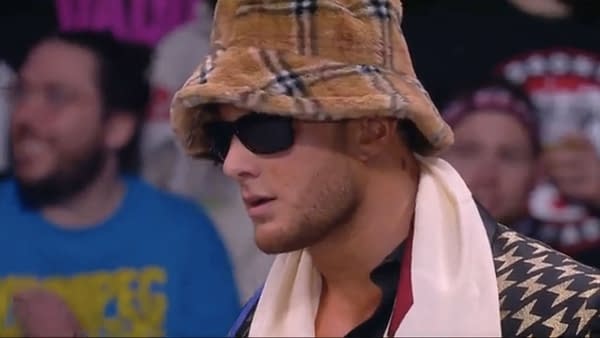 The Chadster was completely outraged by this segment. First of all, The Chadster was annoyed at how this segment ripped off The Chadster's beloved WWE. Everybody knows that WWE is the company that starts out all of its television shows with promos, while AEW starts its shows with high-octane matches. And yes, it's true that The Chadster always says that this is because Tony Khan doesn't understand the first thing about how to book a wrestling show, but that doesn't mean The Chadster wanted him to just copy AEW, which The Chadster thinks is just so unfair.
But even worse, The Chadster was disgusted to see these four young stars, who are the future of the wrestling business, all appear on AEW. Not a single one of these wrestlers paid their dues by wrestling in WWE, so how can they be considered pillars of anything? It doesn't make any sense to The Chadster and is just another example of how Tony Khan disrespects the wrestling business and everything that Vince McMahon has ever done for it.
If there's one thing The Chadster can't stand, it's the idea that AEW could be around a decade from now with these young stars established as some of the top wrestlers in the industry. The Chadster can only hope that all four sign with WWE before it's too late, and that's the bottom line 'cause Chad said so!