Last night on Friday Night Smackdown, WWE celebrated 25 years of Triple H's career. The show ended with a touching tribute from Haitch's best bro, Shawn Michaels, and father-in-law, Vince McMahon. But that wasn't the highest honor. That came the next morning, when Triple H received the blessing of the President of the United States and, more importantly, WWE Hall-of-Famer, Donald Trump.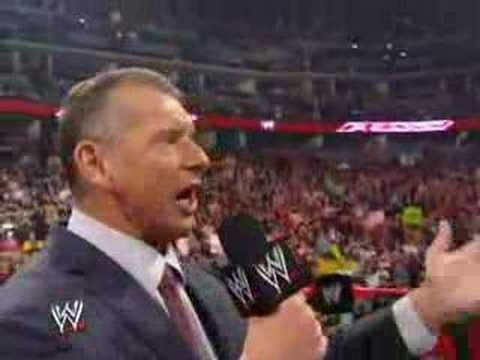 Triple H's appearance on SmackDown began with a tribute from the Heartbreak Kid, which began with a WWE staffer wearing a mask and gloves snatching Triple H's water bottle before he could spit it in the air, violating all kinds of sanitary protocols. HBK then told a few jokes at Triple H's expense, switching out the words "Suck It" in their DX chant with "Social Distancing" and insinuating the reason for an empty building was that no one wanted to show up to support Triple H.
Soon, Vince McMahon interrupted the boys to deliver some insults himself, telling them that their segment sucked. Vince compared their segment to Bayley's This is Your Life segment, which he quickly pointed out he didn't blame on Bayley. Vince told Triple H he loved him. Vince told Shawn he loved him. Triple H told Vince he loved him to. It was quite touching, almost enough to make you forget that WWE recently laid off over 50 of their workers during a pandemic while raking in record profits.
But the real action didn't happen in the ring. That took place on Twitter, when McMahon expressed his love for his son-in-law on the social media service and the president of the United States joined in with some praise of his own.
Donald Trump and Pro Wrestling are the Perfect Tag Team Partners
Donald Trump is the pro wrestlingest president since Abraham Lincoln. Whatever you think of him, that's a fact. Trump's association with WWE goes all the way back to the 1980s when Trump hosted WrestleMania 4 and 5 at his Trump Plaza resort in Atlantic City. Over the years, Trump has been involved in WWE in various ways, including facing off against Vince McMahon at the Battle of the Billionaires at WrestleMania 23. He's been a storyline owner of WWE. And there was the time he showed up at WrestleMania 20 and promised to financially back a Jesse Ventura bid for The Presidency.
"If I were to get back into politics, could I expect your moral and financial support?" Ventura asked Trump.
"100%," the future President of the United States replied without hesitation. "You know that. 100%."
"You know what? I think we might need a wrestler in the White House…" Ventura told the crowd to massive applause.
And we would get one, a decade later, but it would be Donald Trump himself to hold the honor. Trump got their with the financial support of the McMahon family, who donated millions to his campaign. As a result of that, Linda McMahon scored a cabinet position as head of the Small Business Administration. She left that job to run a Trump Super PAC for his reelection, and that Super PAC pledged to spend $18.5 million to the State of Florida on the same day that state granted WWE "essential" status to continue operating during the pandemic. As you can see, it's a relationship that involves a lot of give-and-take. Trump even named "the great Vince McMahon" to a presidential task force on restarting the economy.
And that's how we ended up in a world where Vince McMahon tweets something like this:
We didn't know it a quarter-century ago, but he would go on to change "The Game" forever. Happy 25th #WWE Anniversary to my son-in-law, @TripleH! pic.twitter.com/QnacTDfZ2y

— Vince McMahon (@VinceMcMahon) April 24, 2020
And it gets retweeted by the POTUS who adds this:
.@TripleH is a total winner! https://t.co/KsTHMEKeqx

— Donald J. Trump (@realDonaldTrump) April 25, 2020
What strange times we're living in.