R-Truth Game Show Set for July Debut on WWE Network
A long-rumored game show hosted by WWE Superstar R-Truth is finally set to debut on the WWE Network next month. In development for years, R-Truth revealed on WWE's The Bump podcast this week that the show will debut on July 14th. Truth also shared some insight on what to expect from the show, which featured clips that looked like the show may be conducted over Zoom, based on some clips shown on the podcast.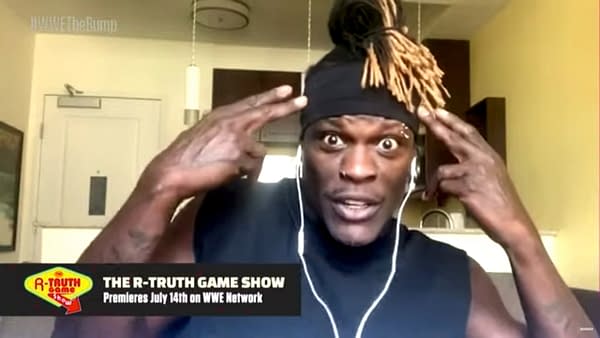 "This game show is like none other game show. I got a whole cast, a whole crew, man, that's helping me put this thing together. A lot of my ingenuity goes with it. As a matter of fact, I keep a count of the points, and there's a lot of prize and prizes I'm giving away—a lot of laughs. We're gonna see who knows. I got trigger games. I got scavenger hunts. Man, I got picture games. I got so many games on there. So many good games, great prizes. And I got a slew of celebrity guests that are gonna be on."
Truth also discussed his accidental callout of Shane McMahon on the Raw post-show last Monday. When asked how he would defend the 24-7 championship against someone like Shayna Baszler, Truth misunderstood and thought the question was about Shane McMahon, who Truth said it would be an honor to be in the ring with. The Bump got a statement from McMahon on the matter.
"Well, you never know what happens here in the WWE," McMahon said. "It goes back a little bit to being the hardcore champion, so I have a little bit of a… well, that was some time ago. I will say that R-Truth has a far better chance with me than he does with Shayna. Shayna, she is one bad, bad girl. So, Truth, if you're gonna accept somebody's challenge, then obviously you should challenge me instead of Shayna. That would be my recommendation. Watch your back, Truth."
"So, y'all telling me that Shane McMahon is not a woman? You're telling me that Shane and Shayna, they're two different people?" R-Truth said in response. "I'm gonna have to call some people."