It looks like WWE made the right decision by not bringing CM Punk back for a full-time wrestling run. Though WWE Backstage isn't even a year old, and Punk's appearances on the show are kept sporadic, it seems the magic has worn off, and people just aren't tuning in to see CM Punk anymore. Tuesday's episode of WWE Backstage featured an appearance by Punk, but it failed to pop a rating. In fact, ratings went down, so what does this mean for CM Punk's future in WWE?!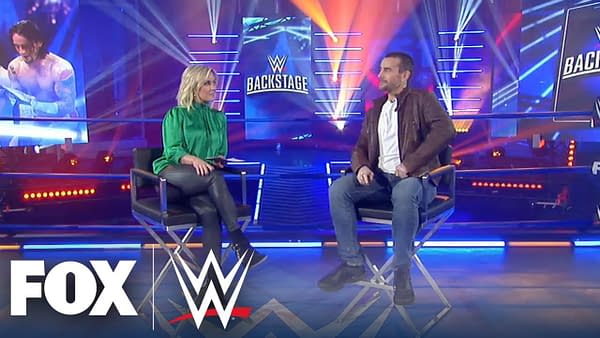 WWE Backstage: CM Punk or CM Slump?
According to the latest numbers from Showbuzz Daily, WWE Backstage ranked 143rd for the night, scored a .04 in the crucial 18-49 demographic, down from a .05 last week despite no Punk on that episode. Viewership was also down, from 125,000 viewers last week to 121,000 this week. Four thousand fewer people wanted to watch Backstage with CM Punk on than without him. That's gotta hurt, Punk, that's gotta hurt.
The Bottom Line 'Cause Chad Said So
Of course, there's one solution that could help WWE bounce back from this ratings slump and Punk's diminished drawing power. They could bring The Ratings King of Friday Nights, Baron Corbin, onto WWE Backstage as a regular contributor. I'm not saying that Baron Corbin should be on every WWE show all of the time, but a strategic Corbin appearance now and again will help set the tone that you should tune into every WWE show as often as possible lest you miss an appearance by The King. And when it comes to replacing a star of the caliber of CM Punk, who less than a month ago was bigger than Hulk Hogan, only the best will do obviously. And that's Baron Corbin, or my name isn't The Chadster.
Enjoyed this article? Share it!