Star Trek: Picard – Gates McFadden Says "Good Chance" She Appears
Another Star Trek: The Next Generation alum might be making her back to the franchise. Gates McFadden, who played Dr. Beverly Crusher on the U.S.S. Enterprise D, teased to Trek Movie about a potential future appearance on the CBS All Access series Star Trek: Picard. She started talking about how her character changed throughout TNG. "The character [had] become matron-like, and it was just weird," McFadden said. "I was no longer really the love interest of Picard (Patrick Stewart) and that was one of the primary things—I was hired by Gene [Roddenberry] himself as the love interest of Picard. That got changed. And that wasn't changed by me."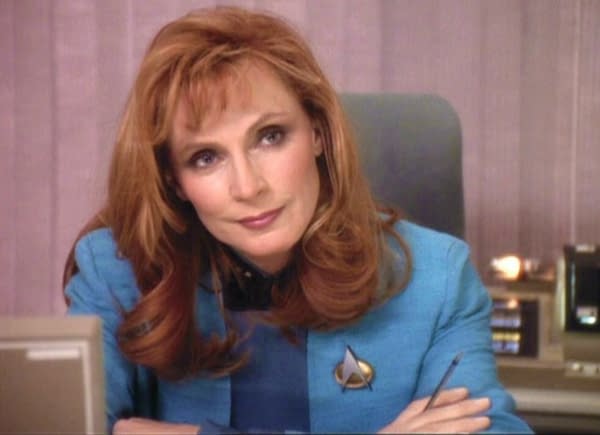 McFadden played the ship's doctor for six of the seven seasons and all four of the TNG films. Jean-Luc and Beverly's relationship was never really explored, but they had some bonding moments throughout the series. The finale "All Good Things" saw the two at one point married before becoming estranged. Beverly kept Picard's last name and serving as captain of her own ship in Jean-Luc's future timeline. As far as why their relationship never took a serious turn, McFadden suggested Stewart wanted Picard to play the field. "I think that Patrick made a decision at some point that he was opening it up to other relationships in our show, and in the movies, certainly," she said. "So I can't imagine that it's suddenly going to be different, but it doesn't mean that there's not a relationship there. Obviously, from all of our scenes, there is a relationship and that's great. So who knows? I have no clue, but it would be lovely."
Is Gates McFadden's Beverly Crusher Returning for Picard?
McFadden couldn't confirm if she will appear in season two of Picard. "Well, I don't know," she said. "There's a good chance, let's put it that way. But I have no contract signed." Not sure how tight-to-the-chest the Picard showrunners want to keep plot details for the next season. The fact McFadden confirmed contact was officially made confirms they'll have big plans for her. Why a significant role? Stewart said he doesn't want to make Picard feel like TNG the sequel and any return from the old cast has to be meaningful. There was an opportunity for Crusher to come back, but Picard returned to the doctor on his first ship, the U.S.S. Stargazer Dr. Moritz Benayoun (David Paymer).
When it comes to any theories as to what Beverly's been up to since the events of Star Trek: Nemesis (2002), McFadden didn't want to speculate. "I have, but it doesn't mean anything, because it's going to be what the writers have," she said. "I hate to ever say anything because then I think it kind of jinxes stuff in a way. But I think she definitely would be somebody who was very engaged in the world and trying to make it a better place. I would not see her as somebody retiring. And you know—she obviously raised a kid while she was a full-on command officer, so I think the sky's the limit in terms of what her life could be. This is the way I feel about my life now. I'm endlessly fascinated with a million things that I would like to study more and do more and get, I find the world is endlessly fabulous with which to engage, so who knows?"
What About Other Star Trek: TNG Cast Members?
The only TNG alum confirmed to return for Picard season two is Whoopi Goldberg, who will reprise her recurring role as Guinan. LeVar Burton, who plays the Enterprise's Chief Engineer Geordi LaForge, confirmed contact from producers. Marina Sirtis and Jonathan Frakes, who played Counselor Deanna Troi and Captain William Riker, expressed interest in returning after their appearances in Picard season one. Michael Dorn, who plays Lt. Commander Worf, is in agreement with producers and Stewart that if he returns, he doesn't want a cameo. Producers also teased Brent Spiner (who played Lt. Commander Data on TNG and the first season of Picard) may return as Dr. Alton Soong. To read the rest of the interview where McFadden talks about the convention scene, a few memorable Star Trek: TNG episodes, and her activism, go to Trek Movie.