The former WWE tag team formerly known as The Revival, now known as The Revolt, gave their first interview since obtaining their releases on the Talk is Jericho podcast, and they confirmed what we all basically already knew: the reason they left the company is that WWE will never put a serious focus on tag team wrestling as long as Vince McMahon is in charge. In the interview, as transcribed by WrestleZone's Dominic DeAngelo, Cash Wheeler and Dax Harwood discussed why they asked for their release when their team was on the upswing and why they insisted on getting it despite promises of more money and tag team gold.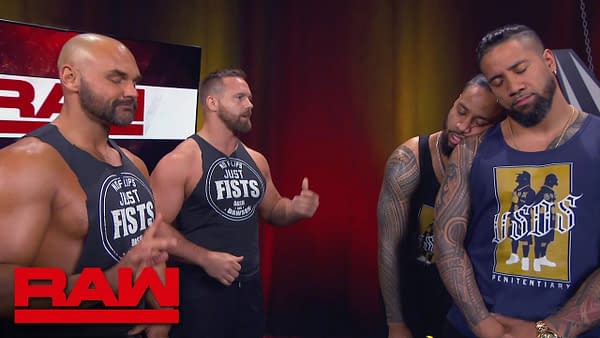 "I think it was a stroke," said Harwood, "and Dan even said to them, he said 'We don't want the belts we just want you to put focus on the tag team division. Doesn't matter who it is or who it's with, or who you put the belts on, we just want the tag team division to mean something, that way we can all make more money.' I think we knew underneath it all that there was never going to be a real push for real tag teams for whatever reason, I don't know what it is, but if you are in the tag team division and you're two singles guys thrown together you got a much better chance of being featured than you do if you're a standard tag team that look the same, that work the same. We knew that there was never going to be a big focus on the tag team division, that's why we worked so hard through 2019 to try make it a focus."
Wheeler went on to say that an unnamed person they spoke to when requesting their releases promised that things would change soon due to a "power shift" but the Revival didn't buy it. They were also unmoved by empty promises or appeals to personal glory. "I don't want the tag titles, I want actual solid proof that the tag team division as a whole will get TV time and respect and you'll invest promo time and segment time and character development into all these guys or otherwise it means nothing,'" Wheeler said. "'Look if things change, we will glady re-sign. Like we don't want to leave, but if things don't change we see no point in us staying because we want to make tag team wrestling mean something and if it's not going to happen there's no point in us being here just collecting a paycheck.'"
Ultimately, the Revival felt that they were missing out on a chance to leave a legacy in the wrestling business because tag team wrestling was being featured everywhere except for WWE, and so they left. However, they aren't looking to sign a new deal with a new company any time soon, comparing doing so to a rebound relationship after just getting out of a long-term one. Even so, based on recent teases during Being the Elite, it would be surprising if we didn't at least see them show up in AEW for a program with the Young Bucks, even if they do plan to play the field and sow their tag team seed in wrestling companies around the world for a while.
Enjoyed this article? Share it!