"Try and Stay Calm, You're Doing Very Well" – BBC One's Dracula Trailer Drops at MCM London Comic Con
I'm in the room with Steven Moffat, Mark Gatiss, Sue Vertue and Claes Bang, to hear them talk Dracula, their new BBC TV drama. But first we got to see the trailer. There is blood dripping on contracts, flies crawling into eyeballs, blood pumping in veins, fingernails being ripped from fingers, nuns with stakes under their habits, vampires folded into crates, and Dracula holding a man, with the only speech in the trailer – "Try and Stay Calm, You're Doing Very Well" – everything is very nasty, very fast. But also castles, high collars, waistcoats and all.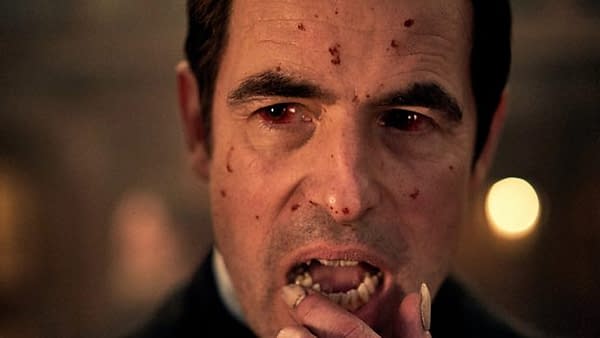 Then we got to hear the boys (and girl) talk about the show. How in the novel, you hardly get to see Dracula, and he stays in the shadows a lot, where as here Dracula is in almost every scene. Oh and the bit from the novel with Dracula on the boat that gets a few pages in Bram Stoker's original gets a lot more play in the TV show. They've made him the hero of the show, the protagonist – though still just as nasty. He has no moral dilemmas, he just wants to eat people. A creature who has seen empires rise and fall, who has seen it all before and who likes humanity – they are his food source after all. And by now he's become quite a connoisseur of humanity. And that you will get all the beats in the show, though not necessarily in the right order. And we'll also get bits of the novel in the BBC show that have never been adapted before.
Including getting to see Dracula's bum.
They also got to talk about Mark Gatiss making a Dracula documentary, reuniting seven Hammer brides of Dracula, at the original studio, which Gatiss calls 'possibly the gayest moment of my life.'
Expect a very scary show. 'Children must definitely not watch it and so definitely must' says Gatiss. There will be nightmares. Moffat says he loves all manner of vampire stories, but that the best ones always have Dracula in them…
Gatiss points out how everyone has a different take on the book and the character, pro-feminist and anti-feminist, anti-foreigner and anti-immigrant all at the same time. But theirs will definitely be the best. Gatiss says that they've been through a Twilight period of nice animal blood-eating vampires, and they want to make them very, very nasty again….