What We Do in the Shadows Season 2 Preview: Nadja's Got Witch Problems
Hard to believe we've reached the penultimate episode of FX and FX on Hulu's What We Do in the Shadows: it feels like we were just welcoming back our favorite vampires Nandor (Kayvan Novak), Nadja (Natasia Demetriou), Laszlo (Matt Berry), and Colin (Mark Proksch), as well as Nandor's familiar/future professional vampire killer, Guillermo (Harvey Guillén). Knowing that the series is already set for a third season return makes the sting a little less painful, but it's hard not to miss a series that actually found a way to improve upon a quality first season and get better with each subsequent episode this season. But before we start feeling a little too depressed, let's take a look at the promo for this week's episode "Witches." So after a season where Nadja has clearly proven herself to be the "alpha" of the house, it's going to be interesting to see how she handles a glaring weakness all her own: Witches. Let's just say she blames them for everything:
What We Do in the Shadows season 2, episode 9 "Witches": When Nandor and Laszlo are abducted by a coven of witches, the others must venture Brooklyn to rescue them. Written by William Meny, and directed by Kyle Newacheck.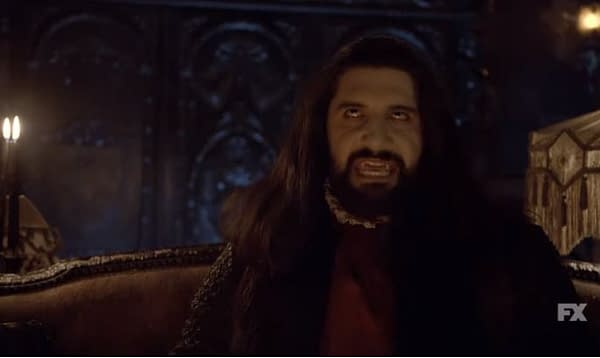 With the series not set to wrap its second season until June 10, the renewal timing is indicative of the show's performance this season. With an average of 3.2 million total viewers across both linear and digital platforms (including FX on Hulu) for its first six episodes, the season is rating 25% higher than at this point in the first season. The series has enjoyed a "who's who" of guest stars this season, including Kroll, Benedict Wong's necromancer Wallace, Haley Joel Osment's familiar Topher, Craig Robinson's vampire hunter Derek, and Mark Hamill's vengeance-seeking Jim the Vampire.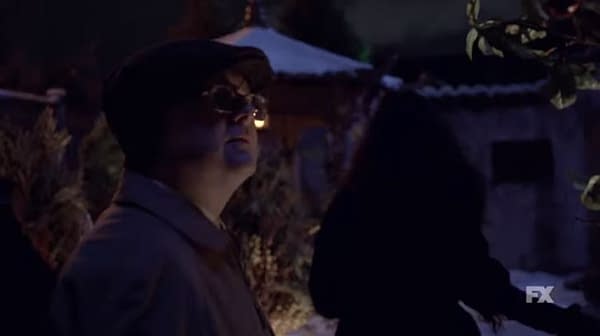 For Nick Grad, FX Entertainment's President of Original Programming, the decision was one that viewers and critics made much easier by the way they received the new season: "We're incredibly happy that critics and audiences are all in on Shadows. Week in and week out, the producers, writers, and our amazing cast continue to make one of the funniest and best comedy series on TV." FX's What We Do in the Shadows is produced by FX Productions, with Clement, Waititi, and Paul Simms serving as executive producers. Scott Rudin, Garrett Basch, Eli Bush, and Stefani Robinson also serve as executive producers on the series.