WWE's Baron Corbin Isn't an Unsafe Worker; He's Just That Damn Good
As the top heel in WWE, Baron Corbin is used to ticking fans off. In fact, for the Ratings King of Friday Nights, doing so is the ultimate goal. Corbin wants his name to go down in the history books as one of the all-time greats, and if doing so means that he catches some flack on Twitter from fans who just don't understand the business and claim he's an unsafe worker, that's fine with him. Corbin appeared on a recent episode of Busted Open Radio, where he discussed the topic.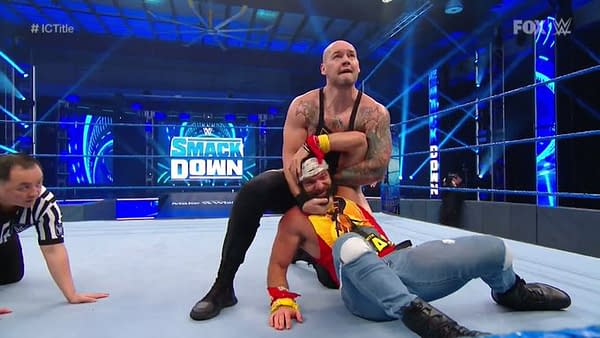 "I'm here to leave my name in the history books. Not just titles or whatever it is. I want to be the guy like Randy Orton," said Corbin. "In NXT, they'd be like, 'would you work with Randy Orton that way?' That was big thing, and we always make fun of Randy because he doesn't want anybody to hurt him. And so in NXT, if you did something, they'd be like, 'Would you do that to Randy Orton? Would you do that to [John] Cena?' So I want those guys beating on Vince's door saying, 'I want to work with this kid because he looks like he's murdering people and he's not. He's taking care of people.' Because the best are the best at that, you look at Taker and things that he's done, his punches, they look like they're killing people, but guys aren't picking their teeth up off the mat with I think is important. I definitely want my work to be at the top."
Despite being a master of his craft, Corbin still gets crap on Twitter. In fact, he gets it even more because he's so good.
"I'll get tweets all the time that are like, 'Dude, Corbin's unsafe, he killed that dude. Did you see how hard he actually hit him?'" Corbin recalled. "And I'm going, 'got you.' I think my punches are one of those things that I take a lot of pride in. Especially, I was always a little like; I don't throw a jab. Because if I throw a jab, it's gonna dent somebody's nose. I threw ten thousand jabs when I was doing Golden Gloves and all that. They're made to hurt people, and they're a little harder to control. So I don't throw 'em. That's one thing I'm jealous of, Big Boss Man could throw that left hand and snap it out there and touch people on the chin, and it was a work of art. Maybe someday I'll get there. Right now, I'm still denting people's noses."
Don't worry, King; The Chadster has your back. Can any heel in wrestling hold a candle to Baron Corbin? The answer, in this reporter's opinion, is no.