Words courtesy of Bleeding Cool's Will Romine:
In 2012, Cartoon Network debuted a block of animation devoted solely to DC shows. This block, entitled "DC Nation", was anchored by Young Justice and Green Lantern: The Animated Series. In a poetic stroke of serendipity, Young Justice's revival will form the bedrock of the DC Universe premium streaming service.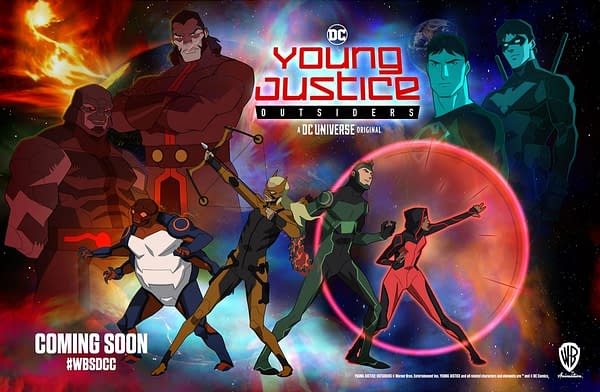 Young Justice joins the illustrious ranks of cancelled, only to be saved by grassroots fan campaigns. At San Diego Comic-Con I had the privilege of attending the Young Justice panel, where I learned much about the journey about how this quality show was saved and what to expect in the upcoming season.
The panel began with a sizzle reel recapping the first two seasons and a trailer teasing the upcoming one. Rather than use the theater of the mind to describe what I saw, why don't you just watch it below? Go ahead, I'll wait.
The third season of this program is entitled Young Justice: Outsiders. Even the most passive of DC fans can anticipate that the season will introduce a version of the same team as exists in the comic books. The team, led by Nightwing, will introduce the characters of Forager (portrayed by Wally West voice actor Jason Spisak) and Halo (a member of the original 1983 incarnation of the team.) The term "Outsiders" will also focus on characters who exist "outside" of the hero/villain dichotomy.
The season will delve into metahuman trafficking and how governments, corporations and criminal organizations seek to capitalize on the recent awareness and explosion of the metagene. Integral to the plot is the country of Markovia and its prince, Brion Markov, AKA Geo-Force.
Executive producer Sam Register described Young Justice as "the perfect binge-watching cartoon, made five years too early." Along with fan-led petitioning, it was Netflix viewership that convinced Warner Brothers to revive this property. With a new home on DC Universe, fans can expect greater complexity and maturity in the subject matter. Probably not the "f*ck Batman" level of its sister show Titans, but probably a little saltier than what was possible on Cartoon Network.
Fan response to the panel was through the roof. At one point, panelists goaded the fans into starting a screaming war with the panel next door. I don't know who won, but can anyone involved in an unbridled expression of fan joy truly be called a loser?
Enjoyed this article? Share it!