One thing you can definitely say about the fourth season of AMC's Fear the Walking Dead: it's not afraid to take chances on new characters. In Sunday night's episode 'The Code,' Morgan's (Lennie James) internal tug-o-war between Texas and Alexandria ended up in Mississippi – and being "introduced" to the not-who-they-appear to be Sarah (Mo Collins) and Wendell (Daryl Mitchell) and super-uber-brewmaster Jim (Aaron Stanford). Without giving away spoilers, let's just say things get a little "awkward" among the four of them – a few moral lines crossed, maybe a double-cross or two.
But after the last walker was dusted, the gang was off on…The Road to Alexandria! But first, Morgan's got some friends back in Texas he needs to pick up – but will that mysterious woman (Tonya Pinkins) at the end of the episode bring it all crashing down aroung them?
Our friends at EW had a chance to speak with FTWD showrunners Andrew Chambliss and Ian Goldberg about the recent additions to the cast, and what fans can expect from them as the season rages on:
● Using our new resident brewmaster as an example, Goldberg discussed how our newcomers will slide around a bit on the morality scale:
"Well, I think that's a really interesting question. All three of them have come from very different circumstances and are surviving in really different ways. I mean, you take Jim, he's someone who has been somewhat sheltered from the apocalypse. He's holed up in his brewery, and he has a very clear drive of what he wants to do. He believes that beer is key to bringing people back to civilization, and he's got that speech where he tells Morgan of all the historical reasons for that.

It seems like it's a very kind of noble thing that Jim wants to do, but what we think is so kind of interesting about Jim is the contrast, and that he's actually doing it for a very selfish reason. He's got a big chip on his shoulder for what he feels like he didn't get before the apocalypse that he feels like he should now. There's some complexity to Jim in that way."
● Since we're on the topic of Jim, Goldberg and Chambliss both agree with his sermon to Morgan: the world needs beer – and it's going to be getting more of it:
GOLDBERG: "Oh, that's very much so."

CHAMBLISS: "That's an emphatic yes."

GOLDBERG: "And without spoiling anything, there's a lot more beer to come this season."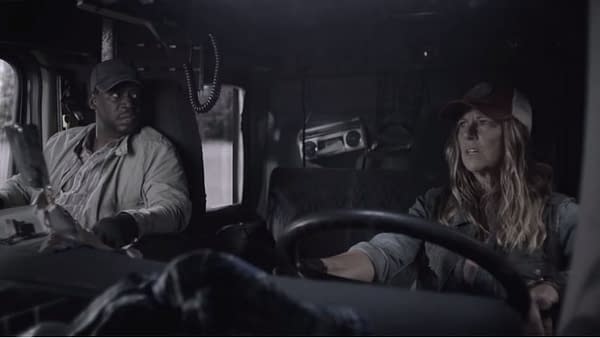 ● Okay, Jim is one thing – but what about Sarah and Wendell? In the span of one episode, their morality meter was of the charts – so what should viewers think about them? For Chambliss, it's about viewing them in the context of their environment – and that there's still some hope for them yet:
"What is anyone's excuse in the apocalypse? I think if you asked Sarah and Wendell, they would say they're just two people trying to survive, and they don't necessarily see what they do is anything worse than what anyone else would do. In fact, we hear Sarah call out Morgan and say, "This is no different than what you did. You could have crossed that bridge. We know it wasn't out. You're not protecting your friends, just like we're not going to help you right now." So I think they just see themselves and people trying to live in this world.

Morgan does, I think, get through to them by the end, and even though they ostensibly are helping him in his mission to find his friends and leaving these boxes kind of begrudgingly on the side of the road, I think there's a part of them that may actually find some satisfaction in doing that. And that's something that we're going to kind of play forward as we progress throughout the season."
● As for that mysterious woman at the end of the episode, Chambliss wouldn't say much – other than that she might turn out to be a very unexpected "big bad" for Morgan and the gang:
"I don't want to say much about that mysterious woman, but I think it's apparent in that moment that she clearly has some sort of history and relationship with whoever it was who set up that truck stop. And the fact that in the final moments of the episode she writes on that walker's face the key phrase that we've seen on the boxes the entire episode, "Take what you need. Leave what you don't," I think we can see that she's not too happy with the fact that Morgan is now carrying on that kind of legacy that's left behind. We will certainly see her again. She's going to become perhaps an unexpected antagonist to Morgan and the rest of the group."
Enjoyed this article? Share it!