My Hero Academia: Two Heroes Gets English-Dubbed Trailer Ahead of Fall U.S. Release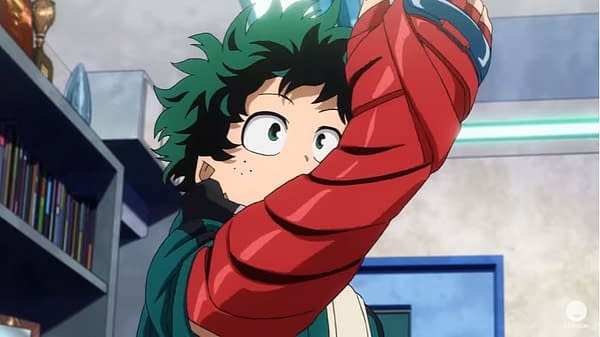 Apparently, Toho and Funimation's Quirk is their uncanny ability to make My Hero Academia one of the biggest anime titles running today — and now they're ready to go plus ultra by taking the show's first film My Hero Academia: Two Heroes to the U.S. this fall. To celebrate the news, the studios have released the first English-dubbed trailer for the film — including the addition of three new characters.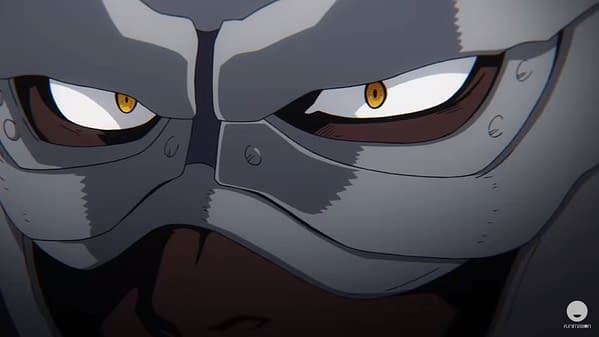 My Hero Academia: Two Heroes credits manga creator Kohei Horikoshi is for the original work, character designs, and serves as chief supervisor. Those returning for the project include director Kenji Nagasaki at BONES; scriptwriter Yousuke Kuroda; character designer Yoshihiko Umakoshi; and composer Yuki Hayashi. Masaki Suda performs the film's theme song 'Long Hope Philia', written/composed by amazarashi's Hiromu Akita.
The climactic finals are over, and U.A. is getting ready for the summer training camp. Deku and All Might receive an invitation from a certain person to go overseas to a giant artificial moving city called I-Island. This island, a kind of "science Hollywood" that gathers the knowledge of scientists from around the world, is holding an exhibition called I-Expo showcasing the results of Quirk and hero item research.

In the midst of all this, Deku meets a Quirkless girl named Melissa and remembers his own Quirkless past. Out of the blue, the impregnable security system the island boasts is hacked by villains, and all the people on the island are taken as hostages! Now, a plan that could shake hero society has been put into motion! The man who holds the key to it all is the number one hero and Symbol of Peace, All Might.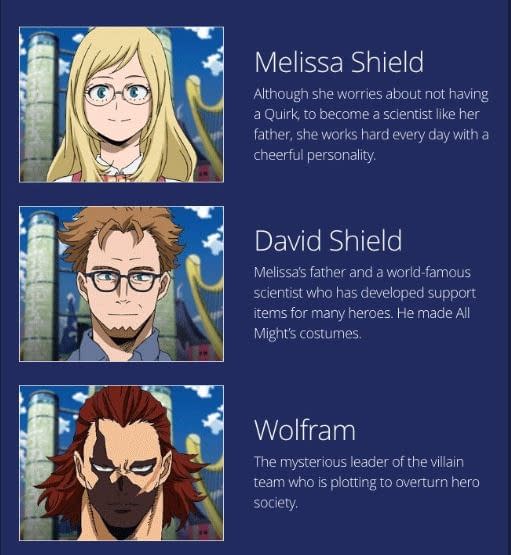 New characters joinining the My Hero Academia universe are:
● David Shield (voiced by Katsuhisa Namase, young David Shield voiced by Ryohei Kimura)
● Melissa Shield (voiced by Mirai Shida)
Melissa is a quirkless girl whom Deku meets on I-Island, and her father David was a friend of All Might in his younger days. David is a scientist who makes hero support items, and Melissa works hard to follow in his footsteps.
● Wolfram (voiced by Rikiya Koyama)
Wolfram is a leader of a mysterious villain team that aims to overthrow the Hero Society.
My Hero Academia: Two Heroes will screen in more than 400 theaters in the United States and Canada on September 25, 26, 27, 29 and October 2 (with tickets going on sale beginning August 24):
● September 25, 27, and 29 Screenings – Japanese with English subtitles
● September 26 and October 2 Screenings – English-dubbed