Castle of Horror: Frenzy is a Daring, Grisly Thriller from the Master of Suspense, but Should It Be Watched Today?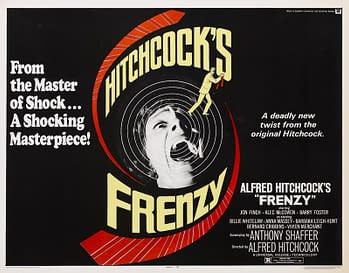 This week's discussion is on the 1972 thriller Frenzy directed by Alfred Hitchcock. The film, about a serial killer at large in London and an unlikable jerk framed for the murders, is daring, clever and sometimes very hard to watch. Trigger warning for those who are sensitive about violence against female victims.
Then we wrap it up with a conversation about Steven Spielberg's Ready Player One from the novel by Ernest Cline — the book, the movie, the success and the backlash.
Listen here:
Listen on YouTube:
Check out the trailer:
Castle of Horror/Castle Talk Podcast Links:
Join us over on Facebook to chime in.
The show is hosted here. Get our RSS Feed. Subscribe at iTunes. Listen on Stitcher. Or on YouTube.
Twitter: castleofhorrorp.
The Team: Hosted by Jason Henderson, one of the writers for Bungie's Destiny 2: Curse of Osiris and creator of the HarperTeen novel series Alex Van Helsing. Featuring Drew Edwards, creator of Halloween Man, Tony Salvaggio, Tech Director at of Rooster Teeth Studios and Clockwerx from Humanoids, attorney Julia Guzman of Guzman Immigration of Denver, and Jamie Bahr, lead singer and upright bassist of the rock and roll band Danger*Cakes.