Batman The Merciless Becomes McFarlane Toys Newest Build-A-Figure
McFarlane Toys gives collectors a tease of their upcoming wave of DC Multiverse figure. Batman has seemingly been the highlight character from the DC Multiverse toy line. With such an iconic character that is packed with history is hard not to be. This newest wave will not impress everyone but it will be memorable as we dive into the DC Comics storyline Dark Nights: Metal. This dark storyline feature some amazing evil versions of Batman and it seems that McFarlane Toys wants to showcase just that. We have already seen a couple of the evil versions get figures with The Dawnbreaker and The Devastator. That is not all as Batman The Merciless will be a build-a-figure in the next wave. This marks the first actual figure to be buildable in the series unlike the batmobile. Other figures will include The Batman Who Laughs with Sky Tyrant Wing, The Infected Superman, Dark Nights Batman, and Crow Robins.
The coolest part of the Crow Robins is that there will be three different variants of the head making there be technically three figures to collect. This will match perfectly to how we see the Batman Who Laughs anyway. This new line of McFarlane Toys DC Multiverse figures is something I am stocked for. I loved the Batman: Dark Nights Metal story arc and I can't wait to get these collectibles in hand and pose them off. not much else is know about this set beside it's scheduled Fall 2020 release date. Pre-orders are not live just yet but you can find some of the other already released figures here including version one of the Batman Who Laughs.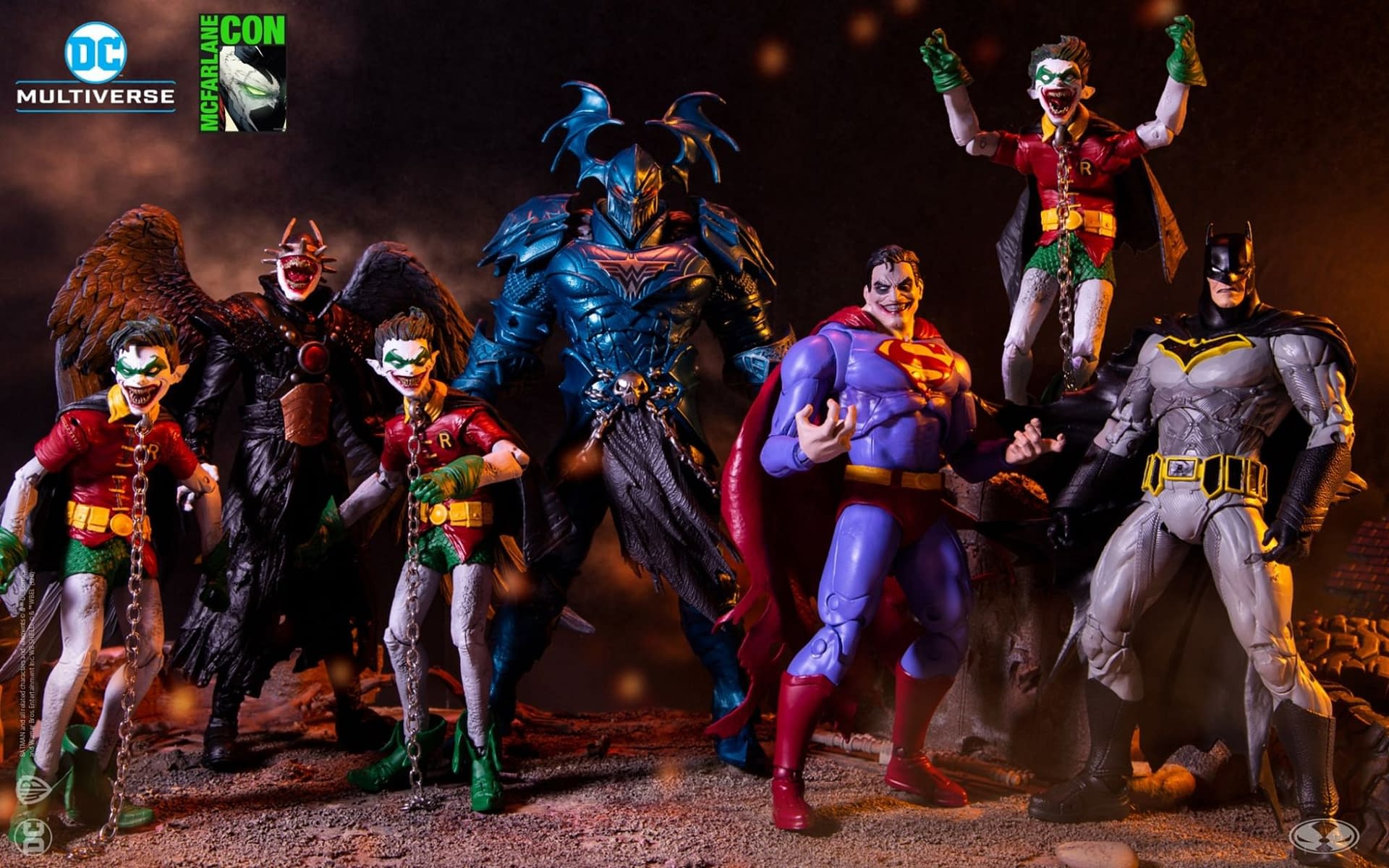 "The latest DC Multiverse Build A Fig wave is coming. Collect Robin Earth-22 figure from the Dark Nights: Metal comic book series, Superman (The Infected), Batman from Dark Nights: Metal, and The Batman Who Laughs with Sky Tyrant Wings to assemble The Merciless from Dark Nights: Metal! Robin Earth-22 features assorted heads sculpted with 3 unique expressions. Find all 3 to build your own army! Coming Fall 2020."