Batman is here and he is ready to take on the scum of Gotham with XM Studios. Their newest statue brings handcrafted paint, detail, and design alive with beautiful collector's piece. Batman will have two interchangeable hand pieces as your a swap between batarang and a grappling gun. The suit is designed after the recent DC Comics Rebirth and it adds just enough color to really made it stand out. This is a great collectible that any Batman fan that they need to add to spice up their batcaves.
The Batman Rebirth Statue from XM Studios will be priced at roughly $462. Discounts are available for members to take advantage of that if you need to. Pre-orders are already live and located here and they are made to order so don't wait too long to get yours.
It is time for a rebirth.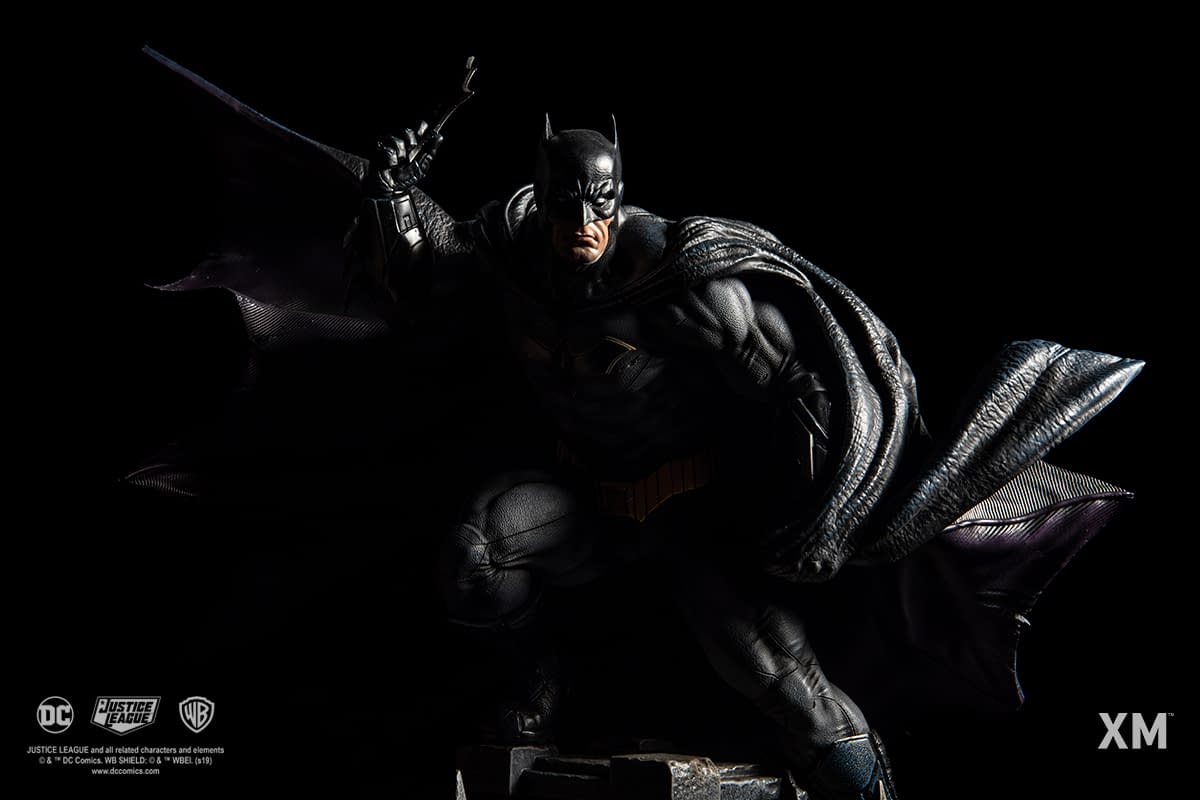 Batman – Rebirth
XM Studios is excited to present our next 1:6 DC Premium Collectibles DC Rebirth series statue, Batman! Immortalized in amazingly detailed 1:6 scale cold-cast porcelain, each painstakingly handcrafted statue is individually hand-painted with the famous XM quality finish.
Size matters, but Quality even more so! The new XM DC 1:6 line is specially designed for collectors who desire more space-friendly collectibles, without compromising on the incredible details and quality of larger collectible pieces. At 1:6 scale, XM's creative direction is to showcase more abilities, powers and essence of the characters in a bold, dynamic and story telling style. The new XM 1:6 DC line will amaze you with the details you don't expect at this scale. Smaller scale, smaller boxes, more affordable shipping and pricing means you can fit more of these incredibly detailed collectibles into your collection!
Description:
Batman – "In the name of his murdered parents, Bruce Wayne wages eternal war on the criminals of Gotham City. He is vengeance. He is the night. He is Batman."
The Batman (Rebirth) Premium Collectibles statue features:
A night of crime fighting through the streets of Gotham City has led Batman to one of Gotham City's building rooftops, cape billowing as he readies himself for action.
Base features Gotham building with Gothic architecture elements.
Two (2) Right hand switch out – Holding batarang, holding grapple gun
Can also be displayed as a companion piece to Catwoman – Rebirth
Crafted in cold cast porcelain.
Each painstakingly handcrafted statue is individually hand-painted with the highest possible quality finish
ES: Made-to-order (MTO)
Artists:
Ario Anindito (Concept)
Marthin Agusta Simny (Sculpt)
XM Studios Design and Development Team