Conan the Barbarian Arrives with New Figure from Mezco Toyz
Conan the Barbarian is back and he is better than ever as Mezco Toyz announces their newest figure. This figure is a perfect figure for any Conan fan and it comes loaded out with weapons and clothes. From a cloak, jewelry, weapons, and interchangeable pieces. This is a high-quality figure that is not only badass but a worthy addition to Mezco Toyz.
The One:12 Collective Conan the Barbarian Figure from Mezco Toyz is priced at $90. He is set to release between August and October 2020 and pre-orders are already live and located here.
"Crush your enemies, see them driven before you, and hear the lamentation of the women!"
ONE:12 COLLECTIVE Conan The Barbarian
The One:12 Collective presents Conan The Barbarian; based aesthetically on Frank Frazetta's famous paintings of Conan, Robert E. Howard's legendary character.
From recreating Frank Frazetta's 'The Barbarian' painting, to readying Conan for a long trek across the snow peaked mountains of his homeland, to an epic Hyborian Age battle, the One:12 Collective Conan figure includes a bounty of weapons, accessories, and outfitting to create many distinct looks for display.

The fearsome warrior is outfitted in an interchangeable loincloth and includes a removable crossbody battle axe harness, removable cape that drapes freely, belt that can hold his sword sheaths and dagger, and mid-calf boots.
Barbarian of the far north, Conan was born on a battlefield and became a respected warrior by the age of 15. Traveling throughout the world, Conan has been a thief, outlaw, mercenary, and pirate. Motivated by his own survival, power, and enrichment, Conan will do whatever it takes to rise to the top.
THE ONE:12 COLLECTIVE CONAN FIGURE FEATURES:
One:12 Collective body with over 30 points of articulation
Two (2) head portraits
Hand painted authentic detailing
Approximately 17cm tall
Eight (8) interchangeable hands

One (1) pair of fists
One (1) pair of weapon holding hands (L&R)
One (1) pair of grabbing hands (L&R)
One (1) pair of posing hands (L&R)
COSTUME:
Necklace (removable)
Crossbody axe harness (removable)
Cape (removable)
Two (2) interchangeable loincloths
Belt with carabiner hooks
Mid-calf boots
ACCESSORIES:
One (1) scimitar sword with removable sheath
One (1) broadsword with removable sheath
One (1) dagger with removable sheath
One (1) battle axe (fits into crossbody harness)
One (1) shield
One (1) One:12 Collective display base with Conan logo
One (1) One:12 Collective adjustable display post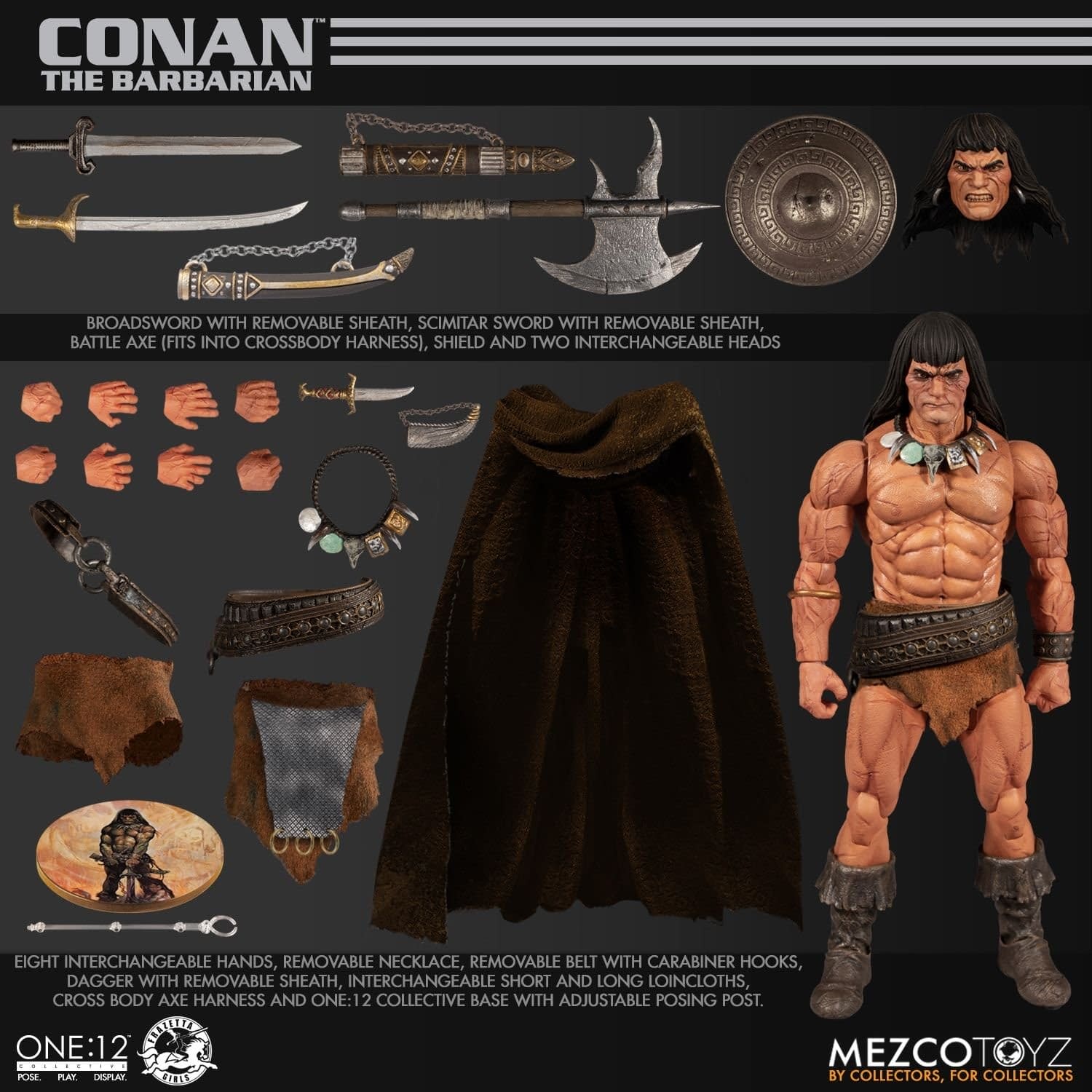 Each One:12 Collective Conan The Barbarian figure is packaged in a collector friendly box, designed with collectors in mind.