Cyclops One:12 Collective Figure Coming in Spring 2019
Cyclops is the newest One:12 Collective figure up for preoreder from Mezco Toys. After being shown off at Toy Fair and cons this year, we finally know when he is shipping. This figure features six interchangeable hands, real fabric suit, a leather bike jacket with a working zipper, and four different visors for different action scene posing. All four look amazing. This one ships in spring of 2019, and can be preordered now. Check out details and pics below!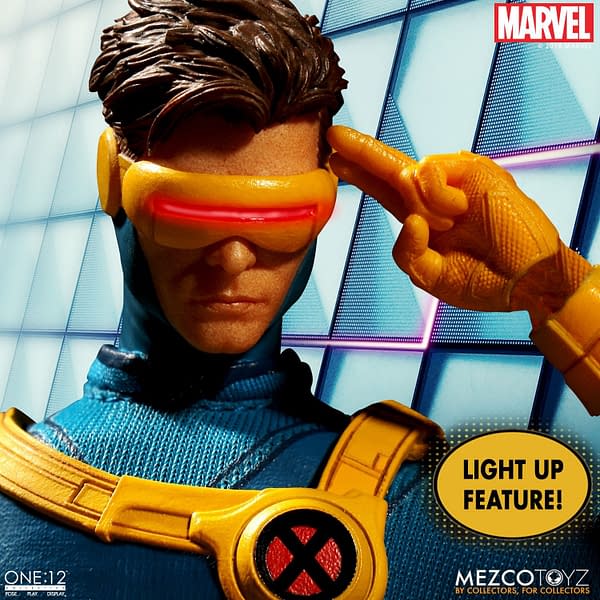 The One:12 Collective Cyclops features a light-up optic power function that illuminates his signature ruby-quartz visor, containing the uncontrollable energy blasts from his eyes. The born leader and gifted hero is outfitted in an aramid fiber x-suit with a utility belt and harness, and a removable leather-like jacket. Cyclops comes complete with a range of visor effects that light up when affixed to either head portrait, reflecting his devastating mutant abilities.

Scott Summer's mutant power first erupted from his eyes as an uncontrollable blast of optic force. Rescued by Professor Xavier, he was recruited as the first member of the X-Men – a team of young mutants who trained to use their powers for the good of mutants, humans, and equality.

THE ONE:12 COLLECTIVE CYCLOPS FIGURE FEATURES:

One:12 Collective body with over 28 points of articulation

Two (2) head portraits

Hand painted authentic detailing

Approximately 17cm tall

Six (6) interchangeable hands

One (1) pair of fists (L&R)

One (1) pair of posing hands (L&R)

One (1) combat hand (R)

One (1) visor activation hand (L)

COSTUME:

X-Men issued mission suit

Utility belt with harness

Combat gloves

Leather-like biker jacket with functional zipper

Tactical boots

ACCESSORIES:

Four (4) visors

Standard visor

Smoking SFX visor

Optic blast SFX visor

Mega optic blast SFX visor

One (1) One:12 Collective display base with logo

One (1) One:12 Collective adjustable display post

Each One:12 Collective Cyclops figure is packaged in a collector friendly box, designed with collectors in mind.