Disney Villains Pins Wave 2 Available Now From Mondo
Disney Villains are the subject of a new line of enamel pins from Mondo. Three new two-packs are available in this new wave, featuring The Little Mermaid's Ursula and Robin Hood's Prince John. One set features both Disney Villains on one pin back. The other two are villain specific. The Ursula one features a profile shot and her little pets Flotsam and Jetsam. The Prince John two-pack features his profile shot, along with another pin featuring an adorable take on King Hiss. Artist Dave Quiggle designs all the pins and check them out below.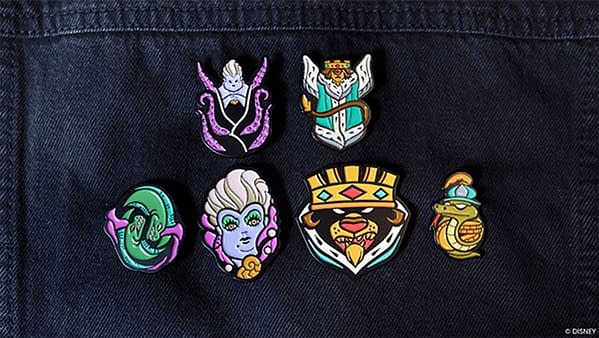 Mondo Disney Villains Pins
"Today we're pleased to release our second series of Disney Villains enamel pins designed by the talented artist Dave Quiggle. His illustrative style carries the hand of a tattoo artist – thick bold outlines and saturated colors are the hallmark of this growing collection of ne'er-do-wells. This week we have the phony king of England – Prince John of ROBIN HOOD, alongside the devious witch of the sea – Ursula of THE LITTLE MERMAID.
Prince John is such a delightful villain. His bubbling pride & arrogance, a mockable guffaw, and childish behavior make him an entertaining watch and a satisfactory defeat at the hands of the charming Robin Hood. Prince John's bust is paired faithfully with his right-hand man, Sir Hiss. Ursula, on the other hand, is a genuinely terrifying foe. Her sinister plotting and garden of tortured souls is pretty haunting for an audience of any age – represented here with her sneaky eels Flotsam & Jetsam."
Is there another company doing more for collectors right now than Mondo? Disney, Marvel, horror, soundtrack junkies, the list of fandoms they have products for is so long. Not to mention, it is a high-quality product at that. You can order these pins and browse other products form Mondo right here.