Doomsday Smashes with New Exclusive Iron Studios Statue
Doomsday is the monster that changed the world, he'll save on to kill a man of steel himself. We all know the story that he didn't just die but more super sleeps, but he did do the one thing that no one thought was possible to take down Superman. Doomsday is making his appearance with a new exclusive event statue coming from Iron Studio. Doomsday is based off the concept art from the character. He does come with a second head that shows off his unmasked and more beastly face. He has a constant very detailed base even showing a Torrent Superman symbol as feet. I really love how they didn't just go with did you say we all know but the plastic wine that fans know in love. I'd love the green spacesuit outfit tearing away and showing the monster underneath. There's a lot of detail in design fitness and that you can expect us as it is hand-painted. This is the Superman Doomsday statue that DC villains fans need to have in their collection.
The DC Comics Doomsday Event Exclusive Statue from Iron Studios will be priced at $199. He is set to rampage once again in the fourth quarter of 2019. Stay tune with Iron Studios to find out when or what event he will be available at. Don't forget to look at all of the other upcoming Iron Studios statues that are coming soon.
"You need to know. I will get free and iI will kill you…"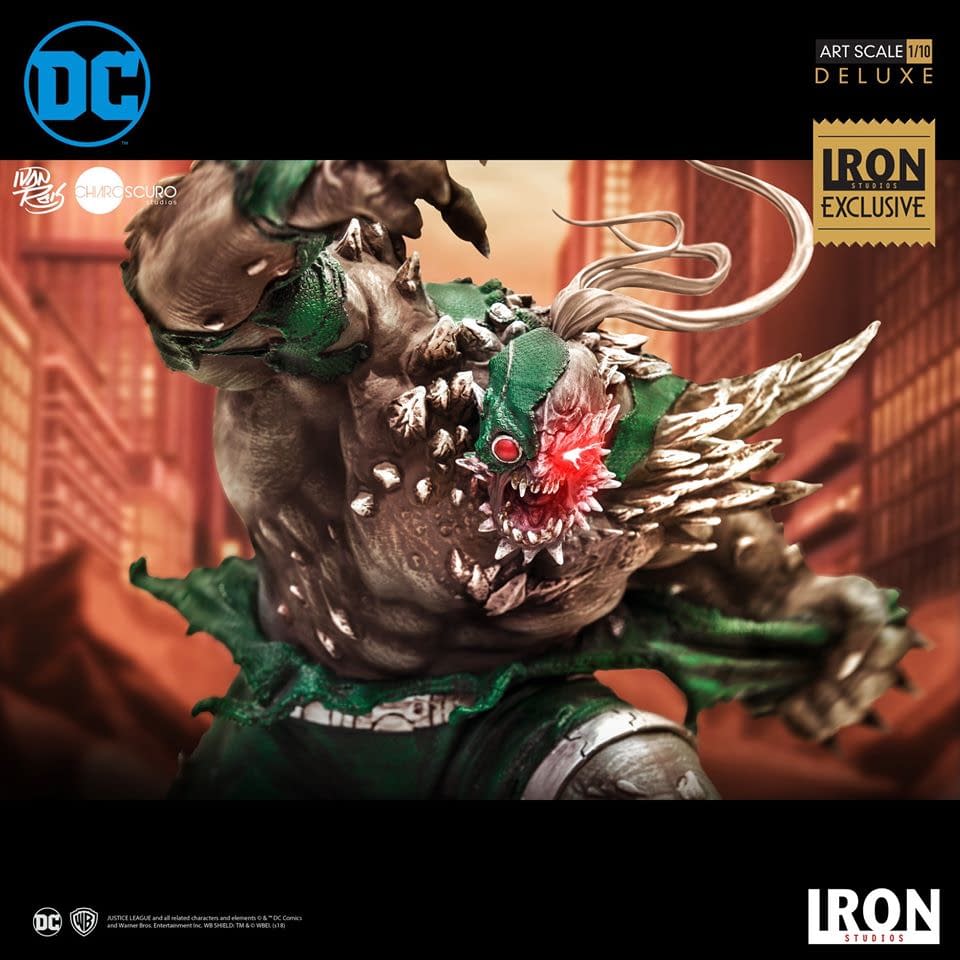 Doomsday Deluxe Art Scale 1/10 – DC Comics Series 5 Event Exclusive
License: DC Comics
Scale: Art Scale 1/10
Features:
– Based on the concept art of Ivan Reis from DC Comics and Chiascuro Studios
– Limited edition
– Event exclusive
– Made in polystone
– Hand painted
– Includes extra head
– Includes base
Product dimensions: 10.8 in (H) x 8 in (W) x 9.8 in (L)
Product Weight: 4.2 lbs
UPC: 606529303006
MSRP: USD $199.99
Release schedule: Fourth quarter of 2019