Dragon Ball Z Piccolo Stands His Ground with S.H. Figuarts
Tamashii Nations has finally dropped pre-orders for the long awaited Dragon Ball Z Piccolo figure. This figure has been teased here and there but it looks like today we finally get all the pictures and details on the upcoming DBZ character. The Dragon Ball villain turned hero is easily a fan favorite from the hit anime series and his S.H. Figuarts figure is nicely sculpted, articulated, and captures the figure perfectly. He will come with plenty of accessories and interchangeable pieces for collectors to customize him with. For interchangeable pieces, Piccolo gets three different heads with standard mouth closed, teeth clenched, and screaming mouth expression. He will get multiple arms and hands as well which will include a cut off arm and an arm set that will be crossed. He will be coming with a head replacement piece to allow his turban to be but on as well as his cloak over his body. This Dragon Ball Z figure is using the newest joint structure and you can see it throughout the pictures.
Piccolo is a very well known Dragon Ball Z character and this figure will be a hot commodity. The interchangeable arms, hands, and heads on this are all nicely sculpted and will easily change the whole dynamic of the figure when posed. S.H. Figuarts also have included a display base and rod to allow for floating poses which goes quite well with this figure. The Dragon Ball Z Piccolo S.H. Figuarts figure is priced at $61.99. He is set to release in November 2020 and you can find pre-orders already live and located here.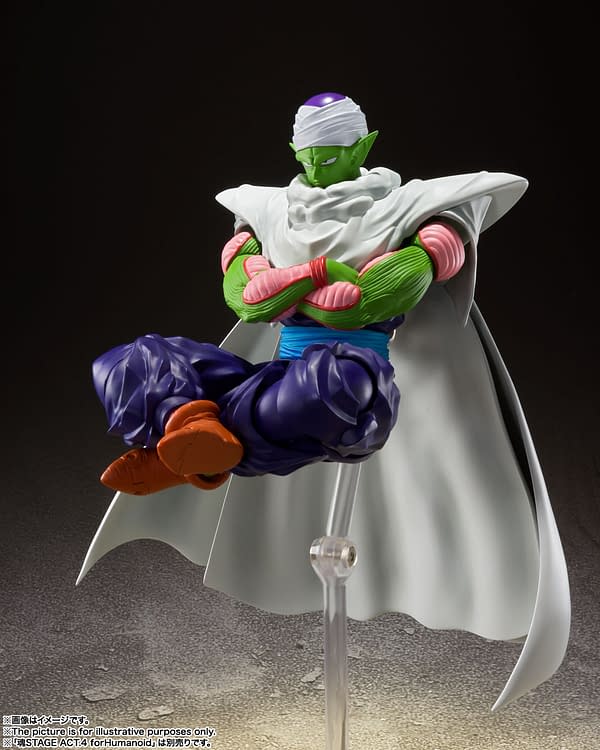 "Neither God nor Piccolo … It's the Namek Alien whose true name has been forgotten. " "S.H.Figuarts introduces a completely new "Piccolo-Proud Namek Alien-" incorporating the latest joint structure. Movable cloak is removable. In addition to the replacement head, facial expressions when wearing a turban are also included. Auxiliary parts for floating and decorating with a cloak are also included."
Set Contents
Body
Cloak set
Replacement head part three
Replacement face parts
Replacement arms folded parts
Replacement wrist left two right three
Replacement left arm parts
Replacement back parts