Sub-Zero & Scorpion Get Deadly With Funko Mortal Kombat Pops
The tournament continues to rage on as fans get closer to seeing Mortal Kombat on the big screen once again. Funko is among them as they give fans a closer look at the upcoming wave of Pop Vinyls during their most recent episode of Funko FUN TV. The cast of the upcoming film showed off some of their on-screen portrayals, only getting us excited to see the film debut in theaters and on HBO Max in April. So far, the wave will consist of eight Pops, with a majority of them being two of the biggest fighters from Mortal Kombat, Scorpion, and Sub-Zero. However, there are two other welcome additions to the upcoming wave, which will consist of:
Sonya Blade
Cole Young
Sub-Zero
Sub-Zero Metallic
Sub-Zero Glow in the Dark
Scorpion
Scorpion Unmasked
Scorpion in Crouched Position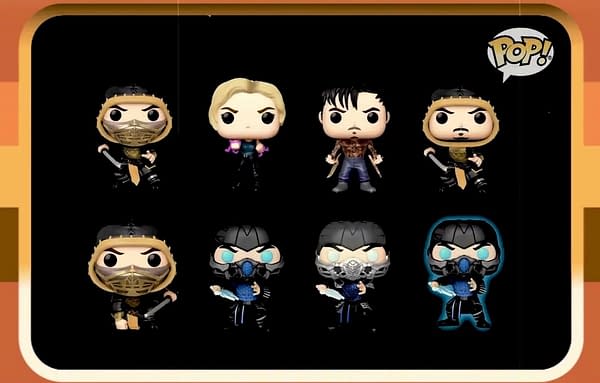 I am sure this is not the only Pops we will see come out from the upcoming film, and with the assortment of variants, I can imagine we are also seeing some retailer exclusives here. From the already released trailers, we know we can expect Goro, Raiden, Shao Khan, Jax, Kano, and more. Funko has made Mortal Kombat Pops in the past, but these ones will feature newly updated costume designs as they appear in the film. Sub-Zero and Scorpion are obviously sellers, but for me, it is Cole Young who is the mysterious character of the film. We all have our guesses on who he will be from the hit fighting video game, but this will be the debut collectible of this character, making it a must-have Pop for any Mortal Kombat fan. Pre-orders and release dates are not live just yet, but fans will be able to find them here when live. Stay tuned for more info and retailer exclusive location in the coming days.