Funko Round-Up: Bleach, Fullmetal Alchemist, DC Bombshells, and MCM Comic Con Exclusives!
Funko announces tons of new products and licenses every day, let alone every week. It can be a lot to keep up with. So we are here to help. Welcome to the Funko Round-Up! In this edition: two popular anime series finally get the Pop treatment as Bleach and Fullmetal Alchemist join the Pop world, a new DC Bombshells two pack is available now, and we take a look at the exclusives you will be able to find this weekend at MCM Comic Con in London!
First up, Fullmetal Alchemist will finally join the Funko Pop anime family. These have been long-requested, and should be big sellers when they release in December. Hot Topic has an exclusive Alphonse with kittens exclusive, while Gamestop gets Alex Armstrong as an exclusive.
Also joining the Pop anime line is Bleach! Only three figures to this wave: Grimmjow, Renji, and Renji with bankai sword. These will also be in stores in December.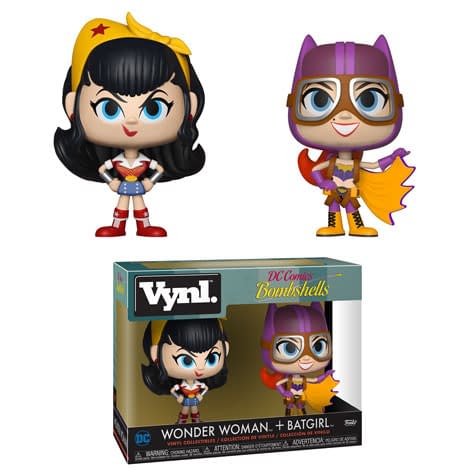 Wonder Woman and Batgirl DC Bombshells vnyl two-packs are on store shelves now!
And finally, we have six exclusives coming to MCM Comic Con in London this weekend! Here is all the info from Funko:
Funko Europe are exhibiting at MCM Comic Con London again this October, and bringing along a host of exciting exclusives including the Baby Niffler Pop! 2-pack, Metallic Black Manta, Shota Aizawa Hero Costume, Red Dilophosaurus, Doctor Strange as Ghost Rider, and the Rick and Morty Blips n Chitz Collector Box!

They'll also be bringing along a wide selection of items from lines such as Marvel, Disney, Star Wars, Stranger Things, Overwatch, and the brand new Fortnite range!

As well as an abundance of Pop!, they'll be stocking Loungefly and a large selection of their Homewares range – from Disney, Rick & Morty, Stranger Things and The Nightmare Before Christmas. Be sure to keep an eye on their Facebook, Twitter, and Instagram as they'll be running competitions to win Funko goodies all weekend – from Pop! to Mystery Mini, and even highly sought after chase products!
Most of these products can be ordered or preordered right here.