Funko Round-Up: Mickey Mouse Turns 90, and Pez Galore!
Funko announces tons of new products and licenses every day, let alone every week. It can be a lot to keep up with. So we are here to help. Welcome to the Funko Round-Up! In this edition: Mickey Mouse is celebrating 90 years and Funko is helping, and they dive into the deep end with Pop Pez. Let's take a look!
Starting with Mickey Mouse, all sorts of products will be in stores. Pop Keychains, Pop Pens, and a Mickey wave of Vinyl Figures celebrating his entire history will be available. Those vinyl figures are awesome — so many classic versions that it is really hard to choose a favorite.
Also Pops will be available, with Steamboat Willie, Firefighter Mickey, and three Pops based on Fantasia. Best part: these are not exclusive to anywhere! No chases! Way to go, Funko. The only exclusive is the super-sized 10-inch black-and-white Mickey Mouse, which can only be found at Target. Some of these have already started to show up in stores, and everything will be out this fall.
Jumping now to Pez, a ton of these are coming. Starting with Star Wars, two bounty hunters. Greedo and Bossk are the first of what will probably be a lot of Star Wars Pez.
Sonic, Crash Bandicoot, and three different versions of Mega Man will be available. The green Gyro Attack glow in the dark dispenser is exclusive to GameStop.
Nightmare Before Christmas is celebrating 25 years this year, and will also see Pez released. Jack, the Pumpkin King, Sally, Vampire Teddy, and a glow in the dark Oogie Boogie will be in stores.
Four Batman '66 dispensers will be available, with Batman (including a pink chase version, Robin, and the Joker available.
Cereal ad icons are of course going to be in this line, and we start with Cap N Crunch (with black and white chase), Crunchberry Beast, and Jean LaFoote. Quake and Quisp will be a Funko Shop exclusive set.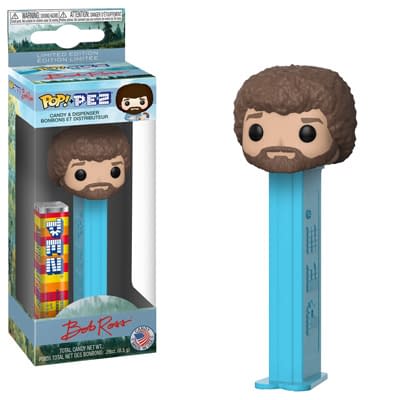 Finally, the coolest of the bunch is a Pez dispenser of Bob Ross.
All of the Pop Pez will be available in September and October.