Gingerbread Family Gets Nice and Cozy with New LEGO Set
Gingerbread Men and Women are fast, so fast that you can't catch them. LEGO is flipping the script with them this year though. They are all enjoying a peaceful and quiet life with their new beautiful house. However, they will need your help to build it though! LEGO has just revealed a sweet treat for us LEGO fans with their newest Gingerbread House. The house is pretty slick, with multiple rooms, a fireplace, a living room, and a kitchen. The decorations on the set are delightful too, with frosting and candy pieces that make you hungry just looking at it. 3 mini-figures are included; with a husband and wife and their cute cookie baby. This Gingerbread Set would be a great family that wants to change up some tradition.
The set is priced at $100 and has 1,477 pieces. October 1st is the release date but LEGO VIP members can lock down theirs starting September 18th, available here.
Check out all the sweetness below:
10267 Gingerbread House
Ages 12+. 1477 pieces US $99.99 –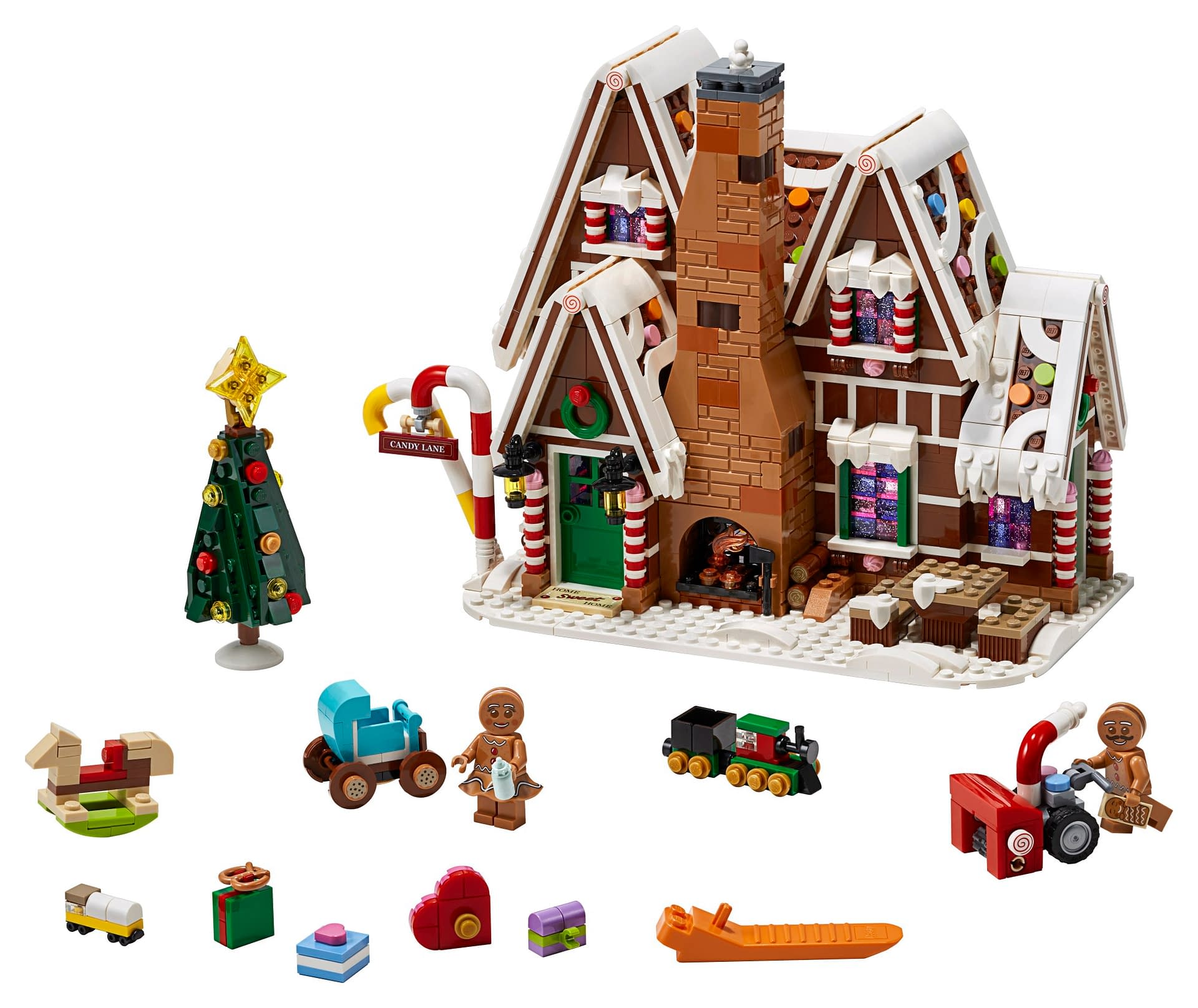 Includes 3 LEGO® figures: a gingerbread man, gingerbread woman, and gingerbread baby.
The Gingerbread House features frosted roofs with colorful candy buttons, a rich facade with candy cane columns and walking sticks, glittery windows and a tall chimney stack with a glowing fireplace, plus a detailed interior, brick-built baby carriage, and a snowblower.
Gingerbread House interior features an array of fun details and candy-style furnishings, including a bedroom with a chocolate bed and cotton-candy lamp, and a bathroom with the essential toilet and bathtub!
It also includes a Christmas tree with wrapped gifts and toys, including a rocking horse and a toy train.
Check out the yummy candy-cane signposts!
Press down on the chimney-smoke button to set the fire aglow!
Children will love imaginative play with the gingerbread family.
Help the gingerbread lady nestle the gingerbread baby in the carriage.
Accessory elements include a baby bottle, cups, frying pan, and an ax.
Special elements include a new-for-August-2019 gold bar element in tan and transparent 1×1 glitter bricks in purple.
Measures over 8" (21cm) high, 10" (26cm) wide and 5" (13cm) deep.
Available directly from LEGO Stores & shop.LEGO.com from October 1, 2019 (September 18, 2019 for LEGO VIP)