Harley Quinn is finally returning to theaters as well as a whole new cast of DC Comics heroines. It'll be nice to see a new film in the DCEU after the success of Shazam. So of course with early screenings today it is not a surprise to see new collectibles featuring out favorite clown queen. Hot Toys already announced their Harley Quinn figure and now we are getting a special satiate from XM Studios. The statue features Harley in a Japanese setting and is modeled after the Japanese style. This "samurai" version of Harley will feature three separate head portraits, masked, original jesters, and modern style. Each head gives anew ascetic to the statue and goes perfect with the made to order statue. XM Studios put a lot of time and detail into this statue and it will be loved by any Harley Quinn fan.
The Harley Quinn Samurai Series Statue from XM Studios will be priced at roughly $1009. Pre-orders are not live yet and will go up February 12th, 2020 and you can find them located here.
Let's get dangerous.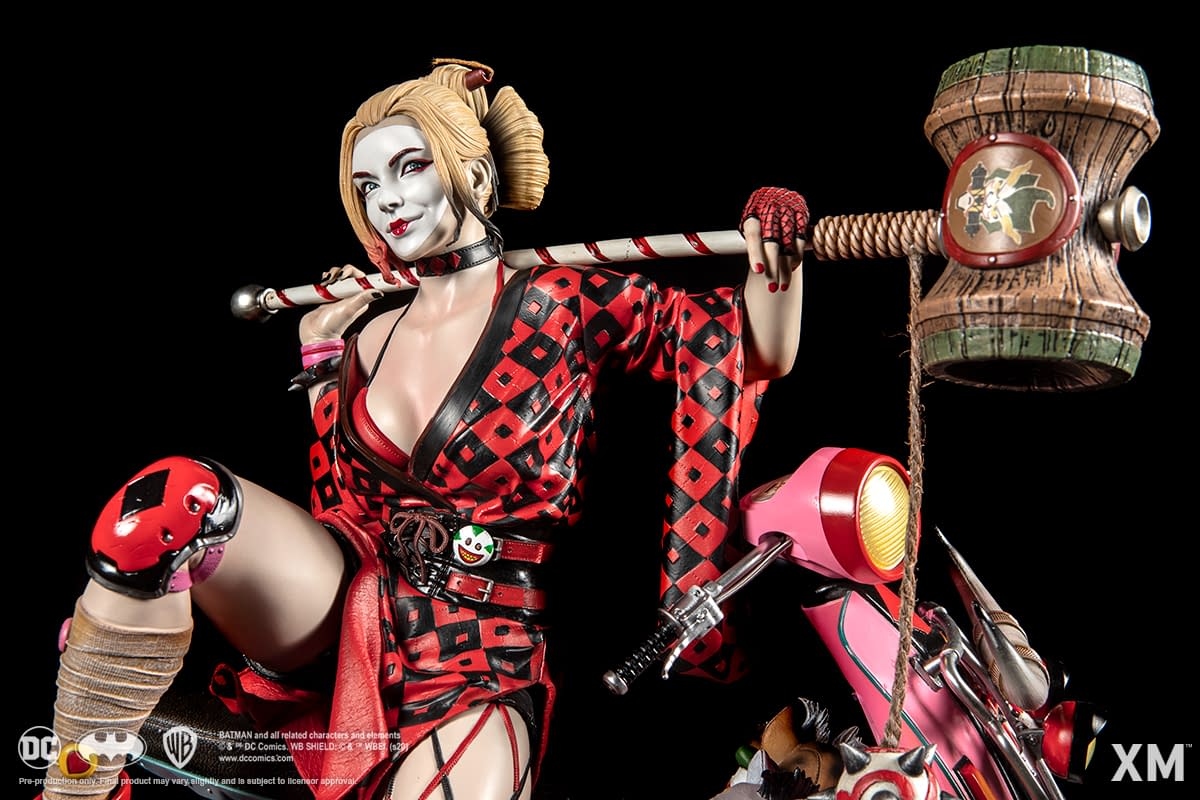 Harley Quinn – Samurai Series
XM Studios is excited to present our next DC Premium Collectibles series statue, Harley Quinn! Immortalized in amazingly detailed 1:4 scale cold-cast porcelain. Each painstakingly handcrafted statue is individually hand-painted with the highest possible quality finish. This unique line is a result of creative collaboration between Warner Bros. Consumer Products and XM Studios to showcase the Batman universe in exotic settings as you've never seen.
Description:
"The multiverse would be a much less lively place without the hijinks and shenanigans of the former Dr. Harleen Quinzel, the one and only Clown Princess of Crime."
The Harley Quinn Premium Collectibles statue features:
Playful and crazy Harley perched on a bright pink scooter, with her signature mallet modified into a Kendama (a traditional Japanese toy) inspired weapon with a spiked ball.

Harley's look is inspired by elements from Bosozoku, Harajuku and Geisha culture.

Three (3) Head sculpts – 1 featuring Geisha-inspired hairstyle with dynamites as her hair accessories, 1 with Harley wearing a Kabuto-inspired Helmet, 1 featuring a playful braided hairstyle

Little elements included in the design of the scooter as a nod towards her spunky style, her beloved hyenas, crackers and giggles and her puddin', The Joker.

Light up headlights and lantern

Crafted from cold-cast porcelain

Each painstakingly handcrafted statue is individually hand-painted with the highest possible quality finish

Limited edition: MTO
Artists:
Ario Anindito

Suheryanto Hatmaja (Sculpt)

XM Studios Design and Development Team