Hasbro Pulse had their newest Marvel Legends live stream today. After showcasing the X-Men's Sentinel figures over the years they finally unveiled their newest HasLabs creation. A 26.3 inch Sentinel will be headed our way that will feature 72 points of articulation! This massive Marvel Legends Sentinel will be jampacked with detail and LED lights will be in the eyes and chest. An 18 inch tentacle will also be included that can attach to the Sentinels palm. A 6 inch Bastion will also be included in this HasLabs creation and will include both human and Prime heads. This is one of figure that's Hasbro has been teasing for quite some time and it is finally here.
The X-Men Sentinel HasLabs Crowdfunding Figure has already started and you can find it located here. Their goal is 6000 backers by August 24, 2020. Each Sentinel figure is priced at $350 in will be limited to 5 per person. For every 1,000 backers on top of their goal more will be unlocked and we hope we can see what they are. This is the ultimate X-Men collectible and with the newest Age of Apocalypse, Marvel Legends line just dropping this is the only logical next step. Enter the Sentinel.
"Its body a towering, technological marvel, the Sentinel scans the world for its quarry, a searching light emanating from its chest, its glowing eyes a warning… and a threat. Programmed with only one objective, to destroy all mutant life on Earth, the Sentinel will not hesitate, will not falter, and will never ever stop hunting. Rising from the pages of Marvel comics, appearing in everything from cartoons to movies to video games, the Sentinel is as a monumental part of Marvel lore, an iconic enemy of the X-Men, and, now, the first-ever Marvel Legends HasLab project."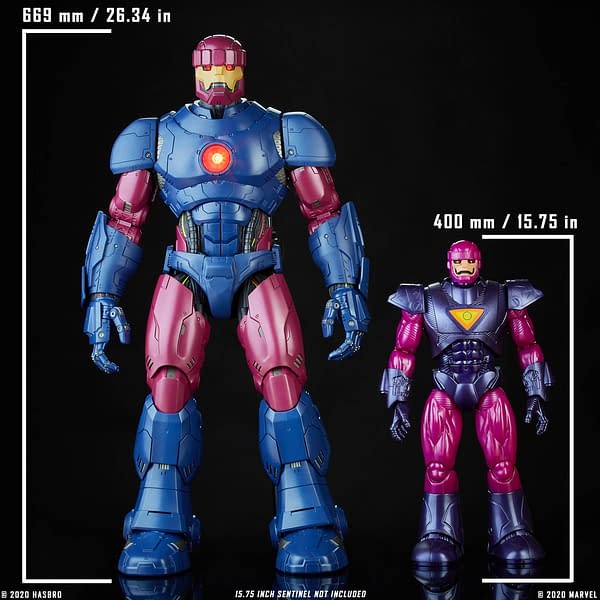 Hasbro Pulse invites you to join us in bringing this project to life, with all the features and detailing you know and love from the Marvel Legends 6-inch line:
26.3-inch (669 mm) Sentinel figure
LEDs in the head and chest (2x AAA batteries required, not included)
18-inch Sentinel "tentacle" accessory
Marvel Legends 6-inch Bastion figure with 6-Inch alternate Sentinel Prime head
Marvel Insider Points Redemption code (70,000 points per purchase, limit 2 code redemptions per account) & X-Men #14 (1963) digital comic to read in the Marvel Comics app (available in iOS and Android). Open to US residents 18+. Terms apply.
This crowdfund project will run from July 10th, 2020 to 11:59pm ET on August 24th, 2020. If successful, the project will begin shipping around Fall 2021.
Enjoyed this article? Share it!