Hero Collector Brings U.S.S. Enterprise NCC-1701 to IDW's Star Trek Year Five Variant For NYCC
You might remember our report from earlier in the year to announce that former-Bleeding Cooler Chris Thompson was making the move from Titan Comics to join the team at Eaglemoss as Brand Manager for their Hero Collector range.
Well, it turns out Chris hasn't quite left his publishing roots behind as he's been working with IDW to create Hero Collector's first-ever exclusive variant comic cover for NYCC.
Making its debut at New York Comic Con next month, this limited edition variants of IDW's Star Trek: Year Five #6 has an exclusive photo cover featuring one of Hero Collector's popular Star Trek starships: the U.S.S. Enterprise NCC-1701 as photographed and rendered by artist Nils Walter Khan.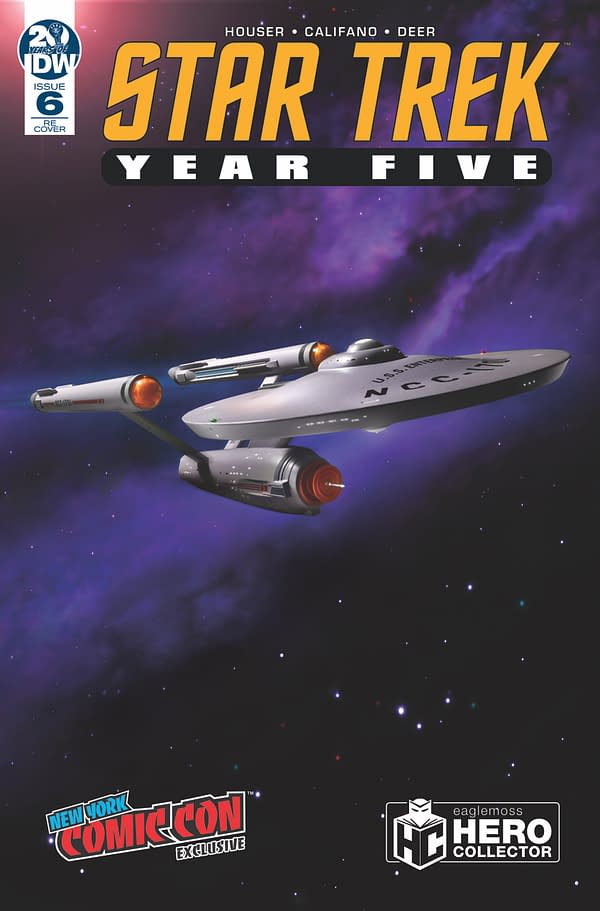 Limited to only 1000 copies, it will be available from Hero Collector Booth #737 throughout the convention, where they will also be hosting a signing with writer Jody Houser and cover photographer Nils Walter Khan on Sunday, October 6.
You can see Chris in action – discussing Star Trek and beyond – at the Hero Collector panel on Thursday, October 3 from 11am-12noon in Room 1B03. Just tell him Rich sent you…
Eaglemoss Hero Collector Presents: Starships & More!
Thursday, October 3 11am-12pm Room 1B03 – Javits Center
After building an impressive reputation with their collection of Star Trek starships, Hero Collector are coming to NYCC with news about their upcoming plans for Ghostbusters, Wizarding World, WWE, The Orville, Doctor Who, and, of course, Star Trek. Come and engage with Brand Manager Chris Thompson and Sales Director Matt Buss as they chat with an array of talent, including Star Trek concept designer John Eaves, comic artists Karen Hallion and Robert Hack, photographer Nils Walter Khan, and maybe even a special guest or two. Make it so!
"We're big fans of what Jackson Lanzing, Collin Kelly, Jody Houser and the team are doing on Star Trek: Year Five, so it made sense to do our first ever exclusive cover with our friends at IDW as part of this epic run," said Chris Thompson. "Our ships look impressive at the best of times, but on the cover of a comic they really pop! It's so exciting to make this happen."
"I'm consistently amazed by the level of detail and authenticity Eaglemoss Hero Collector brings to each one of their ships," added Chase Marotz, IDW's Star Trek Editor. "Getting to collaborate with them on this exclusive cover for our Year Five series has been fantastic, and I'm excited about the possibility of working even closer together in the future."