Iron Man Mark 42 is the latest revealed One:12 Collective figure from Mezco Toyz. Shipping in November, Tony will come with six interchangeable hands, light-up parts, missiles, repulsor beams, chest parts, metal parts on the armor, and a magnificent sculpt and paint job. He will also come with a display base and pole for flight poses and is one of the cooler looking Iron Man figures we have gotten in a long time.
Check out a bunch of picks and full details below. The figure is up for order now by clicking here.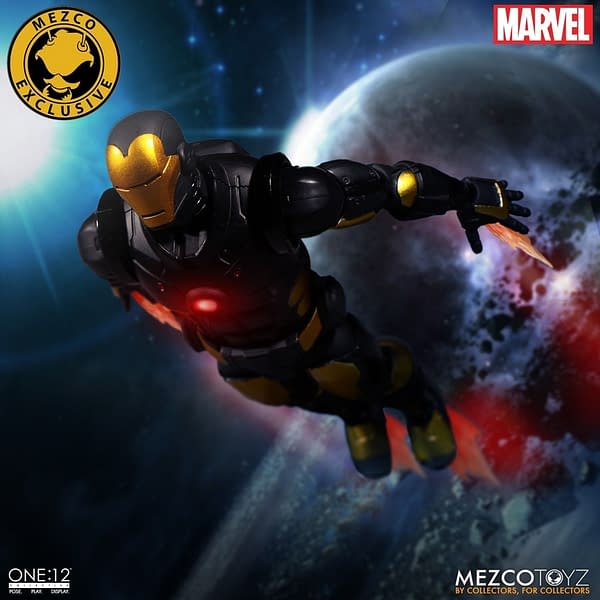 The One:12 Collective Iron Man: Armor Model 42 Edition features a light-up function that illuminates Iron Man's arc reactor, the source of his power. Designed with real metal components, the armored Avenger's comes equipped with a range of booster and blast effects, including a chest beam repulsor that lights up when attached to the arc reactor.

Powered by numerous Repulsor Tech cores, the Armor Model 42 was developed by Tony Stark initially for testing new technological developments but was later upgraded for battle. Featuring modular abilities and new A.I., the Armor Model 42 adds to Stark's impressive armory of Iron Man suits.

THE ONE:12 COLLECTIVE IRON MAN FIGURE FEATURES:

One:12 Collective body with over 30 points of articulation
One (1) head portrait
Hand painted authentic detailing
Approximately 17cm tall
Six (6) interchangeable hands including

One (1) pair of fists (L&R)
One (1) pair of posing hands (L&R)
One (1) pair of blasting/booster hands (L&R)

COSTUME:

Helmet
Armored Suit
Light-up arc reactor

ACCESSORIES:

One (1) chest beam repulsor
Two (2) repulsor beam FX
Two (2) hand booster FX
Two (2) foot booster FX
Two (2) gauntlet firing missiles
Two (2) rocket firing hip discs
One (1) One:12 Collective display base with logo
One (1) One:12 Collective adjustable display post

Each One:12 Collective Iron Man: Armor Model 42 Edition figure is packaged in a collector friendly box, designed with collectors in mind.
Enjoyed this article? Share it!