LEGO Fans Must Pick Up the New Benny's Space Squad Set
The biggest surprise and funniest character in the original LEGO Movie was Benny the Spaceman minifigure with the broken helmet and scratched out logo voiced by Charlie Day. There was a mad rush to grab his old minifigure from back in the day when the film came out, and the sets with the one from the film flew off the shelf. Taking that to heart, the new LEGO Movie 2 sets are starting to hit stores, and we got our hands on our most anticipated one: Benny's Space Squad! Let's take a look at the build for this one, and why it is a must-buy.
At 68 pieces, this is not a large build by any stretch. Benny, Kenny, Lenny, and Jenny all are easy to sort out the pieces for, and it takes about a grand total of 15 minutes tops to build everything in the box from opening it to completion. Still, the box just gives off this classic LEGO vibe, and the brief build is a pleasant one.
These are some of my favorite minifigs ever. I hope when the LEGO Movie 2 comes out the crew here is in it a lot. All of them feature shiny spacesuits except Benny of course. All of them only have one expression except Benny as well, he has two different levels of excitement on his. The little robot, SPACESHIP!!!!, and dune buggy are neat little vehicles too. Again: all easy builds.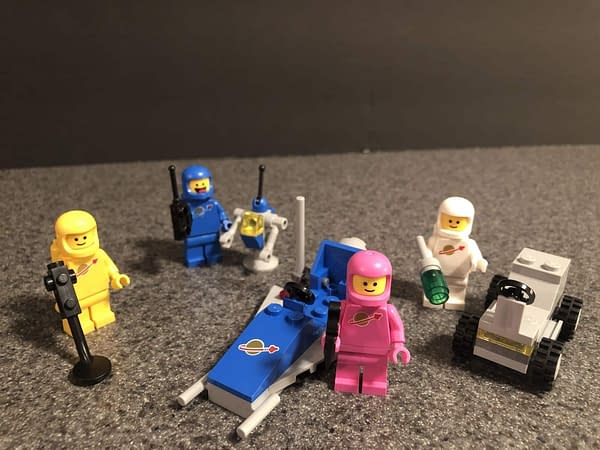 At $9.99 for four minifigures and three little builds, this set is a no-brainer instant purchase. Just for the figs alone this set is worth it. Hopefully you can find it fast and add Benny and the gang to your LEGO displays asap.
If you cannot find it in stores yet, and I have only seen it stocked at Target, you can grab it here.