Masters of the Universe MegaConstrux Castle Grayskull Revealed
Masters of the Universe collectors got a surprise ahead of this week's New York Toy Fair. Mattel will be releasing a MegaConstrux version of Castle Grayskull. Long rumored and whispered about by fans, the set was revealed by a preorder page on the Gamestop website. Details for the castle say that it will consist of a crazy 3,600 pieces and will come with many working parts. It looks modeled after the MOTU Classics version of the castle from a few years back, not the vintage one from the 80's. It will also come packaged with six figures- He-Man, Skeletor, Man-at-Arms, Teela, Beast-Man, and exclusive to this set, Sorceress. The price according to the page is $249.99, which is pretty steep. Not sure that is going to go over well.
Check out the pic from the pics from the page and some more details below.
Castle Grayskull was built to protect an unknown source of power – and now you can too! Discover all of Grayskull's mysteries when you assemble more than 3,600 pieces to recreate this authentically-detailed and completely faithful castle. Grayskull opens wide to reveal working weapons and launchers, a throne room with surprises, working elevator, and drawbridge that opens and closes. This collectors set also includes 6 micro action figures: He-Man, Skeletor, Man-at-Arms, Teela, Beast Man, and the exclusive Sorceress! Ideal for ages 10 and up.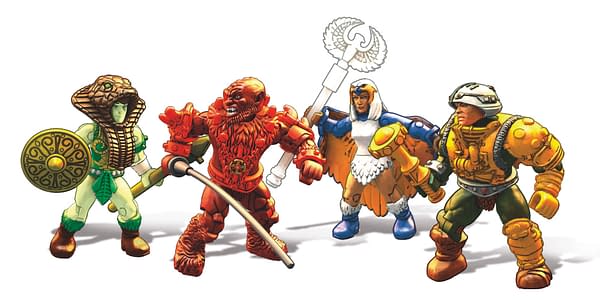 Teela looks like a repaint as Green Goddess, Beast Man looks…oranger and closer to the mini-comic version, and curious that there is now He-Man or Skeletor pictured. Look for as much info on this as we can bring you this weekend live from Toy Fair.