Super7's Laughing Prince Adam Figure is Incredible, MOTU Fans
Super7 went and made one of the best action figures of the year. Boy, I sure hope you ordered one while you can. Especially Masters of the Universe collectors. You may have laughed or scoffed at this figure, but you will regret not having it on your shelf. Let's take a look at the Laughing Prince Adam!
Let's start with the packaging. Prince Adam comes with the standard Super7 MOTU packaging, but with a twist. Featuring glitter galore and all the shine this figure deserves, the window box in the front shows off the Prince in all his glory. The back features Adam with his trusty companion Mr. Cringer Pants. I bought two of these. One to open, and one to keep in this glorious packaging for all-times.
For those of you who are not familiar with Super7's Masters of the Universe line, they are expertly crafted figures, with great paint aps and damn good sculpting work. This figure is now exception. Adam is easy to get into a variety of poses, comes with his fabulous power sword, and is genuinely one of the best figures I have ever gotten my hands on. Yes, this is supposed to be a joke, but honestly, they put a lot of effort into making sure even this would be up to the standards they have set for themselves.
Of course the headsculpt is what this figure is all about, as the famous meme and video is accurately represented and recreated faithfully here. The pink vest draws your eye right in ,and not a drop of paint was where it shouldn't be. If I had one complaint at all about the figure it would be that the vest is hard to keep straight on his chest, but that is a nitpick and does not affect the joy this figure will bring to my Masters of the Universe shelf for years to come.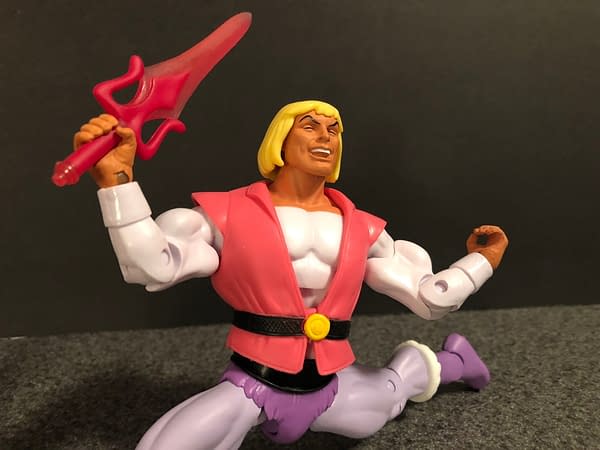 Everyone should have one of these. Sadly, you will probably have to go to the secondary market for one now, but it will be worth it. Kudos to Super7 for creating one of the best exclusives we will ever get.
HEYYEYAAEYAAAEYAEYAA!