Mattel SDCC 2020 Exclusives – Star Wars, Halo, and Pizza Planet?
Mattel has been starting to reveal their upcoming exclusives for San Diego Comic Con. Since the convention has been shifted to an @home format, these exclusives will be open to the public this year. So far, they has shown off three upcoming exclusives from three big franchises. The first one is a Star Wars: The Empire Strikes Back Hot Wheels X-Wing. This is Luke's X-Wing that he crashes on Dagobah in the search for Yoda. The specialized Hot Wheel vehicle will come in some amazing packaging perfect for the occasion. Next, we were shown a cheesy treat with a new Alien Remix figure. It looks like Toy Story's Pizza Planet is getting a remix figure. The figure will seemingly come in a Pizza Planet delivery truck box as well. Last but not least, Master Chief is hitting SDCC with a special MegaConstruct box set. This will give fans 6 special versions of Master Chief and the Halo franchise over the years. It will also come with could be a light up display box to show off the greatness within.
These are all great additions for SDCC 2020 as many exclusives will be coming to us next week. There is something for a lot of fans as they hit movies and games with these reveals. The Pizza Planet Alien Remix figure is currently my favorite so far. I mean how can you beat a Pizza Planet truck box?! Toy Story fans will defiantly want to add that bad boy to their collecting this convention season. The San Diego Comic Con 2020 Mattel Exclusives are set to go live July 23rd at 12pm EST. Keep an eye on their Instagram to find more info about their upcoming SDCC@Home event.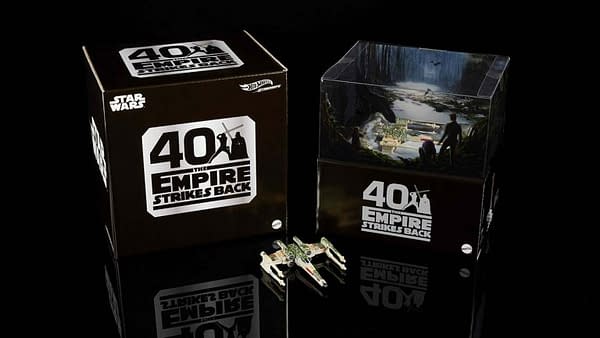 "Set in the swamps of Dagobah, the STAR WARS X-Wing is the perfect collector's item exclusively for #SDCCatHome. Available on 7/23, 9 am PT on http://Instagram.com/MattelCreations. #HotWheels"
"No matter how you slice it, this Disney and Pixar Pizza Planet #AlienRemix is out-of-this-world. Want a pizza the action? Stay tuned to http://Instagram.com/MattelCreations for updates on this #SDCCAtHome exclusive! #Disney #Pixar #ToyStory"
"Only at #SDCC2020, this limited-edition collection of MegaConstrux Master Chief micro action figures truly exemplifies the evolution of combat. Celebrate the @Halo franchise by building 6 different versions of MJOLNIR exoskeletons. Available July 23 on http://Instagram.com/MattelCreations."