Let's Take a Look at Mega Construx Masters of the Universe Wind Raider
Masters of the Universe collectors have hopefully not been sleeping on the Mega Construx Heroes figures they have been putting out. The little buildable figures are well-detailed and a fun, inexpensive line for fans of MOTU to collect. So far, seven minifigures have been released: He-Man, Skeletor, Beast Man, Teela, Faker, Man-at-Arms, and Evil-Lyn. Man-at-Arms and Evil-Lyn are the newest releases, having hit shelves this month. Along with th newwave of figures, the line is expanding into buildable sets, and the first is the Wind Raider vehicle. We got out hands on one, so let's take a look at what is hopefully the first of many.
Right off the bat, I never wanted to open this thing. The box is awesome, it has such a vintage, classic feel. It is more reminiscent of the Masters of the Universe Classics version of the vehicle than the actual vintage one. I love this artwork so much. At 198 pieces, this is not a small set by any means. But they got it into a compact box to keep costs down, and that is to be commended.
Once opened and you start to build, one thing to keep in mind is that Mega Construx are a bit different. The instructions can be a touch confusing sometimes as far as piece placement, but once you get on a roll, it goes pretty fast. I do hate when these building toys include tying string or lines to blocks, it is very annoying. I will say that having to do it here is not as bad. as long as you give the hook a good amount of slack, you will be fine. Also a plus is that there are no stickers to place. All designs are painted right on the blocks.
Once completed, it looks great. It has wheels underneath, propping it up a bit. It doesn't roll very well, but for my purposes that is ok. For kids that could be an issue. Other than that though, I have zero complaints. The Wind Raider comes with He-Man and Skeletor figures, both are great. The only difference between these and the original releases are the accessories. He-Man has his axe, and Skeletor his half of the Power Sword.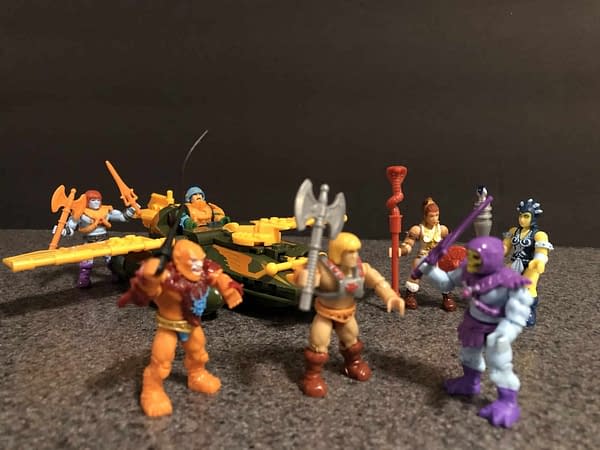 Seriously, Masters of the Universe fans and collectors need to invest in these. At $20, this vehicle is a steal. Well built, with bonus figures and play features, and a great display piece. I can't say enough good things about it. You can find it on shelves at Walmarts now, or online here.