Mezco's Gomez Hazard Squad Commander Reporting for Duty
Gomez is back in the news again with Mezco's newest addition to their 5 Points collection. Previously announced was Gómez: Lone Roach and Grub as they will be getting a One:12 Collective figure. So you're pretty much sold immediately out and you can join the waiting list for the restock. This time Mezco Toyz has revealed Gómez Hazard Squad Commander 5 Points. The figure will be packaged in a retro blister card which is pretty awesome and perfect for displaying. Gomez does come with some accessories building his favorite sidekick Boom Boom and it includes a compartment for his ray gun. This retro-styled figure is stylish and perfect for any fan of the Gomez. I'm excited to see what other 5 Points figures will come out in the future. Mezco Toyz has already announced the Addams Family figures and with Gomez, I have high hopes for the upcoming line.
The Mezco Toyz 5 Points Gomez Hazard Squad Commander Figure is set to release between December 2019 and January 2020. The figure is a reasonable price at only $15 and is available for pre-order and located here. Don't get a check out the other Mezco Toyz figures they have available. If you still want more Gomez then you can join the waiting list for the upcoming One:12 Collective figure also announced by Mezco Toyz.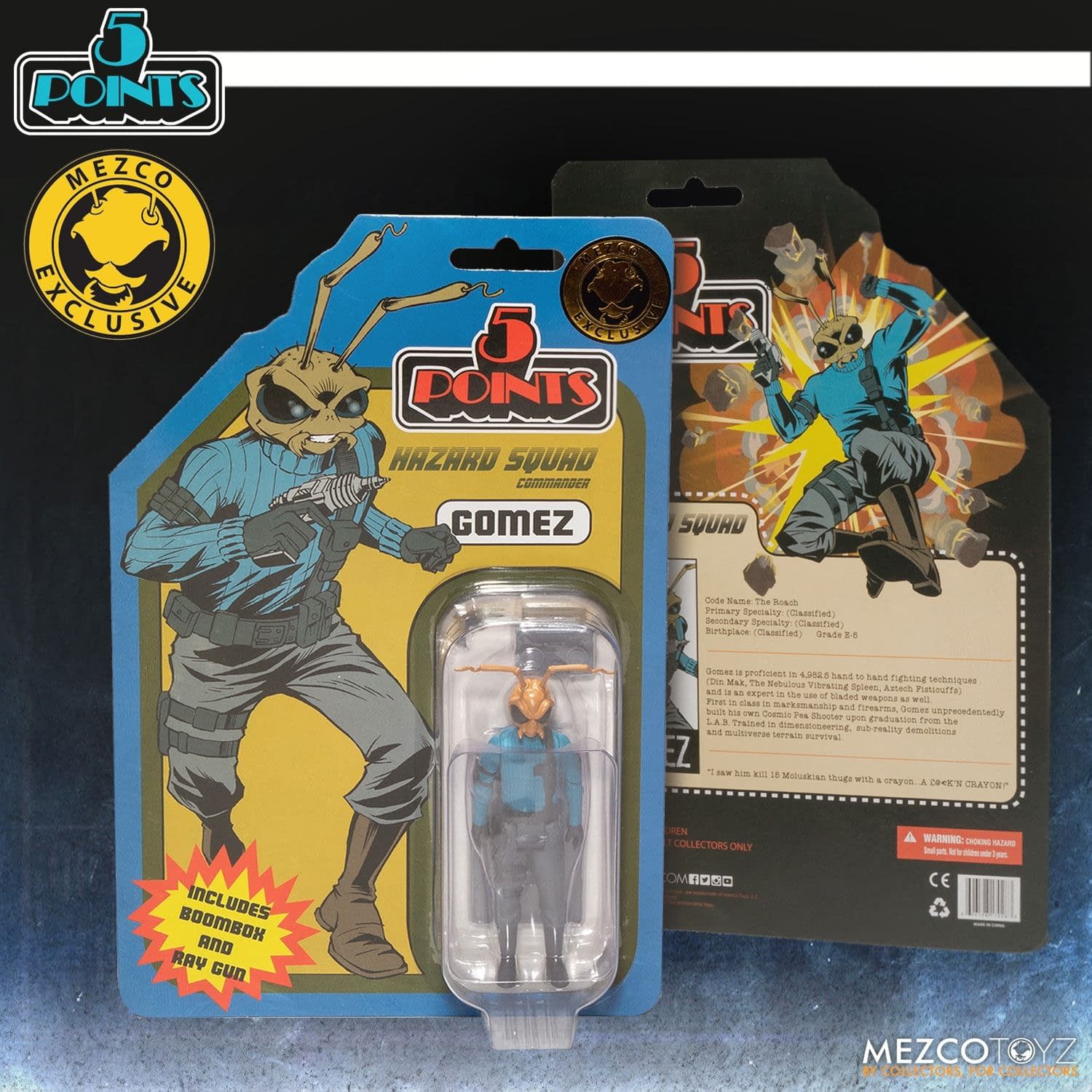 Mezco 5 Points Gomez: Hazard Squad Commander
Introducing 5 Points – Mezco's upgrade to the articulated action figures of yesteryear. These highly detailed, poseable action figures feature some of pop culture's most familiar faces, both old and new.
5 Points presents Gomez: Hazard Squad Commander. Sole operating agent of The Void, Gomez graduated from the L.A.B. with full training in dimensioneering, sub-reality demolitions, and multiverse terrain survival.
Mezco's Gomez comes complete with his trusty boom box sidekick, Boom Boom, which includes a storage compartment for his included ray gun. Both accessories can be held in either of his hands.
The 5 Points Gomez: Hazard Squad Commander is packaged on a retro blister card, perfect for display.