Funko Funkoween continues as we get more Halloween Pop reveals in May. We have seen a lot of reveals already from Tim Burton's Corpse Bride, Killer Klowns from Outer Space, Edward Scissorhands and so much more. This time Funko is getting a little more creative with Disney Halloween Funko Pops. There are only two figures in this wave and it features Disney icons Mickey and Minnie Mouse. They are both wearing special Halloween costumes featuring Mickey Mouse is a vampire and Minnie Mouse is a witch. These designs are pretty unique and will be a must have collectible for any Disney fan. The elements of orange and black definitely captivate each of these figures nicely and will look nice in a Pop collection not just during the Halloween season.
I hope we can see more original style character designs like this in the future. It's been quite some time that we've seen Mickey or Minnie in a new Pop pose. It would be nice to get some new seasonal collectibles featuring other iconic Disney characters. Some idea that would be cool to see would be Mummy Pluto, Zombie Goofy, Frankenstein Donald, and Bride of Frankenstein Daisy Duck. There are so many costume ideas out there that this could be an endless series and could be released each year. These Disney Halloween Pop figures are set as commons and releases are scheduled for an August 2020 release date. You can find pre-orders for them already online and located here. Don't forget to check out some of the other Disney Halloween Funko pops announced for Funkoween like the upcoming Disney's Nightmare Before Christmas Pops that will feature an amazing chase. Stay tuned for more Funko reveals as well as our Funko Pop reviews here at Bleeding Cool.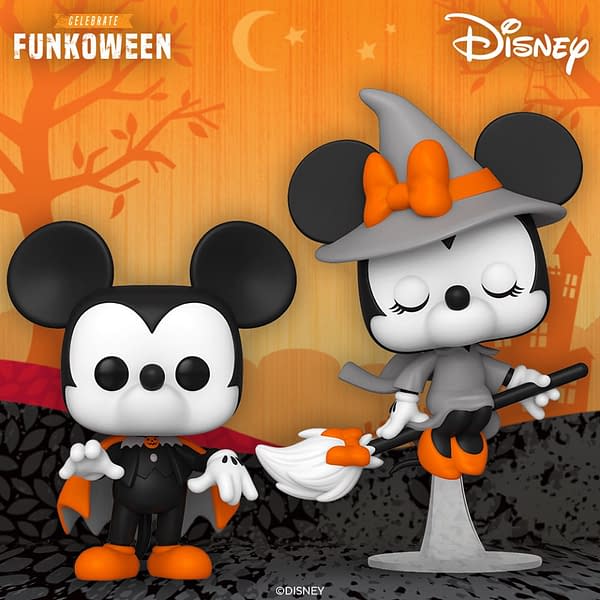 Enjoyed this article? Share it!