NECA Shows Off Packaged Photos for Halloween Laurie Strode Figure
Halloween fans, it is almost time. Finally, we are getting a Laurie Strode figure after all these years, and NECA have revealed the final packaging shots for the release. This is Laurie as portrayed of course by Jamie Lee Curtis in last years huge franchise reboot. She will come with interchangeable heads and hands, a revolver, a shotgun, a rifle, and a knife with a sheath. Basically a small arsenal. The packaging is the classic NECA Ultimate package- the front features the Halloween poster art, with a logo on the side. The inside flap features a photo of the figure, and window box showing off the full figure and accessories. The back features the figure in many poses. Check out the photos below.
NECA is thrilled to announce a two-way action figure debut from the 2018 Halloween Movie! The Ultimate Laurie Strode action figure is not only the first ever figure of the character, but the first to feature the authorized likeness of Jamie Lee Curtis.
Based on her appearance in the thrilling new Halloween movie, Laurie stands over 7" tall and has received the Ultimate treatment, with over 25 points of articulation, and tons of attitude and accessories. The figure comes with 2 heads, shotgun, rifle, revolver, knife that fits into a sheath on her hip, and more.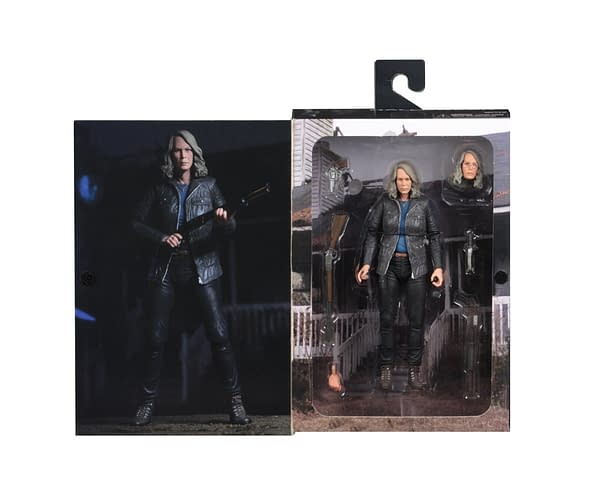 Display-friendly deluxe window box packaging with opening flap.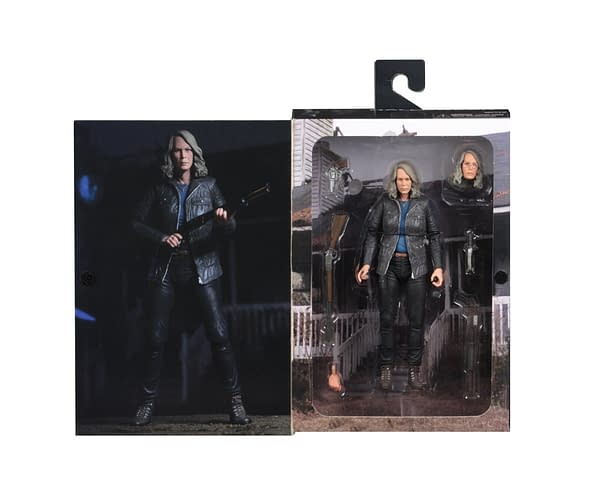 The Laurie Strode Halloween 2018 figure will be shipping to stores in mid-June. This one is going to fly off the shelf, as it is one of the most anticipated figure releases of the year, certainly from a horror standpoint. You can preorder one of these for yourself if you do not want to chance it right here. Are you excited for this one? Hoping we may get a younger Laurie down the road? Let us know below!